Guide to
Ibis Hotels Paris
A nice place to stay
at a great Paris Price
The French bargain hotel chain, Ibis Hotels Paris, may lack charm, but they make up for it with clean, central and, well… nice places to stay.
You could think of Ibis Hotels Paris as the IKEA of French hotels.
The basic rooms have a few nice touches like restaurants, gardens, terraces and comfy beds with duvets.
And the price is right, coming in at just over 100 Euros. That's pretty good considering that many of them are air-conditioned and have free Internet access.
These Ibis hotels are found in the 15th, near Bastille, and around Montmartre. Since we usually find the best rates at Booking.com we've included the direct link to the hotel wherever we can.
Ibis Paris Bastille Faubourg St-Antoine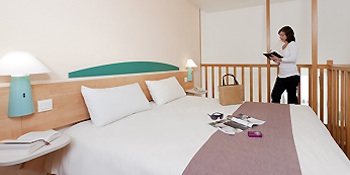 11th Arrondissement
Metro: Ledru Rollin
Functional and comfortable, the Bastille St-Antoine is perfect for working or relaxing.
This bargain Bastille-area hotel has everything you need: a comfortable bed and duvet, a big desk, Internet, and a modern bathroom with a shower or tub. There's even an outdoor terrace and garden to have a drink or enjoy your breakfast.
It's in a vibrant neighborhood and very close to the amazing Aligre market, something you don't want to miss.
Ibis Tour Eiffel Cambronne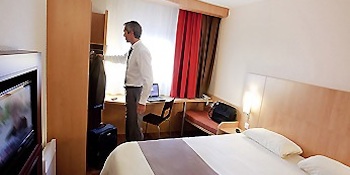 15th Arrondissement,
Metro: Cambronne
A nice place to stay at a great price. The Ibis Tour Eiffel Cambronne is close to the Eiffel Tower (15-minute walk) and about the same to Napoleon's Tomb.
It's right on Metro line 6, which runs all the way across the southern part of Paris in a loop from l'Étoile to Nation for great connecting to anywhere in the city. The line runs above ground when it crosses the Seine and gives you an amazing up-close view of the Eiffel Tower.
There's a lounge, a restaurant and the rooms are air-conditioned. Enjoy the private terrace on sunny days.
Ibis Paris Montmartre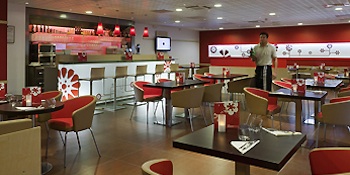 18th Arrondissement Metro: Place de Clichy
This hotel is located near the famous Montmartre Cemetery, at the foot of the hill that leads up (and up) to Sacré Coeur, and a can-can away from the Moulin Rouge.
This budget member of Ibis Paris Hotels has some nice touches, like air-conditioning and free Wi-Fi. And, you're in the center of Montmartre, one of the most vibrant neighborhoods in Paris!

Ibis Grand Boulevards Opera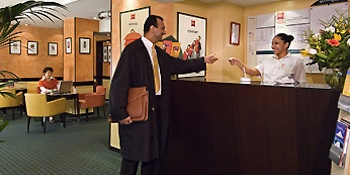 9th Arrondissement
Metro: Le Peletier
The Ibis Grands Boulevards Opera is close to the Palais Garnier, the big department stores and of course, the Grands Boulevards (all within a 12-minute walk).
As with many Ibis Paris Hotels, this one has air-conditioned rooms with free Internet access. And, like many budget hotels, the rooms are small, but cozy.
Paris Planning Guides
Want To Learn More?
Don't Miss a Single Paris Travel Tip.
Sign up for Le Petit Journal!
The Newsletter of Paris Insiders Guide
Don't Miss a Single Paris Travel Tip.
Sign up for Le Petit Journal!
The Newsletter Of Paris Insiders Guide