Hotel du Louvre – The First Luxury 5-Star Hotel in Paris
Built in 1855, the Hotel du Louvre received the very first 5-star rating in France, in 1887. At that time it had 700 guest rooms and a staff of 1,250! Today, this 5-star hotel has 177 rooms and attracts an eclectic mix of tourists, artists, and business travelers.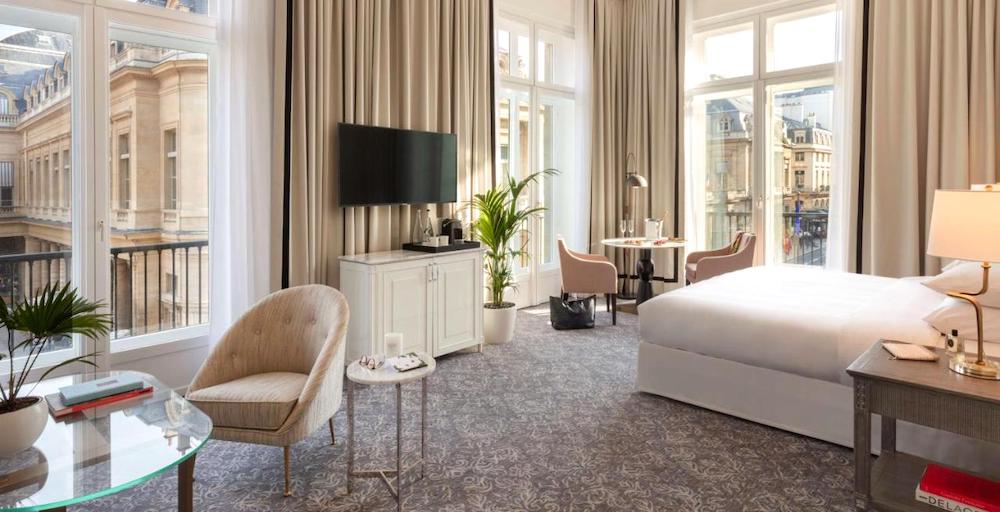 As its name suggests, Hotel Louvre is located right in the center of Paris in a perfect location smack dab between the Louvre Museum and the Palais Royal. You couldn't ask for a better site. Each of the four exterior walls looks out onto a famous monument of Paris – the Louvre Museum, Palais Garnier, the theatre Comédie Française, and the Palais Royal. Just outside the door is Rue de Rivoli where you find the Louvre and the best artwork in the world. In the hotel itself is the iconic Brasserie du Louvre and the Defender Bar.

What You Can Expect at Hotel du Louvre
The hotel has a gracious, elegant lobby with soft yellow walls, dark wood, marble columns and fresh flowers all inspired by Napoleon III style. An impressive chandelier and a sweeping staircase adds drama. And of course the hotel looks out onto some of the most famous buildings and plazas in a city full of charming places.
Each of the rooms is individually decorated with tradition in mind. The rooms are bright, with light pouring in from the floor-to-ceiling windows. Traveler's rave about the large bathrooms which are modern, clean and come with a cozy touch – towel warmers. For a real treat, request the Pissarro Suite, from which the artist painted the Impressionist masterpiece, Place du Theatre-Français.
Attention to the details of the historic design and the excellent service gives Hotel du Louvrea spot on our list of the best places to stay in Paris.
Hotel du Louvre Paris

Paris Insiders Rating — Highly Rated
Place Andre Malraux
1st Arrondissement