InterContinental Paris Avenue Marceau – In The Heart of Paris Elegance
Whenever we have sought out modern, even hip, boutique hotels, the InterContinental chain hasn't figured high on our list. But that changed when we discovered the InterContinental Paris Avenue Marceau. In fact, it's as if they don't know what to do with this hotel on InterContinental's stodgy corporate website. The Avenue Marceau hotel is a different animal — but an extremely interesting one with a refreshing twist.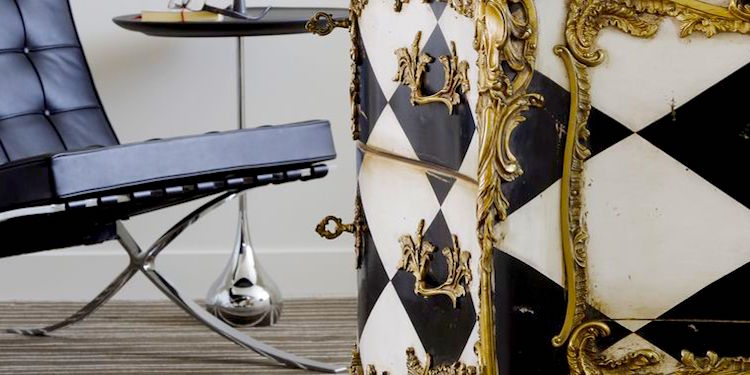 This trendy boutique hotel is in the center of things, but on a quieter street just off the hustle and bustle of Champs Elysées. Once a private mansion, the hotel has been recreated as a base for travelers, whether you're in Paris for business or just for pleasure.
What You Can Expect at the Avenue Marceau
With a design by Bruno Borrione (an Italian interior designer who cut his teeth with Philippe Starck), Avenue Marceau is like no InterContinental hotel we've ever encountered. It's a modern design informed by the likes of Starck and mixed with ideas from classical hotels. You'll find classically-inspired armoires with funky, new details next to a modernistic bed and side table.
Rooms are individually decorated, though sticking to the themes set out by Borrione for the whole building. A very soothing environment has been created in the rooms, with decoration in neutral tones and classical-inspired modern furniture. On the top floor the suites look over not just one Paris monument, but two — the Eiffel Tower and the Arc de Triomphe.
If you're in Paris seeking the good things in life you'll find Avenue Montaigne's haute couture less than 10 minutes away on foot. Or you might want to visit the jewelers on chi-chi Place Vendome or one of the 3-star restaurants in the area. The Arc de Triomphe is at one end of the Champs Elysées while Place de la Concorde and the Tuileries are at the other.
The Avenue Marceau has features that will also appeal to business travelers. There's plenty of meeting space as well as easy access to La Défense business region (a quick Metro ride away) and Palais des Congrès, the central Paris convention center.

Paris Insiders Rating — Highly Rated
64 Avenue Marceau
8th Arrondissement