Hotel Lutetia – The Left Bank Grande Dame Reopens… €200 Million Later
Hotel Lutetia, the only grand luxury hotel on the Left Bank, in Saint-Germain-des-Prés — noted for its architecture and its historical role during the German occupation of France in World War II — has a new lease on life after a multi-year, €200 million renovation.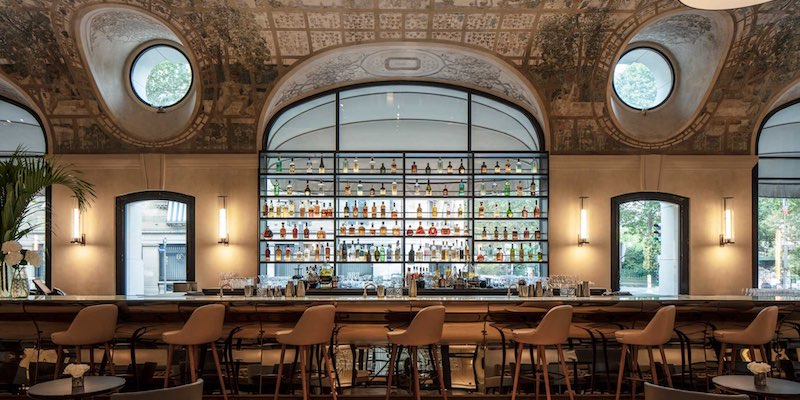 Built in 1910 in the Art Nouveau style, Hotel Lutetia was designed by architects Louis-Charles Boileau and Henri Tauzin. If its curved facade and the dome look familiar it's because the same architects designed the Bon Marché department store, located kitty-corner across a small park. Famous guests have included Pablo Picasso, Charles de Gaulle, Peggy Guggenheim, and Josephine Baker. They say James Joyce wrote part of Ulysses here.

What You Can Expect at Hotel Lutetia
Renovated in the 2010s under the watchful eye of architect Jean-Michel Wilmotte (he's also responsible for Hotel de Nell in Paris), the spirit of the historic building remains intact, with contemporary features melded into its classic Art Deco interior. Rooms have been made larger — the original 233 rooms have been reduced to less than two hundred. There are seven swanky suites, including two with access to outdoor terraces and 360-degree views of the City of Light.
The dining and bar experiences at the Lutetia remain central to the hotel with Brasserie Lutetia now under the spatula of three-Michelin-starred chef Gérald Passedat. Hailing from Marseilles, his restaurant Le Petit Nice, a family business since 1917, has garnered him the awards. At Lutetia, Passedat infuses the seafood-based cuisine of his native region into the menu.
If you're feeling bit stressed (as one can be while staying in a luxury hotel in Paris, can't one?), the hotel's Akasha Holistic Wellbeing Centre offers a plethora of massages and treatments: a sauna, stream room, 17-meter-long pool and an infinity-edge hot tub.
Jazz fans will enjoy the revitalized Bar Josephine (formerly Salon Borghese). There's also a more relaxed dining option at Salon Saint Germain, found under the glass roof.

The Rooms At Hotel Lutetia
The calm beige-toned rooms overlook a peaceful view on either Boulevard Raspail or the inner courtyard. All rooms feature oak floors, Murano glass wall lights and furniture designed exclusively for the hotel. The marble bathrooms are bathed in natural light and are stocked with Hermès bath and shower products.
There are seven Signature Suites including two penthouse suites with private terraces and 360-degree views of Paris. Choose between one- and two-bedroom suites. Includes 24/7 access to the spa and the oh-so-indispensable butler service !
How Our Ratings Work
Superb Plus = 93%+ Travelers Rating
Superb = 88%+ Travelers Rating
Highly Rated Plus = 85%+ Travelers Rating
Highly Rated = 80%+ Travelers Rating

Our Rating — Superb
45 Boulevard Raspail
6th Arrondissement
Where to Eat at Hotel Lutetia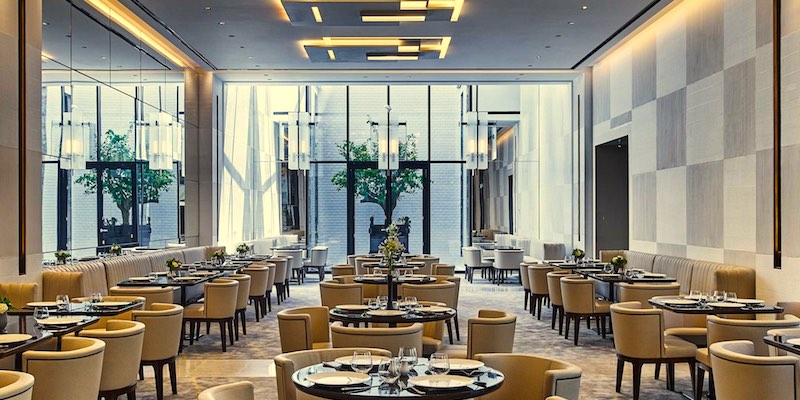 Le Saint Germain
The historic glass roof, enhanced by colorful work from French artist Fabrice Hyber, bathes the dining room with light. There's also a new Art Deco patio for al fresco dining. Chef Benjamin Brial offers traditional French dishes like beef tartare, Entrecôte Angus & frites, along with modern, organic salads.
Afternoon Tea
From 3 PM to 6 PM, Pastry Chef Gaetan Fiard, winner of the International Confectionary Art Competition, prepares decadent desserts focused on seasonal fruits, fresh herbs and exotic spices. The Saint-Germain signature dessert features layered chocolate, caramel, and grilled buckwheat berries.
L'Orangerie
Breakfast à la Française can be enjoyed here. Monday to Friday, 7:00 AM to 10:30 AM, Saturday & Sunday: 7:00 AM to 11:00 AM
Bar Josephine
In Bar Josephine heritage is mixed with modernity by combining the historical fresco of the bar with the contemporary vision of architect Jean-Michel Wilmotte. The bar pays tribute to American-born, French celebrity Josephine Baker. The bar's signature cocktail, La Rive Gauche, combines Guillotine barrel-aged vodka, St-Germain elderflower liquor, citrus, celery, and champagne.
Brasserie Lutetia
The 1910 Art Deco restaurant, Brasserie Lutetia, has also been restored to its original glory. (Photo above.) Chef Gérald Passédat has brought his seafood sensibilities from his three-star Michelin restaurant in Marseille to this renovated brasserie.
History of Hotel Lutetia
Hotel Lutetia, opened in 1910, was the brainchild of entrepreneur Marguerite Boucicaut, co-founder of Le Bon Marché department store. Boucicaut was keenly aware that her best customers who traveled from the provinces needed a place to stay in between shopping. She hired top architects Henri Tauzin and Louis-Hippolyte Boileau who used the latest glass-and-steel construction techniques (the same used by Gustave Eiffel).
When the Second Word War broke out in September 1939, many European refugees fled to Paris. Because of its reputation as an artistic center, the Hotel Lutetia attracted many displaced artists and musicians. In 1940, as the French government evacuated Paris, legend has it Charles de Gaulle stayed at the Lutetia while the Germans occupied his city. Although many of the Lutetia's residents escaped, others were captured by the Nazis. The hotel itself was requisitioned by the Germans and was used to house and entertain officers during the Nazi Occupation.
When Paris was liberated in August 1944, Charles de Gaulle ordered the hotel be used as a holding center where prisoners of war, displaced persons, and survivors from concentration camps could reconnect with family members. After the war, the Hotel Lutetia was restored as as a luxury hotel. In 1955, the Taittinger family (of champagne fame) purchased it. In the 1980s, designer Sonia Rykiel opened a boutique in the hotel and helped to recreate the Art Deco style.
Taittinger sold the Hotel Lutetia in 2005. In April 2014 the hotel was closed for a much-needed, extensive, and expensive €200 million renovation. The hotel's contents were sold at auction — over 3,000 objects, from champagne glasses, restaurant china, Art Deco memorabilia to the hotel reception desk, were placed on the auction block.