Paris Culture – Classical Music in the City of Light
Where else but Paris would you find classical music in great historical venues. Beyond art, museums and monuments, Paris culture lives in opera, ballet, classical music concerts and theater.
You can be sure that every night there is a spectacular cultural event taking place in one of the capital's great venues.
By attending an event at the Bastille Opera House, the Salle Pleyel concert hall or Palais Garnier you'll be in the thick of the cultural activities.
Even more awe-inspiring is hearing a performance in one of the city's historic churches or cathedrals — such a La Madeleine, Notre Dame or La Sainte Chapelle.
You'll experience an Insiders Paris that few tourists discover. But make sure you reserve a seat, so we recommend that, before you leave home, you check the list of events, choose the ones you like, and order tickets in advance. And that's easy to do, using the links below.
This selection of the top venues offers the best of the city's culture. Step out of your comfort zone and attend an opera, ballet or classical music concert in the City of Arts & Culture.
Concerts at Historic Gothic Cathedrals
Paris churches and cathedrals are more than just historic landmarks, many of them are also venues for classical music concerts.
There is nothing quite like an evening of amazing music in one of these historic buildings. It's haunting and completely memorable. Further down on this page you'll find links to some specific churches and cathedrals, or read our complete guide —
Concerts at La Sainte-Chapelle
On the Ile de la Cité, this French Gothic masterpiece was built as Louis IX's personal cathedral. Following centuries of conflict and vicissitudes in 1862 it was named an Historic National Monument.
Today, you can visit Sainte-Chapelle (entrance is free with the Paris Pass), and, in the evening, attend concerts in this stunning landmark. Sainte-Chapelle is Paris Insiders readers' favorite concert venue.
Music at Notre Dame Cathedral
For nearly 800 years music has been an integral part of this world famous landmark. Attending a concert in the soaring Notre Dame Cathedral is a once-in-a lifetime experience.
The only way to guarantee your seats is to order online in advance, otherwise, they're on a first-come first-serve basis. The concerts range from an evening of Bach, an organ recital, a stunning rendition of Ave Maria, to medieval Christmas music.
Opera & Ballet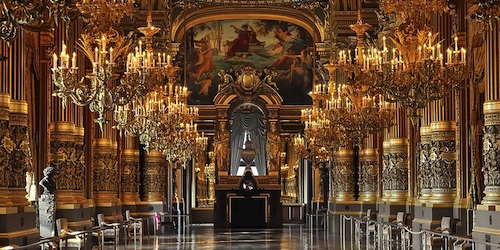 Opera and ballet have been integral parts of Paris culture for hundreds of years, and there's been at least one opera house in Paris continuously since 1669.
Today there are two opera houses – the classically lovely Palais Garnier at Place de la Opera, where ballet and concerts are stage, and Opera de la Bastille, home to the Paris Opera company.
Discover how easy it is to buy tickets online for a performance at one of these grand palaces.
Music at Churches & Cathedrals
Classical music concerts are performed at quite a few of the churches and cathedrals in Paris.
The way you are able to guarantee seats at the following Paris churches is by buying tickets online.
Paris Planning Guides
Don't Miss a Single Paris Travel Tip.
Sign up for Le Petit Journal!
The Newsletter of Paris Insiders Guide
Don't Miss a Single Paris Travel Tip.
Sign up for Le Petit Journal!
The Newsletter Of Paris Insiders Guide