French Chocolate
Truffles Recipes
Just add a checked tablecloth and
your kitchen will become a Parisian bistro!
Parisians adore dark chocolate and French chocolate truffles recipes capture the best of this wonderfully decadent ingredient.
Many fine restaurants in Paris end the meal with a plate of French chocolate truffles. It's these little things about meal that are long remembered.
Now at home, I often use these French chocolate truffles recieps to offer my guests a speical treat at the end of a special meal.
Our famous French desserts recipes, along with many other French food recipes, come from our award-winning book –
How to Cook Bouillabaisse in 37 Easy Steps: Culinary Adventures in Paris and Provence
To get all 49 recipes, as well as to read the stories of our culinary adventures in France, order the 300-page book. It's only $19.95 and shipping is free (US, CA, Europe).
French Chocolate Truffles Recipes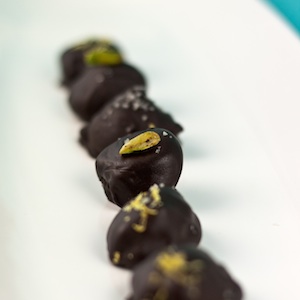 ¼ cup heavy cream
2 T Grand Marnier
9 oz dark chocolate, broken into pieces
4 T butter
sprinkle Fleur de Sel
In a small heavy-bottom pan, bring the cream to a boil and reduce to about 2 tablespoons. Remove from the heat and stir in the Grand Marnier and 6 ounces of the chocolate pieces, save the remaining 3 ounces for tempering. Return the pan to low heat until the chocolate melts, stirring continuously. Whisk in the butter. When the mixture is smooth, pour it into a shallow bowl and refrigerate until it's firm, about 1 hour.
Scoop out chocolate with a spoon or a small melon baller and shape each piece into a 1-inch balls. They shouldn't be too perfect! Place the truffles on a baking sheet lined with parchment paper and return to the refrigerator for another hour.
Now the truffles are ready to be dipped into the tempered chocolate sauce.

How to Temper Chocolate Tempering is a method of heating and cooling chocolate for coating or dipping. Once tempered the chocolate will have a glossy finish and won't instantly melt in your hands.
Grate or chop the remaining 3 ounces of chocolate. Place 2 ounces of the chocolate in the top pan of a double boiler. Melt it over hot, but not boiling, water, stirring constantly, until the chocolate reaches 115º F.
Remove the top pan, with the melted chocolate, from the heat and place it on a towel. Let it cool to 100º F, then add the remaining 1 ounce of grated chocolate to the, stirring until melted. The chocolate is now ready to be used for dipping.
Place each cooled truffle into the tempered chocolate. With a fork, quickly turn it over until the truffle is coated. Remove and place the French chocolate truffles back on the baking tray lined with parchment paper.
French Chocolate Truffles Variation When all the truffles have been dipped, garnish each one with a pinch of lemon zest, a few granules of Fleur de Sel, or a shelled pistachio.
Makes 2 dozen truffles
Paris Planning Quick Links