Easy Chocolate Cake Recipe –
Famous French Desserts
moelleux au chocolate –
chocolatey & creamy
Here is an easy chocolate cake recipe to make those wonderfully, half-cooked moelleux au chocolate you find at the best Parisian bistros.
This nearly flourless version of chocolate cake is found in all over France – probably because it's so easy to make.
In fact, chocolate cake recipes don't get much simpler than this. It takes only minutes to prepare and can be popped in the oven just as your guests are finishing their main course. You'll need to let them cool slightly, but they should still be warm when served.
At many Paris bistros, the moelleux au chocolate arrives to the table warm and, with just a flick of a spoon, a soft puddle of warm chocolate is released. This easy chocolate cake recipe is a snap to master and one you'll use again and again.
Easy Chocolate Cake Recipe Tip
Do not over bake the cakes. They should still be quivering when you take them out of the oven.
Our famous French desserts recipes, along with many other French food recipes, come from our award-winning book – How to Cook Bouillabaisse in 37 Easy Steps: Culinary Adventures in Paris and Provence. To get all 49 recipes, as well as to read the stories of our culinary adventures in France, order the 300-page book. It's only $19.95 and shipping is free (US, CA, Europe).
Easy Chocolate Cake Recipe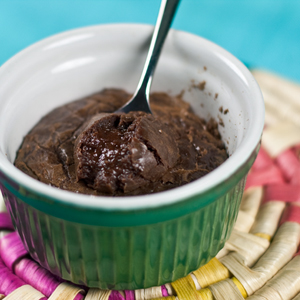 ½ cup white sugar
¼ cup brown sugar
½ cup unbleached flour
pinch salt
2 eggs
½ cup butter, softened
4 ounces semisweet chocolate
1 tsp vanilla extract
Preheat the oven to 325°F.
Line a muffin pan with paper baking cups or use any individual molds that you have on hand – ramekins do nicely. If you're using ramekins prepare them by brushing the insides with melted butter.
In a large bowl, mix together the sugars, flour, salt and eggs and stir briskly until mixed. Put the butter and chocolate in a double boiler and melt, stirring frequently until melted. Let cool slightly and pour into the first mixture and beat until blended. Stir in the vanilla.

Spoon the batter into the prepared pans, filling half full. Bake for about 15 minutes, (try not to over bake). Remove from oven and turn out onto a cooling rack. Voila! Very chocolatey!
Paris Planning Quick Links
Best Paris Wine Tours

The Best Hotels
in Paris
Food & Wine
Walking Tours

What To Wear In Paris