You Asked – Can You Help Me Plan A Romantic Evening In Paris?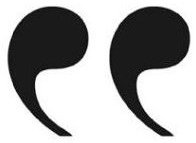 I am trying to arrange a romantic evening sometime next March — possibly a private tour and a beautiful dinner at a romantic restaurant. I am open to ideas. My budget is about 900€.
"While you're at it, what other romantic ideas do you have for while we're in Paris?"
Thanks!
– Tomas, USA
We Answer – Dining at Les Ombres
Dear Tomas,
How wonderful to be planning a special, romantic evening in Paris for just the two of you. Paris being Paris, there are endless romantic possibilities. We'll try to narrow the options based on our experiences. Although cost-wise the sky is the limit, your budget hits the mark.
Let's first talk about restaurants. Although dining on the Eiffel Tower is right up there with the best romantic Paris activities, to our way of thinking dining while looking at the Eiffel Tower is even better. Les Ombres is a Paris restaurant we keep returning to, and for good reason — every table has a dazzling view of the Eiffel Tower.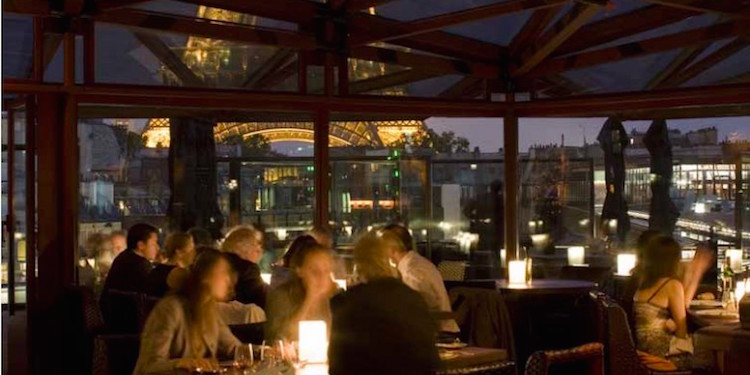 Les Ombres is situated on the rooftop of Musée Quai Branly. The restaurant's glass ceiling and walls give you a close-up view of the Eiffel Tower — it's so near it feels like you can reach out and touch it. On the hour the Eiffel Tower presents a spectacular light show that adds sparkle to the evening. Other reasons to love Les Ombres is the quality and consistency of the food and the service. Of course there are more expensive restaurants, but in terms of romance and the ultimate Paris experience, we vote for Les Ombres.
We highly recommend an evening activity that combines dinner at Les Ombres followed by a romantic river cruise on the Seine.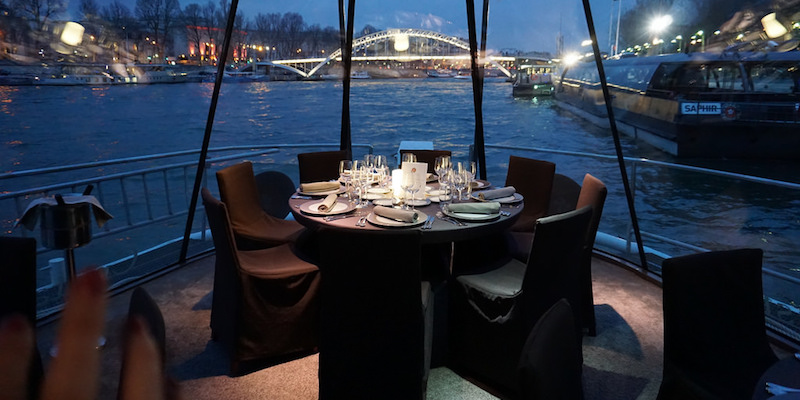 Another romantic activity that we've experienced and loved is a Seine River dinner cruise aboard Bateaux Parisiens. Although you might at first think this seems a bit touristy, we found it to be an exhilarating and memorable evening. The Seine River really is the spine of Paris and this three-hour dinner tour takes you on a slow cruise to see the best of Paris — historic buildings, monuments, bridges, islands, and views, lit up at night.
This activity also includes roundtrip transportation to your hotel (a must). We strongly recommend you choose the Premier Service option. It puts you at the best table at the front of the boat with extra perks like more champagne, wine, and a cheese course.
More Romantic Activities in Paris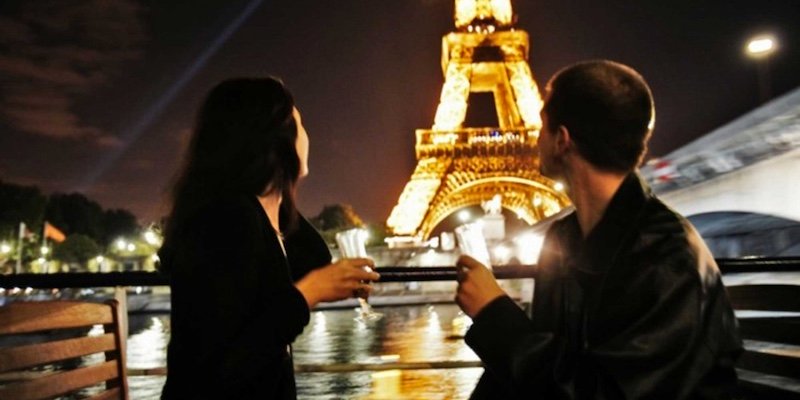 Champagne Cruise on the Seine
Horse & Carriage Ride
Chocolate & Pastry Walking Tour