Insiders Guide to
Seine River Cruises
Find Romance, Sip Champagne, Dine in Style,
or Bring the Entire Family
One of our favorite ways to experience the romance of Paris is to see it from the most romantic river on Earth — the Seine. We love to sip champagne while cruising along the river of the City of Love.
You'd amazed how many famous Paris landmarks you can see from a boat on the Seine and how close together they truly are. And there are many cruise choices —
Book a dinner cruise, where you are served a traditional gourmet French dinner while sailing slowly on the river.
If you want to splurge, book a three-hour cruise on your very own yacht or combine a Seine River cruise with dinner on the Eiffel Tower and then a cabaret show at Moulin Rouge.
Or grab the whole family and hop on a bateau for a fun-filled morning or afternoon ride. A Seine cruise will suit the romantic in you, or the mom and dad in you. By the way, if you buy a Paris Pass, a one-hour river cruise is included.
Here we review our fave Seine River cruises. There are day cruises, evening cruises, cruises with dinner, with champagne and with a combination of other activities. Whatever your pleasure, you'll find a Seine cruise to make your trip to Paris memorable.
PS. One of our favourite Parisian cruises was a day along Canal Saint Martin.
Yachts de Paris Gourmet Dinner Cruise
A Paris Insiders Guide favourite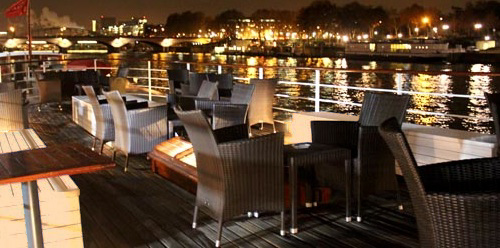 Take a three-hour cruise along the Seine in the luxury yacht, Don Juan II as you are served a gourmet meal prepared by a starred Michelin chef.
It's romance, it's traditional French fine dining, it's a tour of the City of Lights with 2000 years of history passing by. It's pure Paris luxury!
Bateaux Parisiens Dinner Cruise on the Seine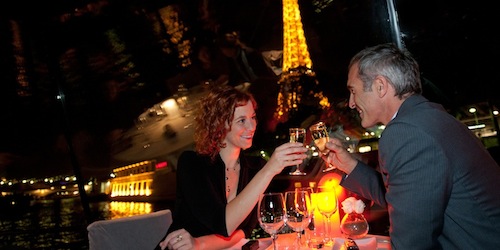 Cruise down the Seine in a bateau — a river boat specially built for sightseeing.
The bateau's clear glass roof and windows provide unobstructed views of Paris landmarks illuminated. Depart from the Eiffel Tower and enjoy your dinner admiring the lights of Paris. Want to splurge? Reserve a private table for two at the front of the boat!
Eiffel Tower, Seine River Cruise & Moulin Rouge
A Paris Insiders Guide favourite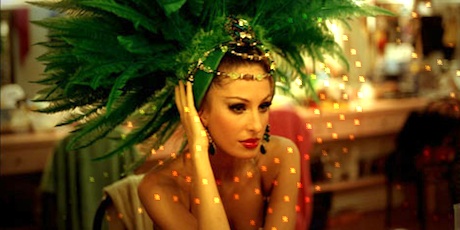 Combine the best of all worlds while in Paris.
Dine at the Eiffel Tower (actually on the tower!), then take a Seine River cruise to see the city by night. Finish the evening with a cabaret show at Moulin Rouge. Everything is included — hotel pick-up and delivery, dinner with wine, tickets to the Moulin Rouge show and champagne. It's a great package.
Dinner Cruise, Eiffel Tower & Moulin Rouge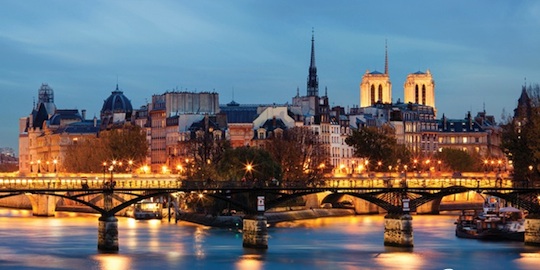 Want the same Paris combo as above but you'd rather dine on the Seine?
Glide down the Seine River enjoying a 3-course meal while seeing the sites of Paris illuminated — Notre Dame, the Louvre, Eiffel Tower and the romantic bridges. After dinner, visit the Eiffel Tower and then end the night at Moulin Rouge.
Champagne Seine River Cruise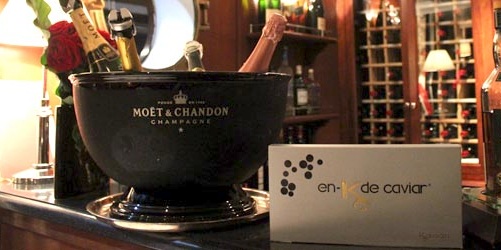 Sip champagne as you cruise down the River Seine past Paris' most famous monuments — Eiffel Tower, the Louvre Museum, Musée d'Orsay and the Grand Palais.
A French sommelier will give a champagne presentation with tasting notes along with a flight of three champagnes — Brut, Demi-Sec and Rosé.
Lunch Cruise with Louvre Museum & City Tour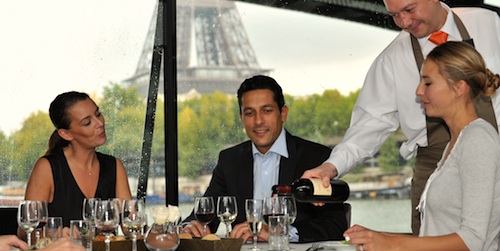 See the best of Paris without hassle — all the details of the trip have been organized for you.
Combine a guided Louvre visit, lunch on a river cruise, a trip to Notre Dame Cathedral and a tour across Paris in a minivan. This small group trip is limited to eight guests to ensure individual attention.
Don't want to include the Louvre? Ttry this two-hour Seine lunch cruise.
Learn More »
Paris Illuminations Tour & River Cruise by Night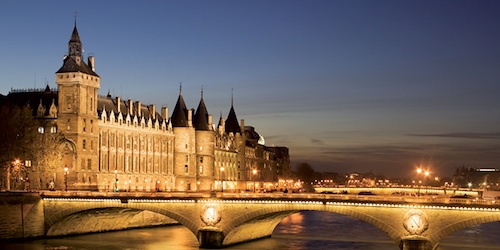 Paris is particularly enchanting when the lights twinkle by night.
See the city's night magic first-hand with a cruise on the Seine River followed by a Paris illuminations tour. See the sights of Paris on your nocturnal tour of Place de la Concorde, Place Vendôme and Champs-Elysées and Notre Dame Cathedral.
Seine River Cruise & Paris Canals Tour
A Paris Insiders Guide favourite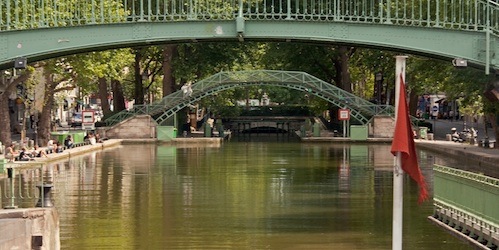 Spend a relaxing two and a half hours cruising the Seine and along historic Canal Saint Martin.
It's a fascinating experience passing through canal lock after canal lock as your boat rises (or lowers) to the next level. Watch the life of Paris along the banks and pass through the Bassin de la Villette, a modernistic pond in the middle of the 19th Arrondissement.
Other River Cruise Options
Paris Planning Quick Links
Want To Learn More?
Don't Miss a Single Paris Travel Tip –
Sign up for Le Petit Journal !
the newsletter of Paris Insiders Guide