Guide to the Eurostar
London to Paris
the most fun way to travel
between these two capitals
London to Paris in 2 hours 15 minutes! The high-speed Eurostar London to Paris passenger train via the Channel Tunnel, travels at speeds of 186 MPH and covers a distance of 307 miles.
The Eurostar leaves from the pristine St Pancras Station in central London and arrives at Gare du Nord in the 10th Arrondissement of Paris just 135 minutes later.
The Eurostar has become such a fixture of Paris and London life that it's hard to believe that the first Eurostar trip took place in 1994. Since then 130 million passengers have riden the Eurostar. Trains leave every hour, seven days a week, year round except Christmas Day, from both London and Paris.
You spend only twenty minutes in the Channel Tunnel, for the rest of the trip you're speeding through the countrysides of Kent and northern France.
Of course, the Eurostar also goes from Paris to London, and you can book either direction at the online Eurostar Booking Center.
More Comfortable than Flying
Eurostar London to Paris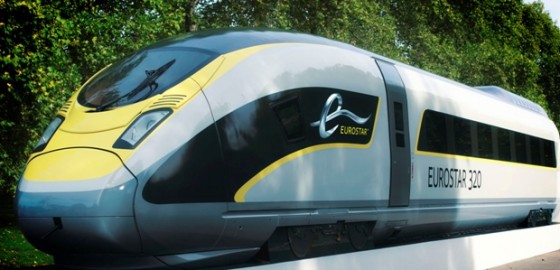 Get Tickets at the Eurostar Booking Center
Unlike air travel, you only need to arrive at the Eurostar station 30 minutes before departure. Your bags do not need to be checked — you will take them on the train with you. The seats are comfortable and clean.
If you upgrade to Business Premier class you'll enjoy a delicious 3-course meal with champagne & wine. You're even free to bring your own food and drink onboard — including your own bottle of wine!
The Eurostar London to Paris is the way train travel was meant to be.
More Reliable than Flying
Eurostar London to Paris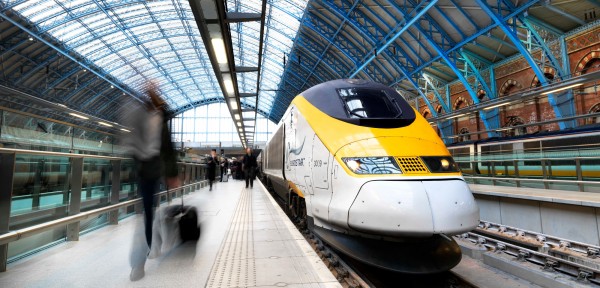 St Pancras Eurostar Station in London
According to a 2008 report, 95% of Eurostar trains arrived on time, compared to 65% of short-distance flights.
If you're traveling from London to Paris, Eurostar is faster, more convenient and more comfortable than flying.
It's not surprising that the Eurostar London to Paris has captured more than 70% of the market from the airlines.

Paris Planning Quick Links
Guide to the Paris Museum Pass

Skip-the-line
Eiffel Tower Tours

Chateau de Versailles Tours

Food & Wine
Activities
Don't Miss a Single Paris Travel Tip.
Sign up for Le Petit Journal!
The Newsletter of Paris Insiders Guide
Don't Miss a Single Paris Travel Tip.
Sign up for Le Petit Journal!
The Newsletter Of Paris Insiders Guide