Fauchon Paris – A Gourmet's Pantry Of Delights
You want to buy everything at Fauchon, it's that good. Step through the doors and your heart will beat a little faster — éclairs, baked goods, jams, jellies and bon bons. But, there are 30,000 products on display, so it would take a trés grand shopping basket.
Fauchon has two gourmet spaces that dominate an entire corner of Place de la Madeleine. One location hosts the baked goods, the other has the boxes and tins of fabulous food, the wine cellar, and the café. Fauchon's neighbors in this gourmet center of Paris include Hediard, Prunier, and Maison de la Truffe.

Eclairs on la Madeleine
What Proust did for the madeleine in his famous work, Remembrance of Things Past, Fauchon has done for the éclair. In fact, to celebrate la Réntrée — the period at the beginning of September when all of Paris returns form their vacations, ready to start work and school again — Fauchon holds an eclair event, Week-End Eclairs.
Special event or not, a refrigerated display case the length of a Cadillac is filled with a dizzying selection of éclairs — there are even mini éclairs for all those French women who don't get fat. How about a foie gras éclair? This savory delicacy is filled with foie gras and glazed with hazelnut cream.
The History of Fauchon Paris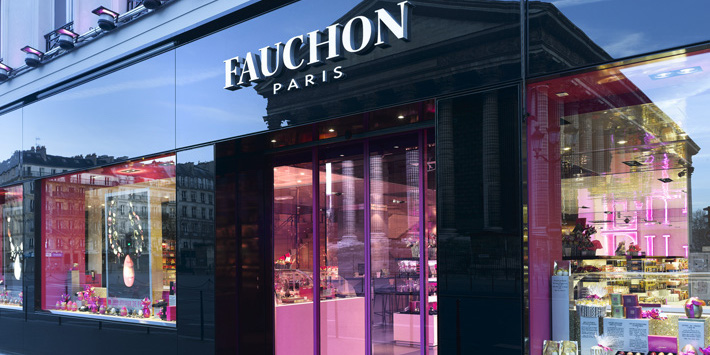 The story of Fauchon begins with a man from the French provinces and a wheelbarrow. Following the French Revolution at the end of the 18th century the bourgeois, that is to say the middle class, began to develop in Paris. By the later 19th century the bourgeois had created a demand for high-quality products, including foods.
In 1886, three years before the Eiffel Tower was built, a young man named Auguste Fauchon arrived from Calvados with a wheelbarrow filled with fresh apples from his native Normandy. Soon he had opened a small store selling the great foods from the French provinces. It was Auguste's wife (an early marketing genius) who first had the idea of putting their name on every product they sold.
Little did they dream that the wheelbarrow would eventually turn into a magnificent food store and that the Fauchon food empire would still be flourishing today.

Fauchon Paris Resources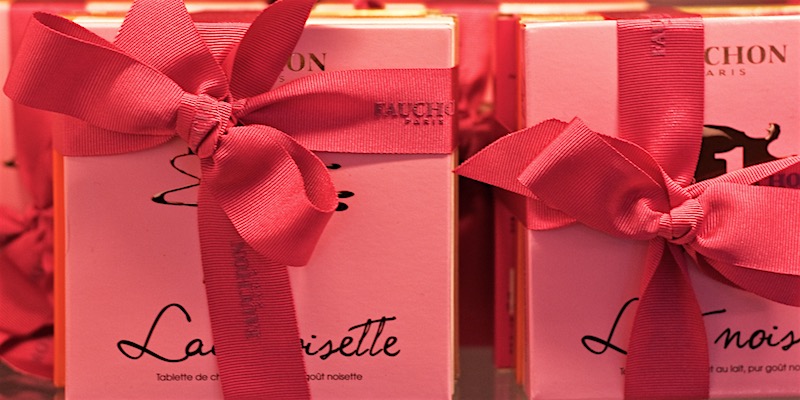 24-26 Place de la Madeleine, 8th Arrondissement
Fauchon Parisis open from Monday to Saturday
The Deli & Pastry Shop is open from 9:00 AM to 8:30 PM
The Bakery & Café are open from 8:00 AM to 8:30 PM
The main store, the Gourmet Shop, is open from 9:00 AM to 8:00 PM
Paris Patisseries – History, Shops, Recipes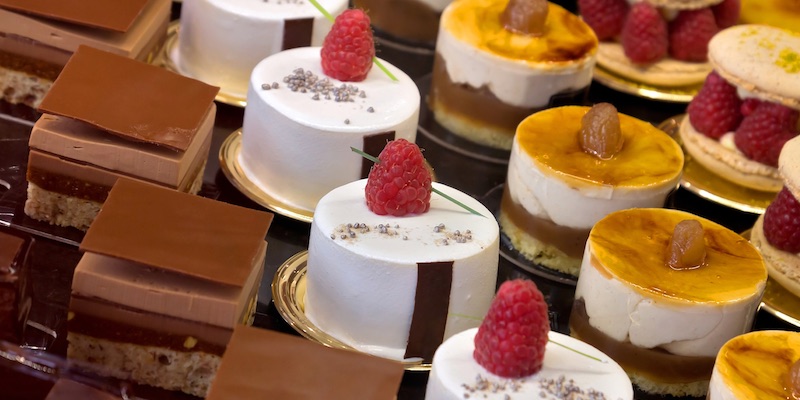 We like this book that tells you the what's what of Paris patisseries. Parisians know that a perfect éclair or apple tart is one of life's great pleasures. But which patisserie has the best macarons, the most to-die-for chocolates, or a pain au chocolat that melts in your mouth?
The Patisseries of Paris, by Ghislaine Bavoillot with photos by Christian Sarramon, answers those questions. There's even a forward by master pâtissier, Pierre Hermé.