Hotel Brighton Paris
Stay in the center of
the city of Light
Hotel Brighton Paris. If you're in the market for a quality 4-Star Paris hotel, the Hotel Brighton might be just the thing.
What's not to love about it? Hotel Brighton is in the heart of Paris on Rue de Rivoli, directly across the street from the gorgeous Tuileries Garden. Its neighbors are the Louvre Art Musuem and the swanky Place Vendôme. This romantic hotel is filled with with antique furniture, chandeliers, and artwork.
The Tuileries Garden is among the most beautiful in the city. In fact among the most beautiful anywhere! The hotel faces onto the garden and it is a short walk to the Musée d'Orsay , the Louvre and the river Seine.
Hotel Brighton Paris dates back to the end of the 19th century when France and England were the best of friends. The hotel name itself is a result of that friendship during the reign of Queen Victoria.
What to Expect at Hotel Brighton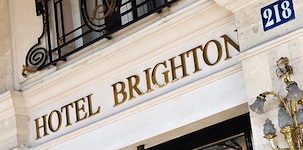 The entire hotel was renovated in 2008 with serious upgrades and has been awarded with a fourth star.
All of the rooms have modern air-conditioning yet retain the historical Parisian décor, with period furnishings and artworks.
Hotel Brighton has a 24-hour reception and a concierge to arrange any sightseeing or activites you'd like to explore. There is an elevator, and WiFi access is available throughout the hotel. For business travelers there is a 24-hour business center, with free WIFI, a limo/town car service, and a porter to help you with your luggage.
Hotel Brighton Paris





218 Rue De Rivoli
1st Arrondissement

Paris Planning Quick Links
Food & Wine
Activities

Paris Airport Transfers

All About The
Eiffel Tower

Best Day Trips From Paris
Want To Learn More?
Don't Miss a Single Paris Travel Tip.
Sign up for Le Petit Journal!
The Newsletter of Paris Insiders Guide
Don't Miss a Single Paris Travel Tip.
Sign up for Le Petit Journal!
The Newsletter Of Paris Insiders Guide