Private Seine River Cruises — Choose The VIP Route Through Paris
Cruising along the romantic Seine River is an essential part of the Paris experience. It's how you get a true feeling for the historic center of the city that lies along the Spine of Paris. Our favorite river cruises are those that provide special attention, and that's what this selection of activities is all about.
We look for VIP or private Seine cruise experiences that provide transportation from our hotel, or that include dinner on a private yacht, or that mix in dinner and live entertainment, or even those that provide overnight accommodations aboard a yacht on the most romantic river in the world. Here we present the best of these experiences.

VIP Dinner Cruise on the Private Yacht, Don Juan II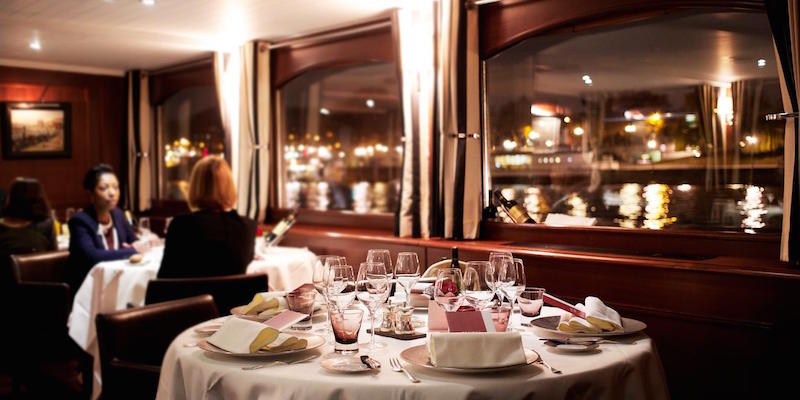 This is one of our readers favorite VIP river cruise activities. It's a three-hour cruise along the Seine aboard a private luxury yacht. The Don Juan II hearkens back to an earlier era in pleasure craft with brass fittings, sumptuous wood finishing, and an air of overall elegance. Once on board you are served a typique gourmet meal by a star chef.
Enjoy romance, traditional French fine dining, and a tour of the city with its world-famous landmarks gliding by. In short, it's pure Paris luxury! If, by chance, you'd like to book a Proposal Dinner Cruise, let our Paris Concierge know, using the inquiry form. Dinner cruises are €260 to €310 per person.
Premier VIP Dinner Cruise with Hotel Transfer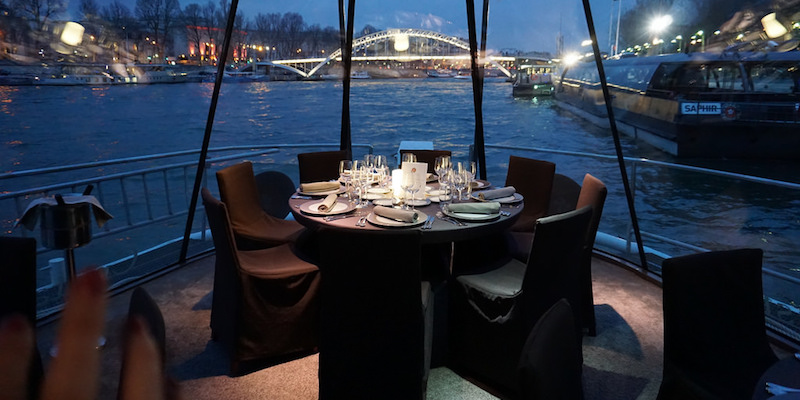 Get picked up directly from your hotel for this dinner cruise with a superior menu offering. Once aboard you are seated in the prestige location, the round table at the front of the boat. While dining on the multi-course Menu Premier (complete with champagne and wine), you enjoy dinner music provided by a live banda nd singer. Group size between two and eight.
Private Wine Cruises with Hotel Pickup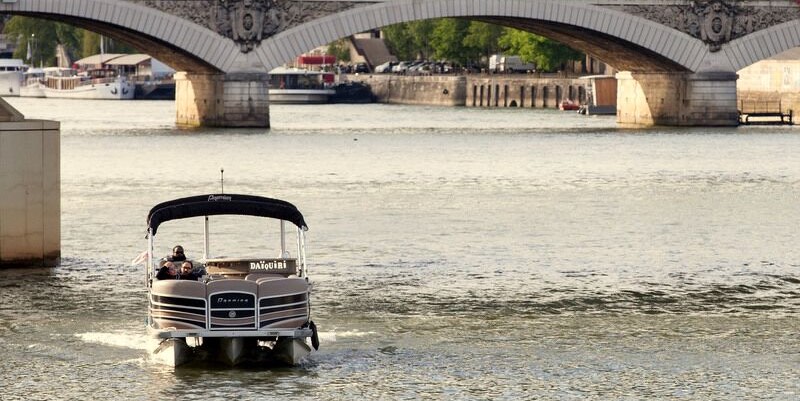 These are possibly the ultimate Paris wine events. A private driver meets you and your party at your Paris address and whisks you to the banks of the Seine where you are welcomed aboard a luxury motor craft, yacht, or limousin boat.
There, among luxurious surroundings and while viewing the famous historic landmarks of Paris, you spend one, two or three hours sipping wine or champagne while enjoying the good life in Paris. The boats can accommodate private groups of up to six (on the limousin) or twelve people. Figure €500 and up for the cruises.