Guide to the
Monet Gardens at Giverny
The Inspiration for the
Master of Impressionism
Claude Monet's gardens are both legendary and magical. Many of his most famous watercolor paintings were inspired by the lily pond and the flowers surrounding it. In fact, Monet had the pond built according to his specific design, including the famous Japanese bridge.
If you have children, a visit to Monet's gardens is an idyllic way to spend the afternoon.
They can explore the gardens, the pond and even a tunnel! Plus there are gift stores with wonderful Monet-inspired momentos.
The Monet gardens are a riot of color, texture and variety. A team of gardeners work year-round to keep the grounds maintained to the standard that Monet kept during his lifetime.
The Pink House where Monet lived for forty years is also open to visitors. Be sure to see the yellow dining room and blue kitchen. Whether you're five years old or ninety, it's a not-to-miss destination during your Paris trip in spring, summer or fall.
Giverny & Monet's Magical Garden
A Paris Insiders Guide favourite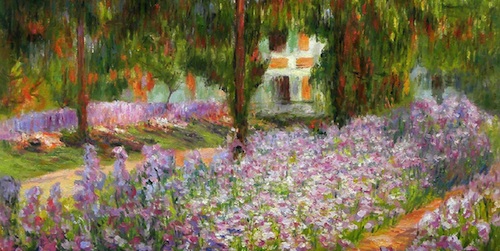 No need to worry about how to get to Giverny.
On this small-group tour, we were picked up and delivered back to our Paris hotel in an 8-passenger, air-conditioned van.
You start the afternoon by driving through the Normandy countryside to the charming village of Giverny where the tour of Monet's gardens begins. It was in Giverny that Monet created the place of his dreams where he could paint, garden and live in a natural and peaceful environment.
Wander through the exquisite gardens and view the water-lily pond and the famous Japanese bridge, which are central to his Impresssionist masterpieces. Inside the big pink house, admire the yellow dining room and dazzling blue kitchen. Claude Monet lived with his family in Giverny from 1883 until his death in 1926.
There's time to visit the nearby museum dedicated to American Impressionists, and to shop in a couple of gift stores.
Explore Monet's Country
Explore in Style on a Private Tour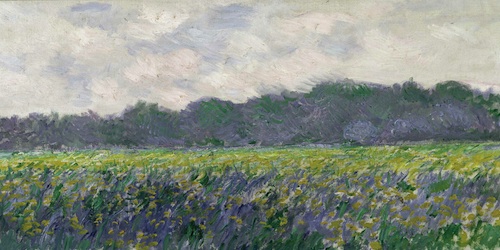 If, like us, you prefer to go the "royal route", then choose this private half-day trip created by our Paris Concierge.
Your private guide picks you up at your Paris address. On the way to Giverny he gives you an introduction to the life and work of Claude Monet.
You visit the actual cemetery where Monet is buried and then head over to the gardens and Monet's villa for an extensive tour. Take your time and soak in the artistic atmosphere.
Returning along the Route des Crêtes you will see an exceptional panorama across the Seine valley. Also en route you'll see a watchtower built in the 9th century as a lookout for Viking invasions.
That's not all all you see along this route. There's Château La Roche Guyon where Erwin Rommel had his headquarters in World War II. Stop at Monet's earlier house in the village of Vetheuil where he spent the hardest years of his life. Then pass through the town of Mantes la Jolie and see its 12-century Gothic cathedral.
To find out more about private tours to Giverny (as well as tours to Versailles), use the enquiry form to ask our Paris Concierge.
Giverny & the Splendor of Versailles
Two Amazing experiences in one day!
We've recently discovered this tour that combines two popular sites – the Monet gardens at Giverny and the palace of Versailles – in one easy day.
First stop is Giverny to see the gardens that inspired Claude Monet to to paint some of the world's greatest Impressionist masterpieces.
Next, stop for lunch at a charming restaurant on the banks of the Epte River before you're driven to the world's most opulent palace ever built, the Chateau de Versailles. You explore French royal history at the opulent Grand Apartments, the dazzling chandelier-lit Hall of Mirrors and the Queen's Apartments.
Along the way your expert guide brings the past alive with illuminating details of courtly life in the palace.
Entrance fees are included in the cost of the tour. No need to worry about how to get there — you are be picked up and returned to your Paris hotel.
We really like the full-day private version of this tour created by our Paris Concierge. En route to Versailles your private guide provides an introduction to the era of the Sun King and the history of the palace. Then, after half-a-day at Versailles, he whisks you to Giverny to visit the house and magical gardens.
Paris Insiders Tip
While you're at Giverny don't miss the "other" museum. The Musée des Impressionnismes Giverny houses numerous works by American painters who met Claude Monet and drew inspiration from his Impressionist techniques.
Other Monet Gardens Tour Options
Visit the Orangerie Museum in Paris & the Giverny Gardens in a One Day Trip. Learn More »
Orangerie Museum in Paris, the Gardens at Giverny and Lunch at l'Ile des Impressionnistes in Chatou. Learn More »
Transportation to Giverny by Minibus & Self-Guided Tour of Moet's Gardens. Learn More »
Other Travel Planning Guides
Don't Miss a Single Paris Travel Tip –
Sign up for Le Petit Journal !
the newsletter of Paris Insiders Guide