Christmas In Paris 2016 – Le Plus Merveilleux Time Of The Year!
Christmas in Paris is certainly a magical time. Shops glow with colorful Christmas displays, patisserie shelves groan with seasonal delights. Restaurants create special Christmas Eve, Christmas Day, and New Year's Eve menus that are filled with the bounty of the season — fresh oysters from Brittany, foie gras, truffles, chestnuts and champagne.
150,000 Christmas lights adorn the Champs Elysées and intricate window displays entertain children and parents alike at the Grand Magasins. Christmas concerts are performed throughout the city at some very famous venues: La Sainte Chapelle, Notre Dame, Palais Garnier and Opera Bastille. Remember that Christmas activities tend to sell out early. If you can't get a December 25 booking, why not try dates just before or just after Noël?

Christmas in Paris 2016 – Activities
Eiffel Tower, Moulin Rouge & Seine River Cruise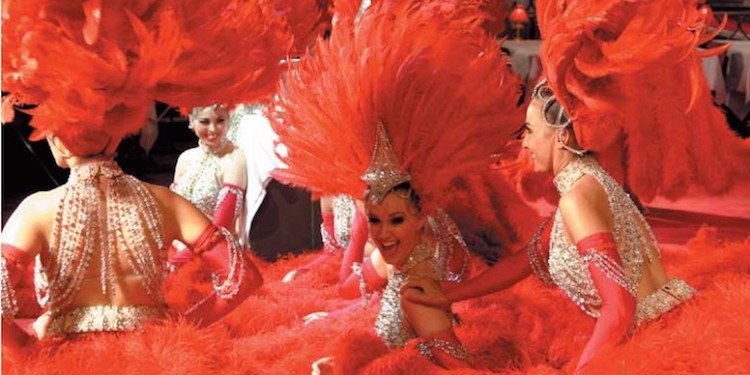 We love this all-in-one activity that combines the Eiffel Tower, French cuisine, the Seine River, and the world's most popular cabaret — the winning ingredients for a special evening out in Paris.
The night begins at the 58 Tour Eiffel restaurant, with views overlooking the Seine and Trocadero, with a 3-course meal. After dessert, cruise on the river to admire the Christmas lights before departing to Moulin Rouge for a lively performance at the historic cabaret.
This combined activity is available most days in December, but you must book early!

Moulin Rouge – VIP Seating + Champagne
Spend a night during the Christmas season taking in the cabaret from an exclusive seat on the private balcony at Moulin Rouge while sipping champagne and nibbling Dalloyau macaroons. Only a few dates left in December.
→ Book Now, Likely To Sell Out…
City Lights Dinner Cruise Along the Seine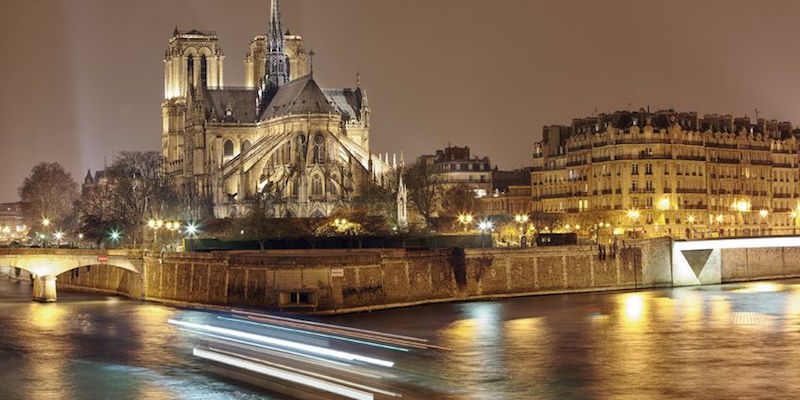 Spend a magical evening during the Christmas season floating down the Seine, enjoying the lights of the City of Lights, while dining on a 3-courses of the best in French cuisine.
The evening begins when the Bateaux Parisiens driver meets you at your hotel and whisks you to the river. There you board your dinner cruise boat, specially designed for great viewing and great dining. Then it's three hours of magical cruising along the most famous, and most beautiful river in the world. (At least that's what we think!)
When you book you're able to choose from three seating arrangements. We prefer what's called the Service Privilege Menu, with private window tables. Three courses, aperitif, wine, mineral water, and coffee are included, as is return to your hotel. Available every day December and into January, including the entire Christmas week, but book now to reserve your table.
Skip-the-Lines at the Eiffel Tower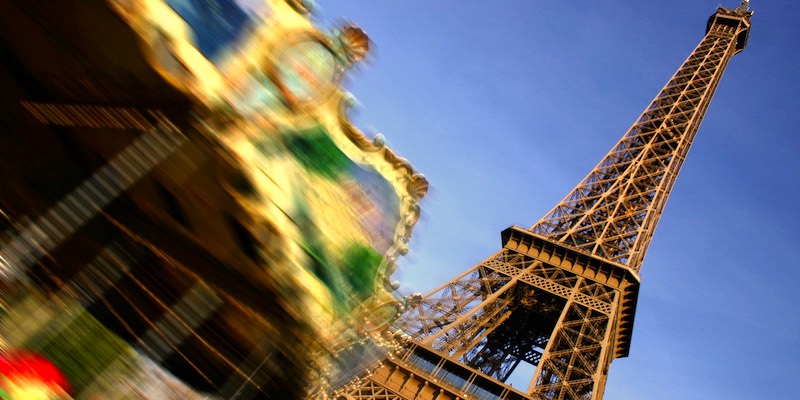 The Eiffel Tower is very popular, and there are always very long lineups. We don't like to stand out in the cold in a Paris December. For that matter, we don't like to wait in line, period. So we always look for a skip the line tour.
We like this one a lot, and so do our readers. It's the fast-track way to get up the city's most popular monument. You meet up with your guide at the base of the tower and are escorted past the long line to the Priority Entrance. As you ride the elevator to the 2nd level, your guide regales you with stories and history of the tower. Spend as much time as you want viewing the City of Light spread out around you, and then take the elevator up to the tippy-top for an even more amazing view.
UPDATE — Still available most dates in December. Be certain to check the various times of day for each date.
Alternative Skip-the-Line Eiffel Tower Tour
Check this activity for other dates & times. Still available on most dates in December.
Dinner on the Eiffel Tower + Illuminations River Cruise
Here's one more river cruise + dinner we want to tell you about. Once again it's a combination of two iconic activities, creating a magical winter night in Paris.
Enjoy the panoramic views of Paris Christmas lights in the distance from the 58 Tour Eiffel on level one of Eiffel Tower — the best vantage point in the city. The restaurant itself is styled like the airships of an earlier era and imparts a nice nostalgic feeling, but with really good food!
Your evening's not over yet. After dinner you stroll to the nearby banks of the Seine for a one-hour illuminations cruise. The evening includes pickup from your hotel and return at the end. Tours are available throughout the Christmas season, but you must book very early! Seriously.

Eiffel Tower Holiday Dinner – Limited Availability!
Picture this. You & your special one overlooking the city of Paris while enjoying a multi-course holiday dinner on the Eiffel Tower.
It's the stuff dreams are made of — if your dream involves being treated like a VIP in Paris. Although Christmas Day is already sold out, you can book this event every other day in December. Includes skip-the-line ticket to the restaurant elevator for fast access.
Christmas in Paris 2016 – Classical Music & Ballet
Christmas Concerts at La Sainte Chapelle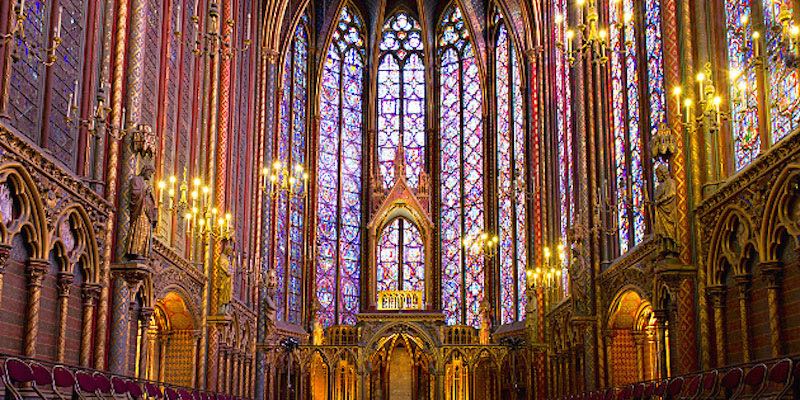 We can't think of a better way to celebrate the holiday season than a classical music concert at the stunning Gothic church on Île de la Cité.
La Sainte Chapelle, the 14th-century personal chapel of the kings, has just undergone a restoration with extensive cleaning and repairing to the structure's famous stained-glass windows, so everything is shiny and beautiful.
Experience the royal chapel with works by Vivaldi, Pachelbel, Bach, Monteverdi and other timeless composers. There are special performances on Christmas Eve, and December 26 through to New Year's Eve. currently, though, there are only a couple of dates with tickets still available. Book as soon as possible.

Featured Concerts at La Sainte Chapelle – Still Available
MASTERWORKS OF SACRED MUSIC – AVE MARIA + BACH + MOZART + SCHUBERT
December 8 & 11
→ Reserve Tickets…
VIVALDI'S FOUR SEASONS + HANDEL + PACHELBEL
December 8, 9, 10, 11
→ Reserve Tickets…
VIVALDI'S FOUR SEASONS PERFORMED BY LES SOLISTES FRANÇAIS ORCHESTRA
December 15, 17, 18, 21
→ Reserve Tickets…
VIVALDI'S FOUR SEASONS + PACHELBEL'S CANON + VITALI'S CHACONNE
December 12, 19, 20, 23, 27, 28, 29
→ Reserve Tickets…
LES SOLISTES FRANÇAIS: MOZART + SCHUBERT + MENDELSSOHN + DVORAK
December 15, 16, 18
→ Reserve Tickets…
CHRISTMAS CONCERT: VIVALDI'S GLORIA + REJOICE FROM THE MESSIAH + AVE MARIA
December 16, 17, 19, 20, 22, 23, 24, 26, 27, 28
→ Reserve Tickets…
LA SAINTE CHAPELLE NEW YEARS CONCERT
December 30 & 31
→ Reserve Tickets…
Sainte Chapelle Christmas Concert + Classic French Dinner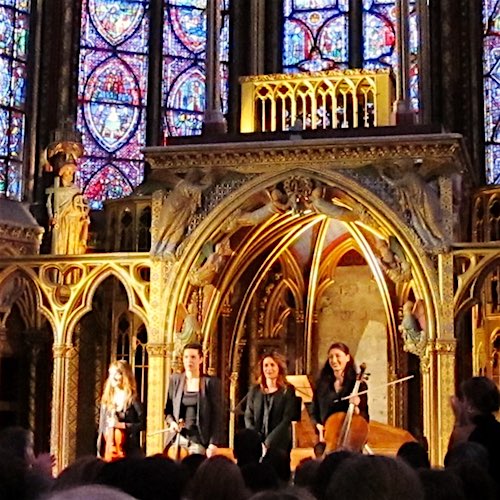 Sure, it's dinner and a show but the show happens to be at the iconic Saint Chapelle with dinner at a nearby French bistro. Dinner reservations can be made for before or after the concert.
• Available Most Evenings until December 29
Experience Vivaldi's Four Seasons in Paris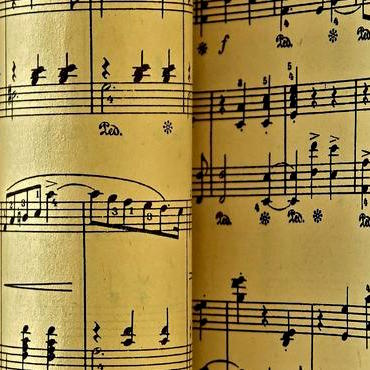 Vivaldi, the most popular baroque composer, loved to create music that painted a picture. And there's no other piece of music that evokes the natural phenomena of the seasons quite like this — the wind and rain of autumn, the rebirth of spring, the light and warmth of summer, and the sleeping stillness of winter. Experience his Four Seasons this December in performances at La Madeleine, St-Germain-des-Pres, Eglise de la Trinité, and La Sainte-Chapelle.
More Classical Christmas Concerts at Iconic Paris Churches
FREDERIC CHOPIN PIANO MUSIC – AT EGLISE ST EPHREM
December 9, 24, 28, 30 & January 1, 2017
→ Reserve Tickets…
VIVALDI'S FOUR SEASONS & CHRISTMAS MUSIC – AT EGLISE DE LA MADELEINE
December 17, 23, 26, 28, 30
→ Reserve Tickets…
NEW YEAR'S EVE CONCERT – AT SAINTE-EUSTACHE
December 31 Only
→ Reserve Tickets…
MUSIC BY MOZART & VIVALDI – AT SAINT-GERMAIN DES PRES
December 16 & 27
→ Reserve Tickets…
Special Performances at Notre Dame Cathedral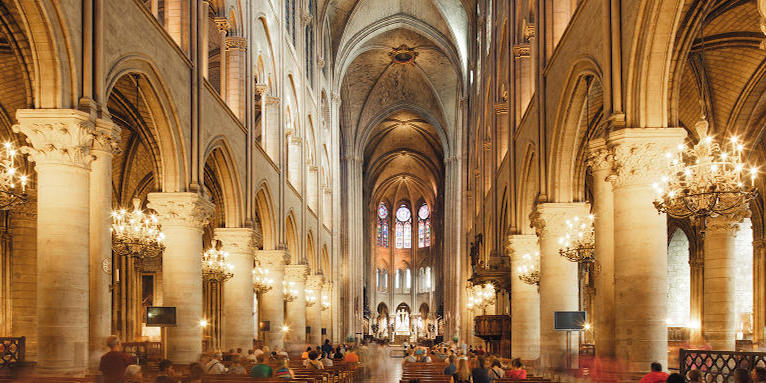 There are a couple of outstanding concert events at Notre Dame during the holiday season. Grab the rare chance to hear sacred masterpieces in this, the most famous cathedral in the world. Tickets are still available for the December 13 & December 29 performances.
Swan Lake at Opera Bastille New Years Eve
In Paris, Christmas wouldn't be Christmas without a seeing a performance of Tchaikovsky's most famous ballet, Swan Lake. This magical show (which was, by the way, Tchaikovsky's first ballet) is based on the legends of young girls being turned into swans. It's a perennial fave and should be on your must-see list. Currently the only tickets left are for a fabulous black-tie performance on New Year's Eve, but you'd better book right now.
Holiday Season Performances at Palais Garnier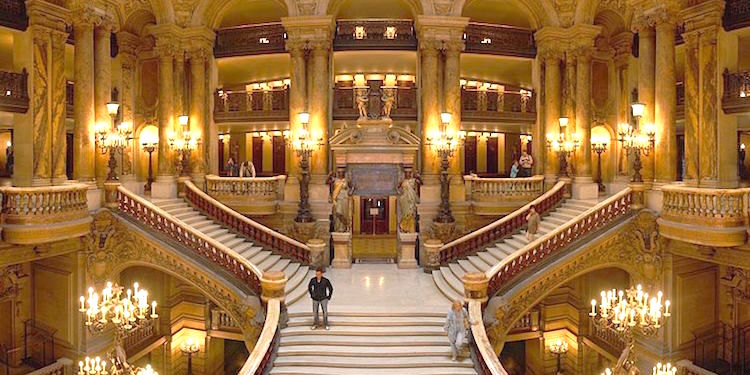 Another must-see in Paris at Christmas is a performance at the stunning Belle Epoque marvel, Palais Garnier. The building itself is as marvellous as any performance ever held there. Every year there are seasonal concerts and ballets and any one of them is worth seeing.
Special New Year's Day Concerts – Sunday, January 1, 2017
All Holiday Concerts in Paris
In addition to lights, goodwill, lots of good food & wine, Christmas in Paris means music, music, music. Not just in the modern concert halls, but also in the historic churches and cathedrals of Paris.
A Christmas concert at one of these historic venues is something you will never forget. More concert events will be added as the festive season nears, so be sure to check back in autumn.
Christmas in Paris 2016 – Day Excursions
VIP – The Best of Versailles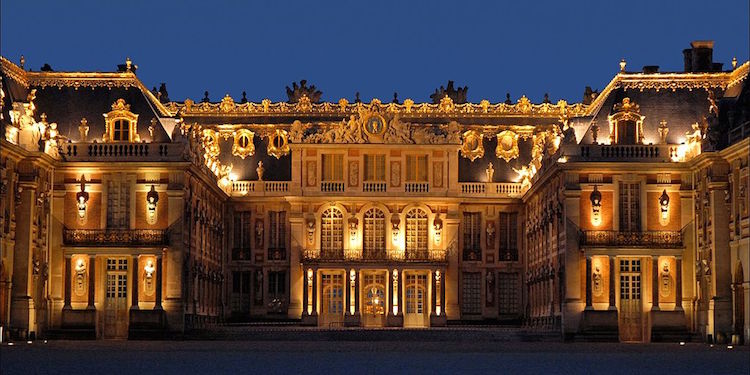 Paris is magical in December, and the magic continues beyond the city gates. There are so many wonderful experiences to be had on day trips from Paris. And this is the perfect Paris Noel day trip!
You experience the best of Versailles in the best ways. Travel by luxury caravan, then skip past the entrance lines with a priority-access ticket. See the State Apartments, the Hall of Mirrors, and then explore the Gardens of Versailles, beautiful even in winter. And then there's the 3-course lunch by the Grand Canal, followed by visits to the Grand Trianon and the Queen's Hamlet. VIP tour available Sundays, Wednesdays, Fridays, including December 23 & 30.

Skip-the-Line Versailles Tour with Hotel Pickup & Return
Available every day in December, except Mondays. Amazingly, the calendar shows this available on Christmas Day, December 25.
Spend a Day in the Magical Land of the Bubbly
"I am drinking stars," the champagne monk Dom Perignon said upon tasting the first glass of a sparkling wine. Or so the legend tells us!
Now it's your turn to taste stars in the legendary Champagne Region of France during your Christmas sojourn in Paris. Your senses will be on overload as you wander through the Roman chalk caves, see how champagne is made, and taste the bubbly in elegant salons of Grand Maisons de Champagne .
The day begins with your driver/guide meeting you at your Paris address then whisking you off through rolling hills towards Reims, the Birthplace of Bubbly. Maximum 8 people to ensure you get enough champagne! Tours available Monday, Wednesday, Thursday, Friday in December.
Visit the Historic D-Day Beaches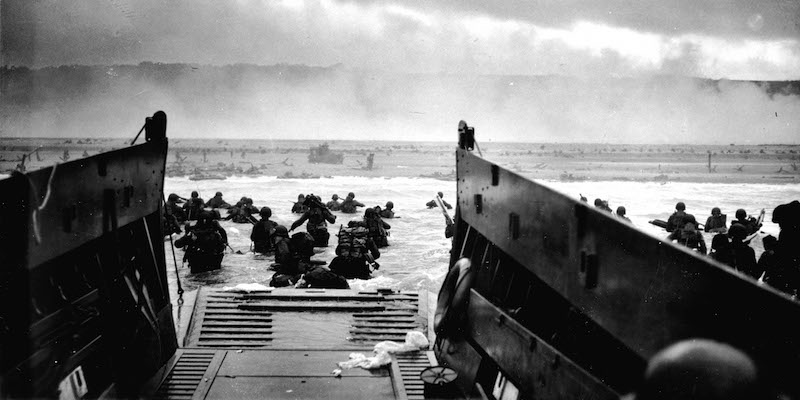 It will be a poignant day trip from Paris to the Normandy battlefields and landing beaches of World War II.
You are driven through picturesque Normandy countryside to the Caen Memorial. After lunch (included), visit Pointe du Hoc, the German defensive battlement that was taken by American troops during the invasion. See Juno Beach, Omaha Beach, and the Omaha Beach Visitor Center, where you will learn powerful details about the beginning of the end of World War II. We suggest you opt for hotel pickup and return. Tours are available daily throughout December.
Christmas in Paris 2016 – Food & Wine Events
Christmas Day Dinner Cruise on the Seine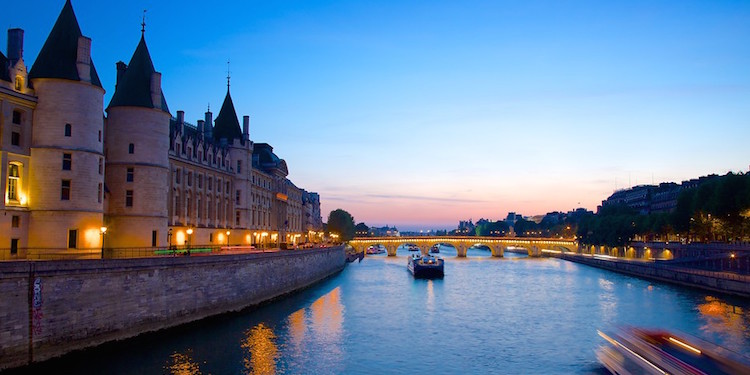 Plan a very special Christmas in Paris — an evening with dinner on the world's favorite river. On a boat on the the Seine, glide past illuminated Paris landmarks as your 3-course meal is served. The seasonal menu is prepared by a chef from the Academie Culinaire de France.
We recommend you select the service premier — a private table is reserved for you at the front of the bateaux with extra appetizers, aperitifs and liquers. Reservations are available daily through December including Christmas Eve, Christmas Day and New Year's Eve. But, you must book early!
Christmas Gourmet Tour of Paris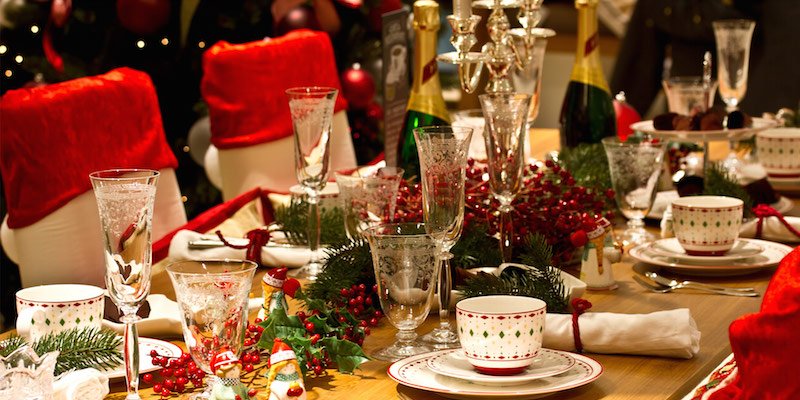 In Paris, La Saison Des Fêtes, the holiday season, is all about great food.
On this small-group walking tour of the City of Celebration, you delve deep into the world of seasonal goodness. And you sample heartily! The tour starts at the renowned Christmas market on Place Saint-Sulpice, right in front of the magnificent church, and wanders through Saint-Germain. Bonnes Fêtes !
Wine Tasting in a Cellar near the Louvre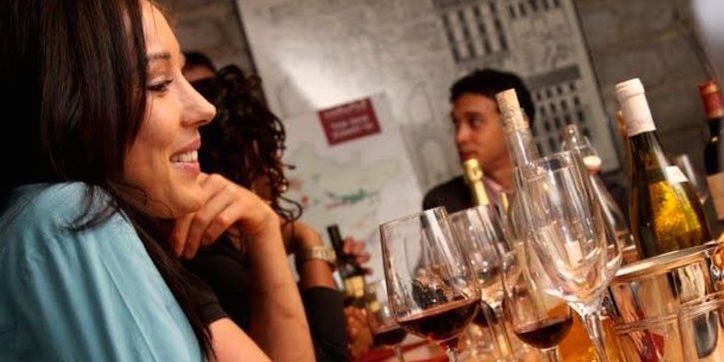 Picture this — a certified wine sommelier leads you on a tasting tour of the top French wines as you sample artisanal bread, French cheeses and cured meats. And it all takes place in a wine cellar in central Paris.
You can choose from a basic one-hour tasting or a longer tasting with cheese and charcuterie, but we prefer the even-longer tasting experience with champagne, six grand cru wines, and le grand cheese and charcuterie platter. Available daily in December except for Christmas Eve & Christmas Day.
Chocolate & Pastry Tour – Special Christmas Edition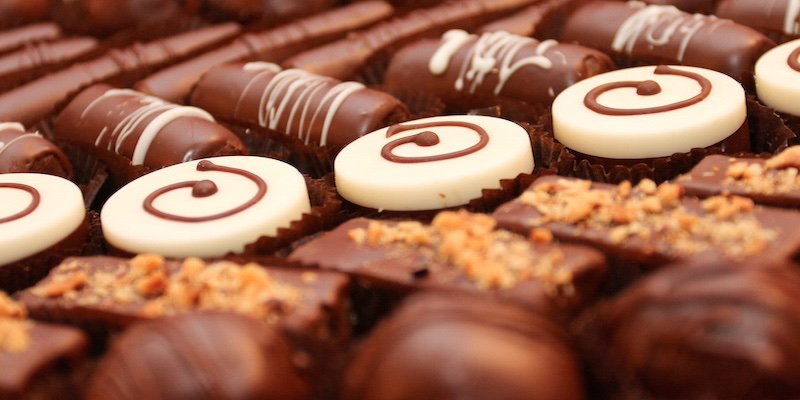 During the holiday season, and only available the last two weeks in December, you can hook up with the special Christmas edition of this very popular chocolate and pastry walking tour. As we said, Christmas in Paris is all about food, and chocolate is perhaps the best example. Everyone's in the holiday mood as the pass out plenty of samples!
Christmas in Paris 2016 – Seasonal Events
Christmas Markets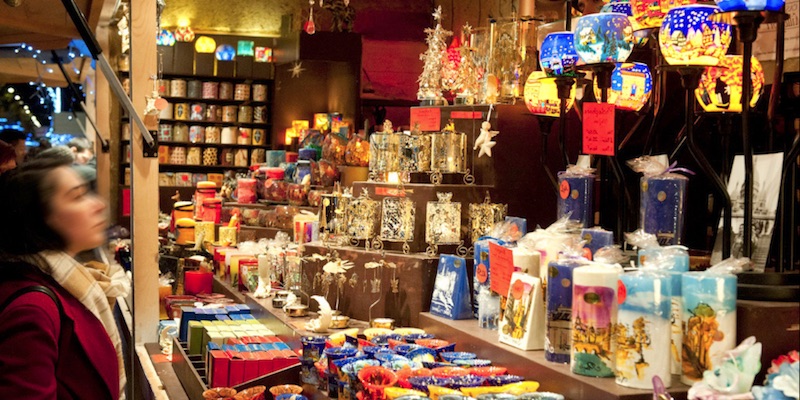 Bundle up warm and go out exploring to see how the French celebrate Christmas. Every year seasonal Christmas markets spring up in many quartiers of Paris. It's where Parisians shop for crafts, decorations, and other seasonal specialties. From the middle of November to early January you can find Christmas Markets at these locations —
Saint-Sulpice (and Père Noël Village), 6th Arrondissement
Saint-Germain-des-Prés (and Père Noël Village), 6th Arrondissement
Place de la Nation, 11th Arrondissement
Place des Abbesses in Montmartre, 18th Arrondissement
Gare de l'Est, 10th Arrondissement
Trocadero, 16th Arrondissement
Christmas Lights on Champs Elysées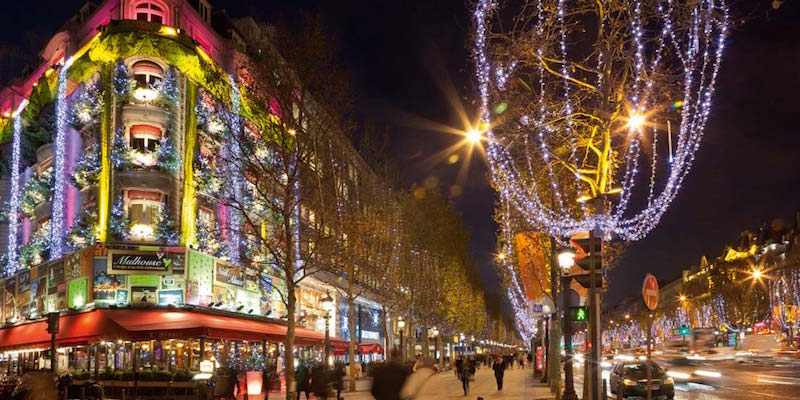 Paris lights up for the holidays and you find light displays in shop windows and on streets throughout the city. But the most famous light show, and perhaps the most spectacular, is on Champs Elysées.
If you're lucky enough to be in Paris in mid-November, you can watch the Christmas lights be turned on by celebrities and French dignitaries in a ceremony that kicks off the holiday season.
Christmas Eve & New Year's Eve Schedule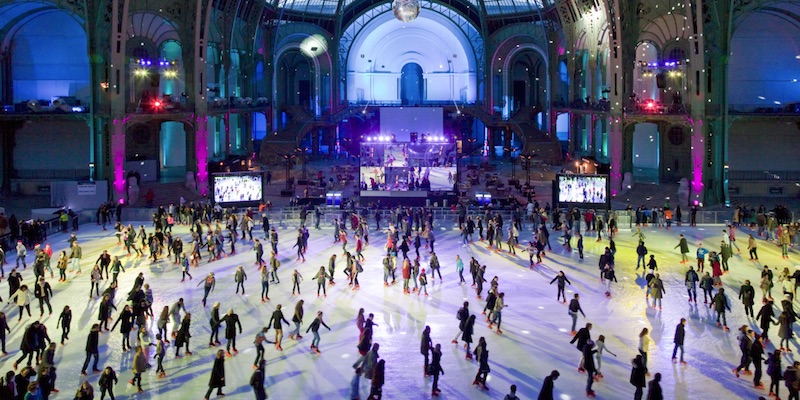 Most shops, museums and many restaurants will be open. Although Christmas Eve and New Year's Eve are not official holidays in France, the train stations will be packed as Parisians head out for their Christmas getaway.
But be warned — chocolatiers, fromageries and anywhere food and wine are sold will be jam-packed with locals stocking up for Christmas New Years celebrations. Make sure to stock up yourself as most everything will be closed on Christmas Day and New Year's Day. If you plan to dine out, make reservations well in advance around the holidays.
The good news is that the Eiffel Tower is open 365 days a year.
Christmas in Paris 2016 – Churches & Cathedrals

Notre Dame Cathedral – Christmas Eve & Christmas Day
As you'd expect, at all the historic churches and cathedrals of Paris there are plenty of religious services during Christmas in Paris. If you're planning on attending Notre Dame Cathedral for Christmas Eve, our advice is to arrive early. On both days the cathedral opens at 7:45 AM and the first mass begins at 8:00 AM. English Mass begins at 2:00 PM, French mass at 4:00 PM with the final mass at 6:15 PM to 7:00 PM. The cathedral closes at 7 PM.
• Calendar for Christmas Events…
Sacre Coeur Basilica, Montmartre
Celebrate Christmas at the famous snow-white basilica set on the highest point of Paris. There is a Christmas Eve organ concert at 10:00 PM and an 11:00 PM vigil and Midnight Mass. On Christmas Day there is Mass at 7:00 AM, 11:00 AM, 6:00 PM & 10:00 PM. It's recommended to arrive at least 30 minutes before the service.
• Sacre Coeur Christmas Schedule …
Sainte-Etienne-du-Mont
Just kitty-corner from the Pantheon, Sainte-Etienne features stained-glass windows that date from the 16th and 17th centuries. By the way, the steps on the northwest side of the church were used as a location for Woody Allen's Midnight in Paris ! Place Sainte-Genevieve, 5th Arrondissement
• Website…
Saint Alexandre Russian Orthodox Cathedral
Set in the 8th Arrondissement close to Parc Monceau, this was the first Orthodox church in France, (established in 1861). Pablo Picasso and Olga Khokhlova were married here in 1918. 12, rue Daru.
• Website…
The American Cathedral in Paris
This historic monument is a a center for English-speakers in Paris. 23, avenue George V, 8th.
• Website…
American Church in Paris
This was the first American church established in Paris, in 1814. It's located on the left bank of the Seine between Pont d'Alma and Pont des Invalides. 65, quai d'Orsay, 7th.
• Website…