Food in Paris –
Rebekah's Gourmet Tours
Get behind the scenes with a true Paris food expert. You've probably noticed that we talk a lot about gourmet food in Paris — it's an important part of French life and something you shouldn't miss during your visit to the City of Food.
Our Paris pal and French food expert Rebekah will take you on a hand-made tour of a Paris farmer's market where you'll not only meet the top food vendors, but get behind the scenes of French culinary culture. You come away with an understanding of the importance of the quality and variety of food in Parisian life and culture, and you learn to taste the difference. Rebekah is the perfect guide — knowledgeable, personable, patient and a joy to be around.
Rebekah's Farmers Markets Tours in Paris
Three or four days a week Rebekah offers a two-hour tour of one of the best farmers markets in Paris.
Rebekah explains (in English) the intricacies of the rigorous and fascinating French system for rating and classifying foods. This is called the AOC system, or Appellation d'Origine Contrôlée (Controlled Designation of Origin), and it works to ensure the high quality of the country's food.
Learn how the French marchés (markets) system works, how to pick the best produce, where the fish in the market comes from, and how to shop for and prepare some traditional French dishes. You'll come away feeling like you've been shopping at Parisian marchés all your life.
Rebekah's Gourmet Food Tour in Paris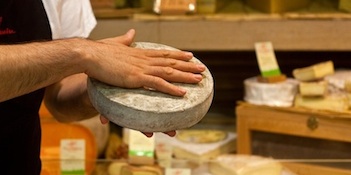 At the foot of the Eiffel Tower, any Wednesday morning at 9:00 am, you can join Rebekah for what she calls her Decadent Gourmet Tour.
You'll learn what makes French cheese sooooo good, and how to choose between the cheeses.
Did you know it takes seven years of study to be a French baker? You'll learn more about that and you'll witness first-hand the creation of the two types of traditional French baguettes.
Should we mention the chocolate shop? At the shop of a chocolatier often cited as the best chocolate maker in Paris you'll learn the secrets (well, at least some of them) of his amazing creations.
In all the shops you'll meet the maîtres (masters) and sample, sample, sample!