Explore Paris & Dine in Style On Private Guided Tours
We love to explore Paris at night. It is, after all, the City of Light. Seeing it on foot is great, but if you want to experience the whole gamut of magnificently-lit monuments, get someone else to drive you around. Enjoy the good life in the nighttime from a chauffeured private car. And in Paris, you'll want to dine in style as well. That's what these tours, created by our Paris Concierge, are all about. See the city with an experienced driver/guide and then dine at a classic bistro or a Michelin restaurant.
We heartily recommend the tours that our Paris Concierge arranges. He really takes care of you and plans your whole evening with style. You can choose to tour the city before or after dinner. You can choose the funky and iconic Citroën, 2CV, a luxury sedan, or even a vintage Rolls. You can choose a 3-hour tour with no dinner. The important point is you can choose — our friendly concierge will arrange the activity that you want. Just drop him a line using the inquiry form.

Michelin Dining on the Eiffel Tower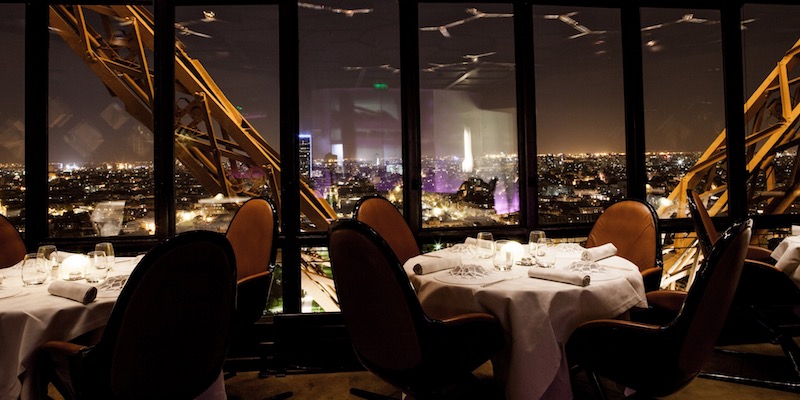 But first, let's start with a once-in-a-lifetime VIP activity you can arrange yourself — a special dinner on the Eiffel Tower, 400 feet above the lights of the city. We love the way France uses its monuments, incorporating them into everyday life. The Gothic churches of Paris, for instance, are also venues for classical music concerts.
In the case of the Eiffel Tower, there are not one, but two restaurants on the tower itself plus a champagne bar at the tippy-top. Our highest recommendation is to reserve a table on the top at restaurant Le Jules Verne. We love the ultra-contemporary setting and leading-edge French cuisine by über-chef Alain Ducasse.
Book your reservation at the link we've uncovered to ensure you get window seating for the best views. (Reserving here is the only way to guarantee that.) You also get other special perks like a 6-glass wine pairing at dinner. This special booking sells out. All the time. So you need to reserve as early as possible.
City Tour + Dinner at 58 Tour Eiffel
After seeing the Lights of Paris on a nighttime illuminations tour, our Paris Concierge can arrange for you to have dinner at the other Eiffel Tower restaurant — 58 Tour Eiffel. What we like about this restaurant on Level One of the tower is that the view is still glorious, while the menu costs a lot less. Start the evening with one of these VIP evening tours —
Private Horse & Carriage Ride
Tour in a Vintage 2CV
Vintage Rolls Tour
City Lights Tour
After your private city tour, you arrive at the Eiffel Tower with your priority-access pass to get you past the lineups and up the elevator to 58 Tour Eiffel where you are ushered to your reserved table.
Styling in a Vintage Rolls, Sipping Champagne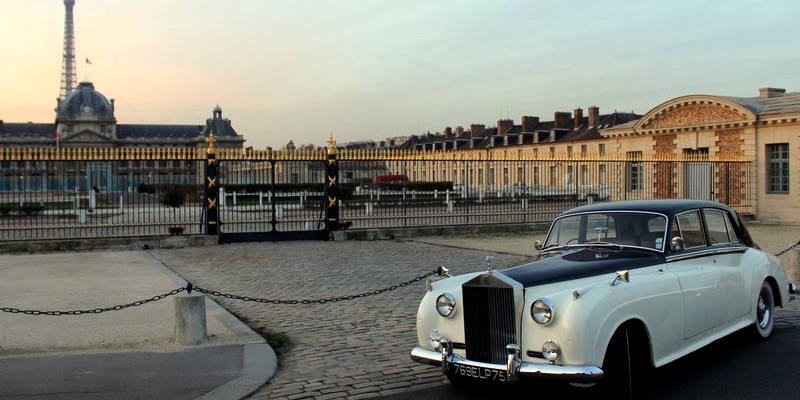 Paris. Champagne. Rolls Royce. How can you possibly separate them? At least that's what goes through our minds when we think about this nighttime activity. Here's how you can rationalize it — How often are you in Paris? Shouldn't you do something madly wonderful? Especially if you're in Paris with Someone Special. If you're ready for it, our Paris Concierge can arrange the whole thing, including champagne, photography, and dropping you off at the highly-recommended restaurant.