Explore Paris & Dine in Style On Private Guided Tours
We love to explore Paris at night. It is, after all, the City of Light. Seeing it on foot is great, but if you want to experience the whole gamut of magnificently-lit monuments, get someone else to drive you around. Enjoy the good life in the nightlife from a chauffeured private car. And in Paris, you'll want to dine in style as well. That's what these tours, created by our Paris Concierge, are all about. See the city with an experienced driver/guide and then dine at a classic bistro or at a restauranton the Eiffel Tower.
We heartily recommend these new tours because our Paris Concierge really takes care of you and plans your whole evening with style. You can choose to tour the city before or after dinner. You can choose the funky and iconic Citroën, 2CV, a luxury sedan, or even a vintage Rolls. You can choose a 3-hour tour with no dinner. The important point is you can choose — our friendly concierge will arrange the activity that you want. Just drop him a line using the inquiry form.

Dinner on the Eiffel Tower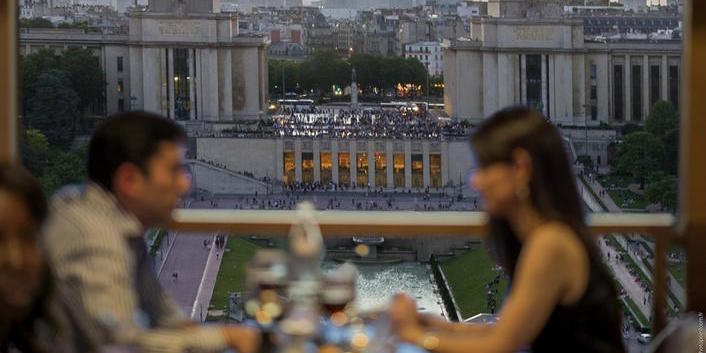 You must book an Eiffel Tower dinner tour weeks in advance. Don't wait until the last minute!
We love the way France uses its monuments, incorporating them into everyday life. The Gothic churches of Paris, for instance, are also venues for classical music concerts.
In the case of the Eiffel Tower, there are not one, but two restaurants on the tower itself plus a champagne bar at the tippy-top. One of your choices for an evening out is to have dinner at La 58 Tour Eiffel located on the first level. We love the ultra-contemporary setting and leading-edge French cuisine by über-chef Alain Ducasse. It's included on these evening tours —
2CV tour + Dinner at the Eiffel Tower
Eiffel Tower Dinner + Private Illumination Tour in a Luxury Sedan
Dine in the Latin Quarter or Montmartre
For those who are afraid of heights, there are other dinner options we like. There's dinner at a fondu bistro at the foot of Rue Mouffetard in the Latin Quarter. Or, how about dinner on Place du Tertre up on the hill in Montmartre? This is where Picasso and Modigliani and their coterie hung out when they were creating a whole new world of art in the early years of the 20th Century.
These options are included on —
Fondue Bistro + 2CV Tour + Jazz Club
Wine Bistro + 2CV Tour + Jazz Club
2CV tour + Dinner at the Eiffel Tower
Fondue Bistro + Jazz Club
Wine Tasting + 2CV Tour + Dinner in Montmartre
The Iconic Citroën 2CV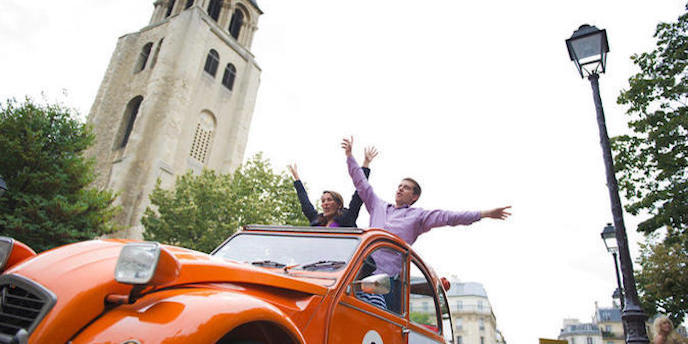 The Citroën 2CV was an advanced economy car with innovate engineering and bodywork. Almost 9 million 2CVs were produced between 1948 and 1990. It remains the most iconic car ever produced in France. Imagine being driven around Paris in a comfortable and completely refurbished 2CV. We don't know about you, but it makes us feel sooo French.
Our Paris Concierge will arrange for an experienced driver/guide to take you to the best The City of Monuments has to offer on a fun (and fact-filled) 2-hour tour. Check out these wine-and-dine tours —
2CV tour + Dinner at the Eiffel Tower
Fondue Bistro + 2CV Tour + Jazz Club
Wine Bistro + 2CV Tour + Jazz Club
Wine Tasting + 2CV + Fondue Bistro
2CV Tour + Dinner in Montmartre
Stylin' in a Vintage Rolls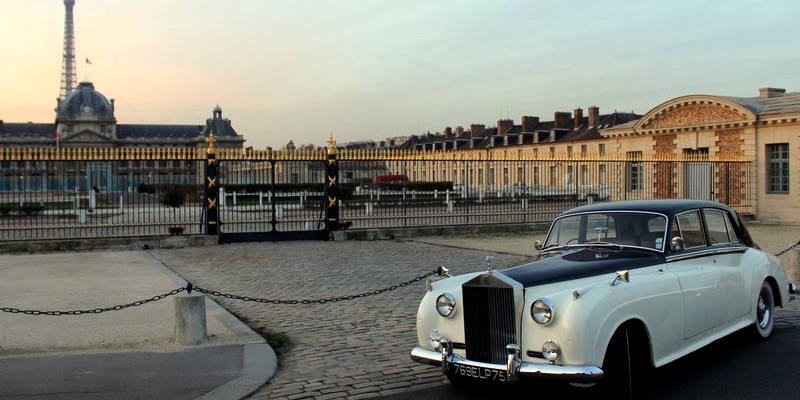 Paris. Eiffel Tower. Champagne. Rolls Royce. How can you possibly separate them? At least that's how we feel much of the time. Here's how we rationalize it: How often are you in Paris? Shouldn't you do something madly wonderful? Especially if you're in Paris with Someone Special. If you're ready for it, our Paris Concierge can arrange the whole thing.
Eiffel Tower Dinner + Vintage Rolls Illumination Tour