Play Parisopoly –
Choose the Best of Paris 2012
Your Chance to Express Your Feelings
About the City of Love
Choose The Best Of Paris 2012. It's no surprise to readers of Paris Insiders Guide that our city has once again been named the top tourist destination for international travelers. This time the award was given by the World Travel and Tourism Council.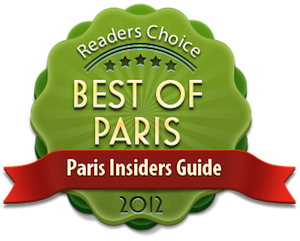 CLick for the List of Winners & Runners-Up
But we like to dig deeper, to get into the heart of the city.
That's why we've created Parisopoly, the game that lets you choose the best of Paris 2012.
And no boring multiple choice for our readers. No, sir. In ten quirky questions we let your imagination run wild to tell us what you really think about the city we all love.
Once the votes are in and tabulated the results will be sent to the major media in the new year. Of course, we'll also publish the results right here at Paris Insiders Guide. Check back here, or on our Facebook page, or follow us on Twitter.
To make it even more fun, five lucky participants will receive a free copy of our award-winning travel memoir, How to Cook Bouillabaisse in 37 Easy Steps – Culinary Adventures in Paris and Provence. So, be sure to tell all your francophile friends.
Donc, allons-y ! Let the game begin! The best of Paris, our way.
Parisopoly – Choose the Best of Paris
Choose Romance, Spend Virtual Money & Have the best (imaginary) sleep
Paris Planning Quick Links