Paris Insiders Tips on
What to See in Paris
What to See in Paris
Here's what's up — five guided tours, thirty-seven bridges & two walks in the park. One of the most common questions we hear is "What to see in Paris?" There's so much that it's not an easy question to answer!
The dilemma about visiting the City of Lights is deciding exactly which things to put on your must-see list — and then trying to fit it all in! There's so much of interest here, the most romantic of cities.
There are parks of all kinds and sizes, street markets in all areas of the city, monuments wherever you look, and museums that make other cities jealous.
Something we always recommend to get you quickly familiar with the city is to book one or two walking tours or a private-driver auto tour. You're in a small group with a Paris expert guiding you to the best of the city. You learn a lot in a short time.
Another thing we really like are the skip-the-line guided tours of museums and the of Eiffel Tower. Why waste your precious time in Paris standing in line when you could have a guide whisk you right past the ticket queues?
Here we recommend a few fun tours and also give you two self-guided walks to get you started on what to see in Paris!
Paris, paris Tours of...well, Paris
Paris, paris Tours
A Paris Insiders Guide favourite
This is a good activity to kick off our recommendations.
Who better to follow around Paris than two of the people who know it best? David Downie is the author of, among others, Paris, paris, our fave book about sauntering around our favorite city. Together with award-winning photographer Alison Harris they are available to take few lucky visitors on custom tours. You should be so lucky.
Classic Walking Tour
If you only have time to take one walking tour of Paris, this might be a good one for you.
It covers all of the most unforgettable sites – the Eiffel Tower, the Louvre, Place de la Concorde, the Arc de Triomphe, and more.
You'll also stroll down the most famous avenue in the world, the Champs Elysées, and visit Ile de la Cité.
Private Tours in the Paris Food Scene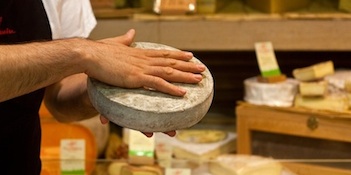 You can learn a lot about Paris food, quickly, on a guided tour with an expert gourmet.
We love these activities because they get you right into things, behind the scenes at street markets, boulangeries, chocolate shops, and much more. Some of the tours are on foot, some are with a private driver who can whisk you from one side of the city to the other in search of the most fabulous gourmet experiences.
Latin Quarter Walking Tour
This Left Bank area has been the intellectual capital of Paris, and of France, for almost eight centuries, since the Sorbonne was founded. As such, it's also been the seat of revolts and uprisings.
The Left Bank is known for its literary celebrities, like Satre, Hemingway, Fitzgerald and Gertrude Stein.
On this tour you'll visit the historic literary cafés, the Luxembourg Gardens, the market streets, the Pantheon, bookstores and much more. All in a small group and with an expert English speaking guide.
Tour Paris in a Citroën 2CV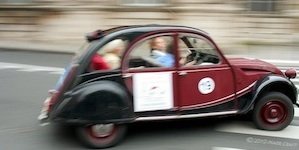 The Citroën 2CV is the most iconic car ever produced in France and is still recognized for its classic minimalist design and solid engineering.
Imagine seeing Paris from your private Citroën 2CV, with a knowledgeable chauffeur taking you to all the must-see landmarks: the Eiffel Tower, Arc de Triomphe, Notre Dame, Sacre Coeur and many others!
The 3-hour tour includes a typical Parisian snack break. We can't imagine having more fun in a car!
Cruise the City with a Private Driver
Our Paris Concierge knows that sometimes it's nice to just sit back and let someone else show you around.
So he's arranged a gaggle of private car tours, a chance to give yourself a treat and see a lot of the city in a short time. They're perfect for first-time visitors and for those who don't have much time, but want to see a lot.
Read our reviews and recommendations — from two-hour tours to classic full-day tours with a Louvre tour to drinking champagne while cruising in a vintage Rolls Royce!
Paris City Segway Tour
Cruise through the streets, monuments and parks of Paris!
Feel like a rockstar as you glide effortlessly past the Eiffel Tower, the Louvre and the Place de la Concorde. Everything on your What to See in Paris list!
These extremely popular tours are 4 hours long and are limited to 8 participants.
What to see in Paris: The Bridges of the Seine
Bridges of the Seine
A Paris Insiders Guide Promenade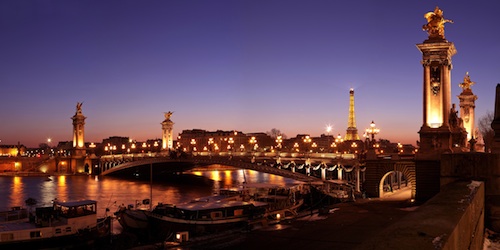 The Seine River slashes through Paris — there are 37 bridges, including three pedestrian bridges and a couple of Metro bridges.
You're probably not going to visit them all, but on a nice day, stroll along the banks of the Seine and take a look at some of the fabulous and historic bridges that cross the river…

Pont Alexandre III, the gilded wonder named after Czar Alexander III and built to celebrate the 1892 alliance between Russia and France.

Pont d'Alma, with its wonderful night-time view of the Eiffel Tower and the Eternal Flame sculpture that has become a de facto memorial to Princess Diana, who died nearby.

Pont Neuf or "New Bridge", actually the oldest bridge in Paris, that connects both rivers banks with Île de la Cité.

Pont des Arts, the pedestrian bridge that connects the Left Bank to the Louvre and offers a unique view of the pointy end of Ile de la Cité.
Paris Insiders Tip
If you have a Paris Pass, one good idea is to make use of the two-day hop-on bus pass that's part of the package, and just spend time looking around and getting a feel for the different parts of Paris. It will help you decide what to see in Paris – and it will save your feet for later!
What to see in Paris: Champs Elysées
Champs Elysées
A Paris Insiders Guide Promenade
After your first couple of trips you probably won't spend too much time walking the commercial strip ofChamps Elysées. (Although we do admit to having been seen in the Louis Vuitton flagship store.) But, if its' your first time in Paris, you have to see this most famous street in the world.
A good way to walk Champs Elysées is to start from the Louvre and stroll west through the Tuileries Garden. From the upper level of the Tuileries, at its western end, stop to admire…

• Place de la Concorde with its romantic fountains
• the 3000-year-old, gold-topped Egyptian obelisk
• the beautiful mid-19th-century lamp posts (the first street lamps in Paris to be electrically lighted)
• the view of the Eiffel Tower in the distance.
Take a peek into the lobby of the luxurious Hotel de Crillon (on the Place) and then walk up the nicest part of Champs Elysées, the tree-lined section that runs between Concorde and the Grand Palais, with parkland on either side.
Admire the glass-roofed Grand Palais and its smaller sister, Le Petit Palais and look at the statue of Charles de Gaulle. From here you can either:
Catch the Metro at Clémenceau station to L'Étoile station and come up right beneath the l'Arc de Triomphe, or
Walk the rest of the way up Champs Elysées mingling with the crowds and dropping into shops and showrooms, until you come to the Arc.
Oh, and don't forget Louis Vuitton! Map

View Champs Elysées in a larger map
Stop to Smell the (Paris) Roses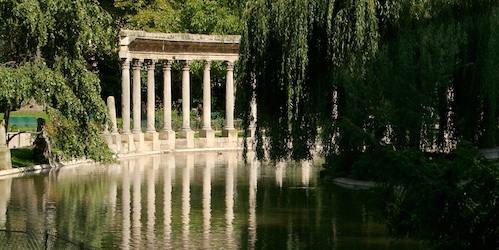 Don't forget that sightseeing in Paris should include stopping to smell the roses, sitting in a park, enjoying the Paris sunshine while you admire a sculpture by an unknown artist.
Take Metro Line 2 to Monceau station and spend time wandering the paths in the lovely Parc Monceau. Then walk down Boulevard de Courcelles and look in at the flower shops on Place des Ternes before doing a little food shopping on Rue Poncelet.
Or spend some time in the Orangerie at Jardin du Luxembourg, then stroll up Rue Soufflot to the Pantheon, visit the market on Rue Mouffetard and wander the ancient streets of the 5th.
Sometimes there's so much beauty surrounding you in Paris that you want to break into song, raise your arms to the sky and yell out, "I love Paris!"
Beauty – that's what to see in Paris.
Don't Miss a Single Paris Travel Tip.
Sign up for Le Petit Journal!
The Newsletter of Paris Insiders Guide
Don't Miss a Single Paris Travel Tip.
Sign up for Le Petit Journal!
The Newsletter Of Paris Insiders Guide