Travel About Paris –
Getting Around the City
Getting Around the City
Walk, peddle, ride above ground, ride underground,or go by boat — there have never been more ways to travel around Paris. There's the Metro, buses, taxis, the RER underground trains, batobus and the wonderful Velib bicycle system.
Paris is a relatively compact city, so combining your own two feet with low-cost public transportation is the best way of getting around Paris.
It's one of the best walking cities in the world, and it also has one of the best public transportation systems. A Metro station is within a 9-minute walk of virtually anywhere in Paris. Have a Metro map with you and you'll never be lost.
That's what we do. We walk whenever we can, because there's just so darn much to experience. But, when we need to go farther across the city, or when we're in a hurry, we hop on a Metro train.
There is so much to see in Paris, but you can walk between museums, monuments and attractions in a matter of minutes! For example, the footbridge from Musée d'Orsay gets you across the river and into the Tuileries Garden in less than five minutes.
We also love the city bicycles to travel around Paris. Travelers (and Parisians) rave about the Velibs and find the bicycles to be faster than the Metro and certainly faster than the buses. (Although we also love the buses.)
Paris Insiders Tip
The one-ticket system makes it easy to travel around Paris using public transportation. Buy a 10-pack of Metro tickets and use them on the Metro, the buses, the trams, and the RER within central Paris.
The Métro
It's one of the oldest and best subways systems in Europe.
The Paris Metro is convenient, extensive, affordable and safe. For most of us, it's the best way of getting around Paris. One ticket gets you anywhere in Paris.
For you history buffs, the first Metro line was designed by engineer Fulgence Bienvenue and opened in July 1900. Now, 120 miles of rail connect 300 stations, so you're never very far away from a Metro station.
We always recommend you buy a Paris Visite Metro Pass, which is included as part of a combination Paris city pass.
Metro tickets and passes can be used on the Metro, on city buses, on the trams that operate on the edges of the city, and on the RER (the deep underground commuter trains) within the central city.
The great thing is, when you purchase a Paris city pass, you can ride the Metro (and buses, trams, RER) for free, with no limits, and also visit museums for free.
The Metro operates from 5:00 am to about 12:45 am.
More Useful Metro Information
Travel Around Paris Tip
Always keep your used Metro ticket with you until you leave the station. Metro police do random checks and, if you're without a ticket, you may be fined.
Travel by Public Bus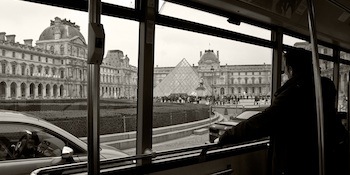 Riding the Metro is efficient, but don't ignore the city bus system. Buses are a wonderful way to travel around Paris while you see the city.
There are many bus stops in the city, and there will be one very near to your hotel or apartment (or anyplace else you happen to be).
Each bus stop posts the routes of the buses that stop there. Most of the bus stops have displays that show you when the next bus will arrive. The newer bus stops are pretty high-tech, with interactive maps, photo shows and more.
Buses most usually run from five to seven minutes apart, so even if you miss one, another one will soon arrive.
You can use your Metro ticket on the bus, making it very convenient.
Insiders Metro & Bus Map Secret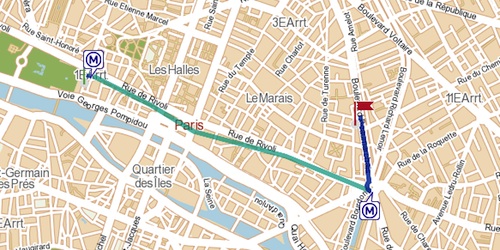 One of the greatest things you find at the RATP website (Régie Autonome des Transports Parisiens, the public transportation authority in Paris) is an interactive route map for the Metro, buses and RER.
You can use this to plot the best route from any one point in Paris to another. Enter either the actual street addresses, or enter Metro stops. You can choose whether to travel by Metro or bus, or let them choose the best route for you. You can enter either departure time (right from your hotel or apartment) or arrival time (at your final destination).
In short, it's a fabulous and extremely useful tool, and here's the link to the English-language route map page —
Travel by Boat
The Batobus is a boat service that runs up and down the Seine from May to the end of September, and it's a great way to travel around Paris.
And the best way to use the Batobus is to buy a 1-, 2- or 5-day pass, with the 5-day pass being by far the best deal — $21 for unlimited rides over five days!
The circuit includes eight magical stops —
1 — Eiffel Tower – Port de la Bourdonnais
2 — St. Germain-des-Pres – Quai Malaquais
3 — Musée D'Orsay – Port de Solferino
4 — Notre Dame – Quai de Montebello
5 — Hotel de Ville – Quai de l'Hotel-de-Ville
6 — Jardin des Plantes – Pont d'Austerlitz
7 — Champs Elysées – Pont Alexandre III
8 — Louvre – between Pont Royal and Pont du Carrousel
Travel by Velib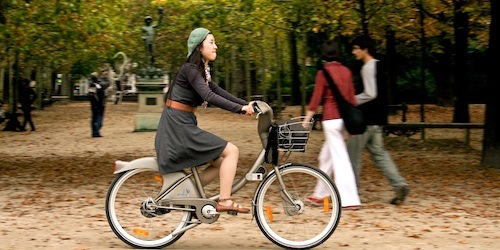 Launched in September of 2007, the Velib (a contraction of the French words velo and libre, or "free bikes") have become a popular way for tourists and locals for getting around Paris.
Paris is a relatively flat city, so cycling around the twenty arrondissements is an easy way to travel. (Getting up to Montmartre, though, is demanding.)
With over 20,000 bicycles available throughout the city, you'll always find a bicycle to rent. You will need a credit card with a chip to use the Velib.
Taxis
There are almost 16,000 taxis in Paris, and over the last few years it's become easeir to find one.
You no longer necessarily have to find a taxi stand to find a taxi. We see people hailing cabs on the street all the time.
In general, we find Paris taxis to be cleaner and the drivers more professional than in many other cities. Taxis are also one of the most convenient way sto get from the airport to central Paris.
Paris Trains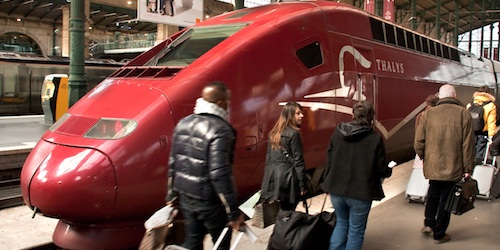 The capital of France is the hub of an extensive rail network.
It's very easy to travel from Paris to any of the major cities in Europe, as well as hundred of French cities.
And you travel in style, as well, on high-speed trains with frequent departures, in comfortable first and second class cars.
Read our guide to Paris trains to learn how to travel by rail and how to buy tickets online.
Automobiles…
Or, How NOT to travel around paris
Notice we didn't mention cars as a way to travel around Paris?
That's for a very good reason. Driving in Paris is a nightmare and finding a parking space is even worse. Except in the luxury class, there are not many hotels that offer parking for your car.
But, not to worry! With all the options we've given you in this article, you'll never need a car in Paris.
We can't leave the subject without again mentioning walking. Paris is a very walkable city. Not only will you work off some of the calories from those meals you've eaten, you'll also see a lot of wonderful things you can't spot from the Metro or a car!
Don't Miss a Single Paris Travel Tip.
Sign up for Le Petit Journal!
The Newsletter of Paris Insiders Guide
Don't Miss a Single Paris Travel Tip.
Sign up for Le Petit Journal!
The Newsletter Of Paris Insiders Guide