The Ritz Hotel is Undergoing a Paris Luxury Renovation
The Ritz Hotel Paris is closed for a massive renovation and will be open again in later 2015. The hotel closed its doors to begin the massive facelift in August 2012 and was initially supposed to reopen in November 2014.
But beauty, we assume, takes its own sweet time.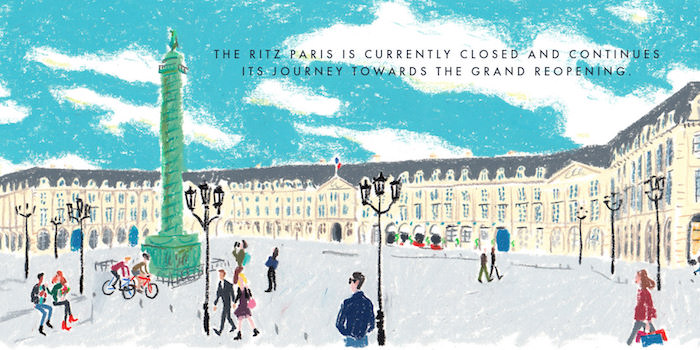 César Ritz practically invented the luxury hotel so it's no surprise that the rooms at the hotel he founded have to be drop-dead gorgeous. César was a man of humble origins who started in the hotel business at the age of 15. As he worked in hotels across Europe, he dreamt about building the ideal hotel where the rich and famous would feel at home
He had to wait until he was almost fifty years old for that dream to come true, when he opened the Ritz Hotel Paris on Lous XIV's Place Vendôme.
The year was 1898. The high standards and opulent settings were revolutionary for the time. He single-handedly created the standards for what we now think of as a luxury hotel.
What You Can Expect at Ritz Hotel Paris
We're looking forward to the brand new Ritz when it reopens. When we last met with Frances Laure, head of the Ritz-Esocffier Cooking School located in the basement of the Ritz, she and the other 500 employees were getting ready for the closure. She told us that all employees are guaranteed a job when the renovations are completed.
While you're waiting for the rebirth of the Ritz, take a look at our some of our other Paris Luxury hotel reviews.

Paris Luxury Hotel Quick Links

| | | |
| --- | --- | --- |
| | | |
Ritz Hotel Paris






15 Place Vendôme
1st Arrondissement
Paris Planning Guides
Don't Miss a Single Paris Travel Tip.
Sign up for Le Petit Journal!
The Newsletter of Paris Insiders Guide
Don't Miss a Single Paris Travel Tip.
Sign up for Le Petit Journal!
The Newsletter Of Paris Insiders Guide