Restaurants in Paris
Dining Etiquette
In Paris, Politeness counts!
When dining at restaurants in Paris, knowing some basic etiquette will make you feel more comfortable and even more welcome, whether you're at a bistro, brasserie, restaurant or café.
The Most Important Tip – When you enter restaurants in Paris, always say "bonjour" or "bonsoir" (depending on the time of day, of course!) and say the same to your server when he arrives at your table.
I've often seen non-francophones get flustered when they enter. Just remember to keep the word, bonjour on the tip of your tongue, and you'll always have a winning start.
Arrive on time for your reservation. Call to cancel if you can't make it. Also, call to confirm your reservation 24 hours in advance, or at least the morning of your reservation (you can get your hotel concierge to do it for you). Failure to do so could result in losing your hard-earned table.
By the way, our Paris Gourmet Food eGuide has reviews of 70 of our recommended restaurants.
Restaurants in Paris Dining Tips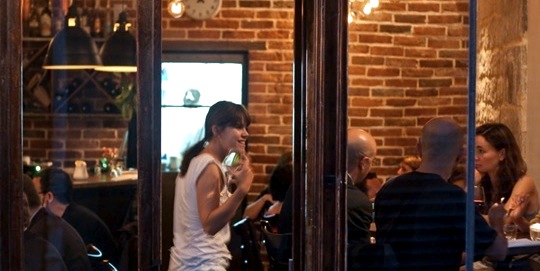 Although you might be given an English menu (your accent when you whisper "bonjour" will be a giveaway), always ask for the French menu, too.
Your job is to become familiar with a French menu. Often we find the English menu is not accurate and the translation is suspect! (Our favorite menu translation was "Ass of cooked".)
• Don't make a grab for the bread. In France, bread is meant to accompany the meal, not as an appetizer. Also note you won't be served butter with bread. Your piece of bread is kept on the table next to your plate, not on the plate.
• Always eat with cutlery. The French consider it very impolite to eat with your fingers. You'll notice that they even manage to eat hamburger and fries with fork and knife.
• Although cocktails are currently trendy in France, it's not typique to order one before dinner. A glass of champagne is always the right choice!
• Slow down. Dining in restaurants in Paris will be a memorable part of your trip to the City of Food, so slow down and enjoy it, as Parisians do. A meal in France usually includes an entrée (starter), plat (main course), and dessert. Make the most out of it. Savor the food, the decor and the service. You're on vacation, enjoy the show.

• When you're finished with a course, place your fork and knife across the plate. This will let the server know you're finished. Most Paris restaurants do not rush service.
• Garçon is not the name of your server. That means boy in French. Always call your server either Monsieur or Mademoiselle. Mademoiselle usually used for young women, and waitresses of all ages like to hear that!
• Your bill will only be delivered to your table when you request it. It's as simple as catching your server's eye and making the universal signal of cheque.
Paris Planning Quick Links
Don't Miss a Single Paris Travel Tip –
Sign up for Le Petit Journal !
the newsletter of Paris Insiders Guide