A Quick Guide to
Restaurants in Paris
A Quick Guide to >Restaurants in Paris
Restaurants in Paris fall under a bunch of different names. Restaurants, of course, but also brasseries, bistros, wine bars, and cafés.
What's the difference? And does it really matter?
We're here to help with the restaurant cheat sheet below, which has definitions to help you navigate the food scene.
It's important to know that Parisians dine later than North Americans. If you want to be part of the Parisian scene, make your restaurant reservations for 8:30 pm or 9:00 pm. Whatever restaurants you choose, remember to keep an open mind about the menu and offerings. Dinner in Paris is an event so take your time and savor the meal.
Wherever you eat, don't forget your please and thank you — s'il vous plaits and merci. Always remember to say bonjour and au revoir when arriving and leaving from restaurants in Paris. See, mom was right. Politeness does count.
By the way, the new edition of our Paris Gourmet Food eGuide includes 148 recommended restaurants. That's in addition to the Insider skinny on the foods of France, speciality stores in Paris, lists of the best fromageries, boulangeries, chocolatiers and a lot more.

Other Paris Insiders Restaurant Guides
Brasseries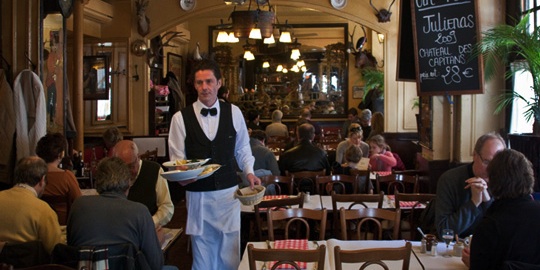 This once referred to a place that made and served beer.
Today it's where you can get all the classic French dishes you've been dreaming about. Service starts around midday and continues until about midnight.
Famous Paris brasseries include Brasserie Lipp, Brasserie Wepler, Brasserie Ile St. Louis. The oldest is Brasserie Mollard.
Restaurants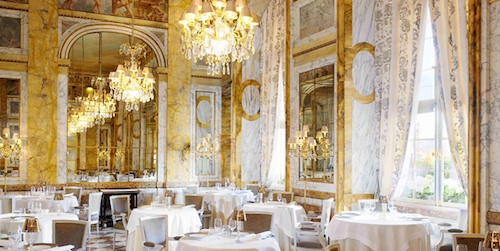 Bring out the linen and fine tableware.
In Paris, a restaurant usually refers to a more upscale experience. There will be set hours of service — lunch between noon and 2:00 pm, dinner between 7:00 pm and 10:00 pm. Paris restaurants run from casual to 3-star Michelin temples of gastronomy.
It's where Parisians go for an evening of dining, and don't forget, if you want to feel like a local, book your table for 8:30 or 9:00 pm. It's best to make a reservation instead of just showing up.
Cafés
This is probably what you're thinking about when you think about in Paris.
Many cafés have outdoor seating and non-stop service. And, once you order a drink, you own the table for an hour or for however long you want. This is where you can relax with a newspaper, a novel (either to read or to write) and do what Paris cafés are meant for — people watching.
Classic cafés include Cafe dé Flore, Les Deux Magots, Café de la Paix.
Bistros
More casual than a restaurant. A bistro is a small, neighborhood restaurant with a set lunch and dinner hours. They are often closed on week-ends.
Wine Bars
These will be called called bars à vin (wine bars). Here you can get a glass of wine and a tasty bite of charcuterie, or a sandwich.
Salon de Thé
A casual place for a light meal or snack. Many tea salons specialize in cakes, pastries, and of course, tea. They are usually open from midday to early evening. Famous in Paris — Ladurée, Angelina, Mariage Freres.
Our Recommended Restaurants…
And Cafés, Bistros, Brasseries, Wine Bars…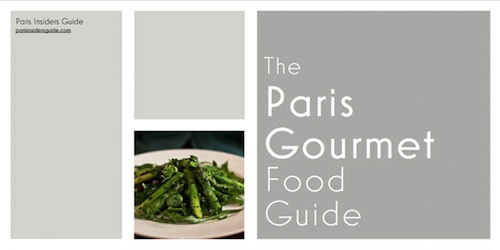 We review and recommend 148 restaurants in the The Paris Gourmet Food Guide.
But there's so much more than restaurants in this 81-page book — we managed to cram in a complete, Insider guide to the gourmet secrets of Paris.
For example: The best market streets; the best chocolate shops, fromageries, epiceries & boulangeries; the best cooking classes and much more.
It's a must-have for your culinary trip to Paris, the City of Food.
Don't Miss a Single Paris Travel Tip.
Sign up for Le Petit Journal!
The Newsletter of Paris Insiders Guide
Don't Miss a Single Paris Travel Tip.
Sign up for Le Petit Journal!
The Newsletter Of Paris Insiders Guide