Restaurants in Paris –
4 classic chefs, plus One
Stellar restaurants at Amazing prices
It was the early 1990s when four young chefs rocked the restaurants in Paris scene by breaking away from the haute cuisine practiced at such high end restaurants as Les Ambassadeurs at Hotel Le Crillon (where they all trained under master chef Christian Constant).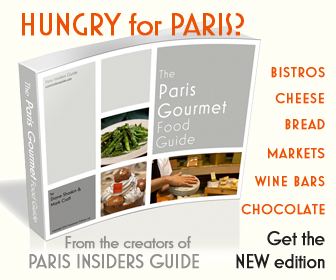 They sent the Paris press into a frenzy by opening small bistros scattered across Paris in far-flung arronidissments and by offering gourmet meals at bargain-basement prices.
There was Yves Chamborde and La Régalade in the 14th Arrondissement, Thierry Breton with Chez Michel and Chez Casimir in the 10th, Rodolpe Paquin of La Repaire de Cartouche and, in the 15th Arrondissement, Thierry Faucher 's l'Os à Moelle.
These guys set the tone for the generation of chefs to follow: using traditional French ingredients to express their own style of cooking and show us something new, as if we've never tasted it before.
Today, two of their restaurants in Paris are still on our circuit, and we visit them regularly. And the founding chefs are still in the kitchens of four of our most loved restaurants in Paris. The good news is that their menus remain a bargain in a city that's not famous for them.
Each of these Paris chefs returned to their roots to feature cooking from their native region. And the "plus one"? A relative newcomer, Gregory Marchand at his tiny but superstar restaurant in Paris Frenchie.
By the way, our Paris Gourmet Food eGuide has reviews of 70 of our recommended restaurants.
L'Os à Moelle
Chef Thierry Faucher
A Paris Insiders Guide favourite
NOTE: This bistro, one of our consistent favorites, is no longer owned by Chef Faucher. It was sold in 2011 to another chef, Stéphane Schmidt, who has appended his name to the restaurant (Schmidt L'Os à Moelle) and reportedly has changed the menu to give the restaurant an Alsatian flavor. We have not been there to review it. But, for old-time's sake, here was our review of the restaurant under Thierry Faucher…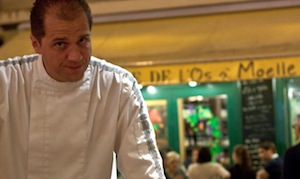 If the cream of mushroom soup is on the menu order it!
It is both drama and art: a large soup bowl arrives with a scattering of fresh herbs, toasted pine nuts and crispy lardon. Then the server brings a pitcher of the soup to ladle into the bowl, and a billowy mushroom broth is poured.
Your taste buds, expecting warmth, are jolted awake with cold, silky, wonderful soup! This cold mushroom soup is a signature dish invented by Chef Thierry.
The meal goes on like this, one superb plate after another – boudin noir, foie gras, lapin, pintade – accompanied by a white Saumur and a red Saint-Joseph. You can see why it's one of our favorite restaurants in Paris.
The impressive menu offers four courses with small supplemental costs for the cheese course and some luxury extras like foie gras and truffles.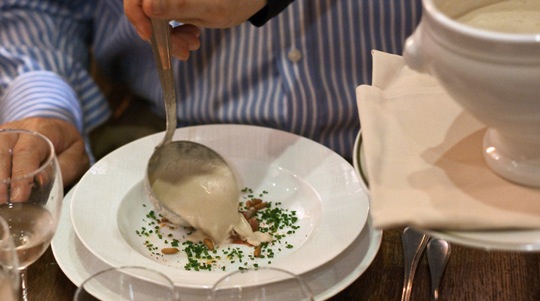 Chef Thierry Faucher's Cold Mushroom Soup
Chez Michel & Chez Casimir
Chef Thierry Breton
A Paris Insiders Guide favourite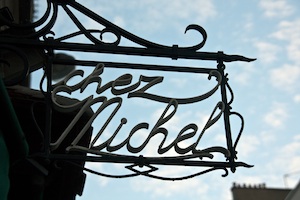 Chez Michel
10 Rue de Belzunce 75010
Chez Casimir
6 Rue de Belzunce 75010
The menu at Chez Michel is based on the food Thierry Breton grew up with in his native Brittany, in the west of France on a peninsula.
Start with his famous fish soup. The broth is aromatic, pungent, puréed, tasting of the sea.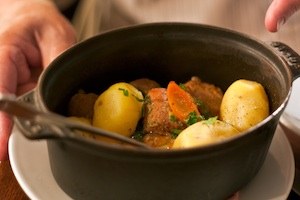 Chez Casimir is the sister restaurant, next door to Chez Michel. In real life, they are brother and sister, one restaurant named after Chef Thierry 's son, the other after his daughter.
This restaurant in Paris is simple and small with maybe thirty-five rustic wooden chairs and a few banquettes. You shake your head in disbelief at the low prices and delectable selection.
The food is regionally hearty, flavourful, and perfectly done. Between us we ordered slow-cooked, rich pork stew, Mediterranean scorpion fish, veal cooked in a white sauce, and ratatouille.
Frenchie
Chef Gregory Marchand
A Paris Insiders Guide favourite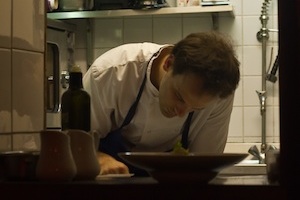 5 Rue du Nil 75002
Restaurant Website »
You feel like a real Paris Insider when you turn into the constricted street and walk toward the patch of soft light coming from one of the most popular restaurants in Paris. The sign on the building is like the those you see on abandoned boulangeries in rural France; dark, faded, hard to spot in the dimness.
Gregory Marchand, a young Paris chef from Nantes with the celebrity of a rock star, trained in New York City and with Jamie Oliver in London, where he acquired the nickname Frenchie.
The menu price for three courses was an astonishing low 38€. The choices are simple: two starters, two main courses, two desserts and one cheese plate.
All the dishes are good. Really good. The first night we ate there, the smoked trout entrée was one of those last-meal-in-my-life choices. The blend of the smokiness of the fish with the roasted peppers and oils was a wonder.
Marchand knows about cooking, and his meals are like fine art. In the half door of the kitchen we watched Chef Marchand tending to every single dish, bent down to get eye level with the food to make sure all is perfect.
Paris Tips & Planning Quick Links
Want To Learn More?
Don't Miss a Single Paris Travel Tip –
Sign up for Le Petit Journal !
the newsletter of Paris Insiders Guide