Restaurants in Paris –
Bistros, Brasseries and Cafes
What is the difference between a bistro,
a brasserie & a café?
Unlike the grand restaurants in Paris, bistros are small, casual places where hearty food is served simply prepared, with regional wines. A bistro might not be known outside its quartier, or neighborhood.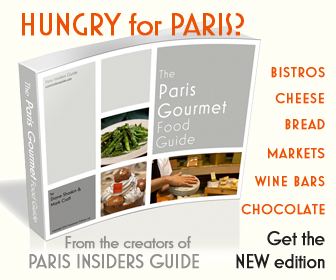 In a brasserie you can expect a bit more formality, typically with white linen and all the classic French dishes you expect. From blanquette de veau and pot-au-feu to confit de canard.
Cafés are the most casual of all. That's where you have a glass of rosé on one of those round tables and do a little Paris people watching on the avenue, rue or boulevard.
Get ready to be cozy! You can't hide in restaurants in Paris, you are part of the scene. Neighboring diners will squeeze past you to get to and from their tables. Waiters will pass dishes over your head.
By the way, our Paris Gourmet Food eGuide has reviews of 70 of our recommended restaurants.
Dining in Restaurants in Paris
Often times, the server will carry a chalkboard with the day's menu – sometimes in both French and English, but there's no guarantee.
It's best to brush up on your restaurant French, perhaps by learning a few key food phrases beforehand.
Politeness counts
While it's becoming increasingly easier to find English spoken at restaurants in Paris don't assume it! And, in any case, always make sure greet your server with "bonjour" when you arrive and "au revoir" when you leave. It's the polite thing to do.
Paris Insiders Tip
A phrase that's got a lot of mileage from us is "pas encore" ("paws on-CORE") meaning "not yet". As in not yet ready to order. This magic phrase will give you a few extra minutes to figure things out.
Order like a Parisian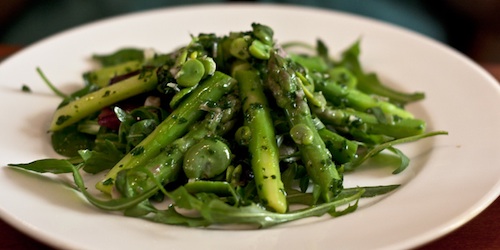 Want to feel like a Parisan Insider?
Order from the 3-course prix fixe menu. It's the best deal in restaurants in Paris. But, here's the biggest tip – don't order like you do at home. You know —
Hold the this and that. Or
I don't want an appetizer. Or
Please no oil or fat. Or
Can we split a meal?
Non, non!
Eat like a Parisian
and order off the menu. At the famous
Brasserie Lipp
on St. Germain you are greeted with a sign,
"No Salad As A Meal"
!
Quiet, please
Your last lesson in Parisian dining is that, although it's close quarters with diners jammed into every nook and cranny, the rooms of most restaurants in Paris are remarkably quiet. Notice how Parisian diners stay within their private spaces and speak softly to each other. Understanding the customs of Paris bistros, brasseries and cafés is like unlocking a secret code.
Release your inner dieter!
The meals served in Paris restaurants are the regular French Women Don't Get Fat
portions. So release your inner dieter when you're in Paris and enjoy all the rich, delicious French food.
Le Petit Lutétia
A Paris Insiders Guide favourite.
One of our regular small restaurants in Paris is located near Bon Marché department store on the border of the 6th and 7th Arrondissements, near Montparnasse.
This 1915 bistro classic has the stained glass, zinc bar and mirrors that you expect. The food is traditional Parisian bistro fare: hearty, simple and authentic. No fancy food displays or revolutionary combinations.
Don't miss the cassolette d'escargots: it arrives smoking hot with a lovely garlic and basil sauce. Insider tip – order from the daily specials on the menu board.
• 107 Rue de Sèvres, 75006
Café du Marché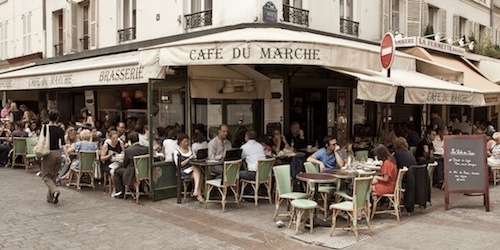 This classic Left Bank restaurant in Paris is a regular lunch spot for us whenever we're on our way to the nearby American Library in Paris.
The good food and reasonable prices ensure that it is absolutely packed at lunchtime. And we mean packed ! During the lunch rush, waiters can't squeeze between the chairs, so customers are recruited to pass plates full of steak frites from table to table.
• 38 Rue Cler, 75007
L'Ourcine
A Paris Insiders Guide favourite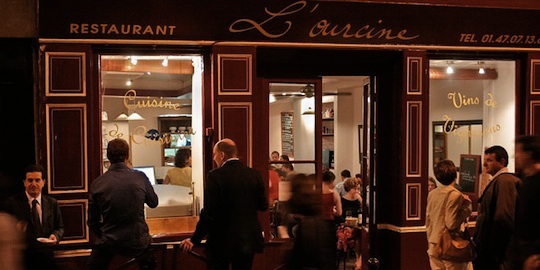 The last time we dined at this gem among restaurants in Paris, frothy amuses bouches in shot glasses arrived at the table as soon as we sat down — setting the tone for this modern bistro meal.
We started with marinated fresh mackerel served on a salad with a tangy Thai-influenced vinaigrette. That was followed by roasted sea bream: crispy-skinned fish on a bed of vegetable couscous, and a chilled red wine from the Auvergne.
Chef Sylvain Danière was a Yves Camdeborde protégé from the original La Régalade.
• 92 Rue Broca, 75013
Café Constant
A casual spot for lunch or dinner. This café is just one of Chef Christian Constant's restaurants in his veritable food empire along Rue Saint Dominque, near the Eiffel Tower.
It's a great place for a group of frieds (old and new) to meet for a lively time with Constant's always reliable food.
It's also one of Chef Constant's favorite hang-outs. Every time we're in the neighborhood we see him sitting outside at a table, enjoying a meal.
• 139 Rue St-Dominique, 75007
• Restaurant Website »
Fermette Marbeuf 1900
You'll love sitting beneath the stained glass dome inside this restaurant in Paris, moved from a 19-century conservatory.
Fermette Marbeuf 1900 is a civilized place to have lunch after a morning of shopping or browsing at the Louis Vuitton flagship store just down the street. Tip: Make sure to reserve your space "sous le dôme", under the dome.
• 5 Rue Marbeuf, 75008
• Restaurant Website »
Paris travel planning quick links
Top Cooking Classes in Paris

Romantic Seine River Cruises

Food & Wine
Activities
Guide to Paris
City Passes
Want To Learn More?
Don't Miss a Single Paris Travel Tip –
Sign up for Le Petit Journal !
the newsletter of Paris Insiders Guide