Our Guide to Must-See
Paris Tourist Attractions
Our Guide to Must-See Paris Tourist Attractions
People often ask us about the must-see Paris tourist attractions. There are, as you know, hundreds to choose from so it can seem a bit daunting to distill them down into a few to fit into your itinerary.
But, that's what we're going to try to do in this article.
Here you'll find our reviews of the top Paris tourist attractions, the most iconic, the must-see Paris sights that you will not want to miss. There's not a single name you won't recognize in that list, so there won't be any surprises.
But we also slip in a couple of un-tourist attractions — monuments or museums that most tourist don't know about, let alone visit. We guarantee that a visit to these Insiders secrets is going to enhance your trip.
Paris is the most visited city in the world, for good reason. Paris has 2000 years of history that has endowed it with museums, monuments, grand parks, magical streets and sheer beauty. Let's visit some of the must-sees and one or two of our secret faves.
Eiffel Tower
Must-See Paris Tourist Attractions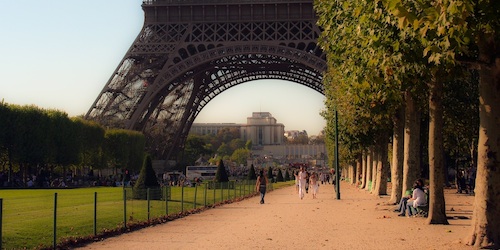 You already knew you had to see this one, but here's a bit of info: Covering 2½ acres at its base, the tower is made of 18,000 metal parts and is covered with 40 tons of paint.
It's three times as tall as the Statue of Liberty yet its weight is so elegantly distributed that the pressure on the ground beneath its legs is less than the pressure on a four-legged chair when you're sitting on it.
Read some of these articles to get complete details about the most-visited monument in the world.
Musée du Louvre
Must-See Paris Tourist Attractions
Did you know that the Louvre is the single largest building in Paris, the largest palace in Europe and the most dominating symbol of art and culture the world has ever known?
Because it's so huge, and there's so much art to see – and the ticket lines are so long! – we always recommend either booking a guided tour of the Louvre or getting a Paris Museum Pass to bypass the ticket lines.
• Rue de Rivoli, 1st Arrondissement
• Free Entrance with the – Paris Museum Pass »
• Or 12.00€ at the door
Musée d'Orsay
Must-See Paris Tourist Attractions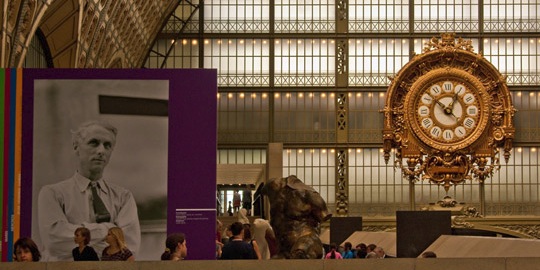 The Louvre is a pretty obvious choice for our list, but we also strongly recommend you don't miss Musée d'Orsay. In fact, we visit d'Orsay far more often than we do the Louvre.
It started life as a turn-of-the-20th-century train station named Gare d'Orsay, but it is now a dazzling showcase for 19th century art and culture.
The Musée d'Orsay begins where the the Louvre leaves off. Its art collection covers the period from the end of Romanticism to the beginning of modern art. Essentially, it's a museum of 19th-century French art. This includes an amazing collection of Impressionists and related painters. We never miss visiting d'Orsay when we're in Paris.
As with most Paris museums, the Paris Museum Pass allows you to skip the loooong line-ups.
• Quai d'Orsay, 7th Arrondisesement
• Free Entrance with the Paris Museum Pass »
• Or 11.00€ at the door
Notre Dame Cathedral
Must-See Paris Tourist Attractions
For six centuries, this masterpiece of the Middle Ages has endured wars, bombings, revolutions and revolts.
Today it's one of the most visited cathedrals in the world. In fact, although the Eiffel Tower is the most visited monument in world history, last year Notre Dame surpassed it for visitors for that year. There's a new number one!
• Île de la Cité, 4th Arrondissement
• Entrance is free to the Cathedral
• Free Entrance to the bell towers with the Paris Museum Pass »
• Or 8.50€ at the door
Arc de Triomphe
Must-See Paris Tourist Attractions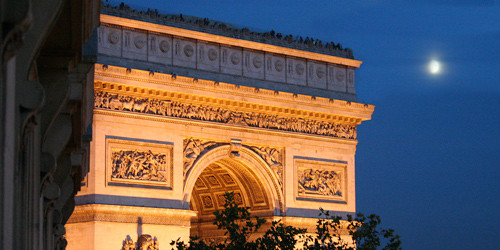 Located at the top of Champs-Élysée we have always loved the view from the Arc de Triomphe. Maybe it's because we used to live a literal stone's throw away, on Avenue Carnot. In fact, the photo here was taken from our balcony.
Commemorating Napoleon's victory at the Battle of Austerlitz, construction on l'Arc began in 1806. But, the Arc wasn't completed until 1836, fifteen years after Napoleon's death. In December 1840, a chariot with his body passed under the arch to his final resting home in Les Invalides.
We know, we know…it's another obvious choice, but still well worth a visit.
• Place Charles de Gaulle,
• The intersection of the 8th, 16th & 17th Arrondissements
• Free Entrance with the Paris Museum Pass »
• Or 9.50€ at the door
Chateau de Versailles
Must-See Paris Tourist Attractions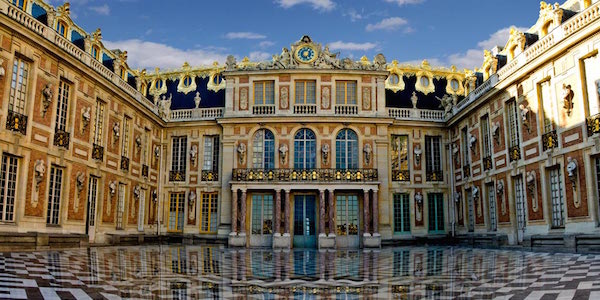 On a whim Louis XIV transformed a rustic hunting lodge on a marsh into the most lavish palace that has ever existed.
The French monarchy has long since fallen, but not Versailles. The splendor is absolutely worth a visit!
Just like so many other Big Name attractions in and around Paris, the ticket lineups at Versailles are always long. So, while you can make your way to Versailles on RER line C from Invalides or St-Michel station, we always recommend that you arrange a tour in which your driver picks you up directly from your hotel. Life in Paris is too short to wait in line.
Musé Marmatton-Monet
Insiders Hidden Attractions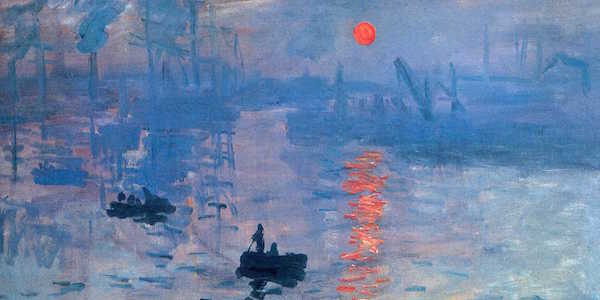 Claude Monet, the Impressionist master, has been our son's favourite painter since he was four years old. (Our son, not Claude!)
So, we've done a lot of viewing of Monet's work in and around Paris and, if you want to go deep into Monet, there's no better place than the Musé Marmatton-Monet, facing a lovely park out in the tranquil 16th Arrondissement. Here you'll discover a massive collection of Monet's canvases, from the famous Impression: Sunrise, painted in 1872, to multiple paintings of the Japanese bridge in his garden's at Giverny, painted towards the end of his life.
• 2 Rue Louis-Boilly, 75016
• Metro: La Muette
• Open: 10:00 am to 6:00 pm; Tues until 8:00 pm
• Closed: Monday and public holidays
• Website »
The Statue of Liberty
Insiders Hidden Attractions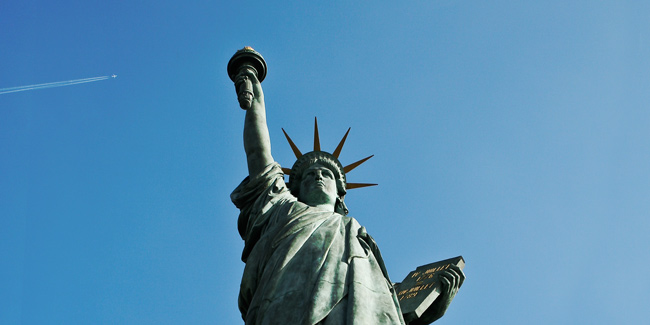 That's right, that Statue of Liberty. It's in Paris. More than once, in fact.
You know that New York's Statue of Liberty came from France, right? So it makes sense that in Paris you'd be able to see scale models of it, cast during the time of the construction of the big sister.
There's one version out in front of the entry to the Musée des Arts et Metiers in the 3rd Arrondissement. It's a fun museum — for families, too.
But the statue of Ms Liberty we like even better is on a island in the Seine on the diagonally opposite side of Paris. In the middle of the river, between the 15th and 16th Arrondissements, there's a long, thin, straight-as-arrow island named Allée des Cygnes and on its lower end there stands another, taller Liberty.
You reach Allée des Cygnes by crossing at Pont de Grenelle, two bridges downriver from the the Trocadero and the Eiffel Tower. At the middle of the bridge you'll see Lady Liberty's head and flame sticking up above the level of the bridge. You reach the island, and the base of the statue, by stairs that go down from the bridge. Nice views of the Eiffel Tower, too.
The Wall of Philippe Auguste
Insiders Hidden Attractions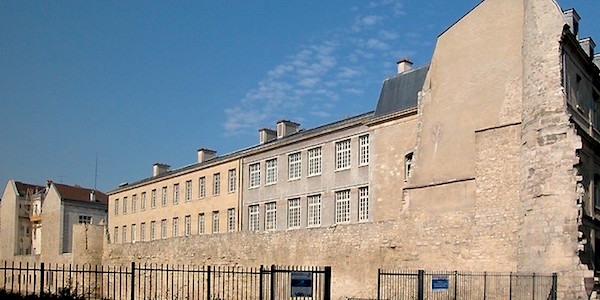 Since relatively early in its history, and until relatively recently, Paris has been surrounded by walls that both defend and mark the limits of the city.
As the city grew, old walls would be abandoned or torn down and a new wall would be built further out. In the 12th century, King Philippe Auguste built a new wall around his expanded city. He did this just before taking off for the Third Crusade with his then-friend King Richard the Lionhearted.
While Philippe's wall was later superseded by later walls encircling an even larger city, traces of his wall can still be seen today. The most extensive piece of the wall is in the Marais (Right Bank, 4th Arrondissement). It runs along the school Lycée Charlemagne.
From Metro Saint-Paul walk east along Saint-Antoine to Rue Saint-Paul and then head south, toward the river, to the small street, Rue Charlemagne. In one short block you come to Rue des Jardins Saint-Paul which runs along a playground for the school. You can't miss the length of stone wall and the remnant of a tower.
Want To Learn More?
Don't Miss a Single Paris Travel Tip.
Sign up for Le Petit Journal!
The Newsletter of Paris Insiders Guide
Don't Miss a Single Paris Travel Tip.
Sign up for Le Petit Journal!
The Newsletter Of Paris Insiders Guide