Paris Subway Maps –
How to Navigate the Metro
Paris Subway Maps – How to Navigate the Metro
It's the best way to get around Paris — so get a map! To navigate the Metro you're going to need a good Paris subway map. The public transportation system, which include the subway and buses, is the best way to get around the city.
Luckily, the Metro is really easy to navigate as long as you have a good map.
You'll find that there are a couple of different types of Metro maps. There's a modern, graphic version that was inspired by the famous map for the London Underground. It's nice looking, but it's not really intuitive.
Our preference is for the older style which shows the Metro lines and stations where they would be found on map of the city. So you have a better sense of where the station is and what's above ground. Also, it just seems more… human!
Overall, we think the best way to carry around a Paris subway map is as part of a map book, and here we review a couple of our favorites.
More Useful Metro Planning Information
Graphic Paris Subway Map Online
Click For Large Map
RATP, the operator of the Paris public transportation system, has some great resources online, including a couple of large-scale Paris Metro maps.
The newer version of the Metro map is pretty much square and shows the Metro lines cleanly and clearly, without any streets or other features of the city to interfere.
This kind of map is easy to scan, but it doesn't really show you where you are as well as a city map does.
• Graphic-Style Paris Metro Map »
City Paris Subway Map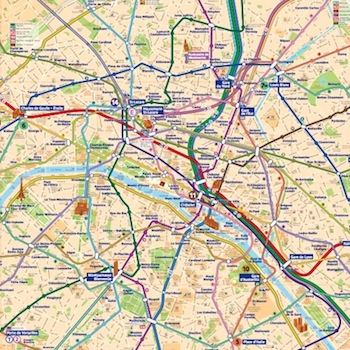 Click For Large Map
RATP also has a very large online Paris subway map that shows the Metro superimposed on a map of Paris. It's a great tool to help you understand where the Metro stations are located and how the Metro lines actually run beneath the streets of Paris.
The maps are great tools when planning your daily activities, but they're not that good for printing out and carrying around. It's better to have a complete Paris city map book that also includes a Metro map (as virtually all of them do).
Paris City Maps
Our favorite city maps include a third style of Metro map, one that shows the actual scale and location of the Metro lines clearly, without a street map below it.
A great example of this is found in this map book —
We review Michelin 62 and other map books, plus reveal a Paris Insiders secret – an online interactive Paris Metro map – in this article —
Don't Miss a Single Paris Travel Tip.
Sign up for Le Petit Journal!
The Newsletter of Paris Insiders Guide
Don't Miss a Single Paris Travel Tip.
Sign up for Le Petit Journal!
The Newsletter Of Paris Insiders Guide