Romantic Horse & Carriage Rides in Paris – Find Out More
This is where to ask your questions and find out more about the private & romantic horse-drawn carriage rides in Paris we told you about in the previous article. As you'll see, there are quite a number of options, but here's what we recommend —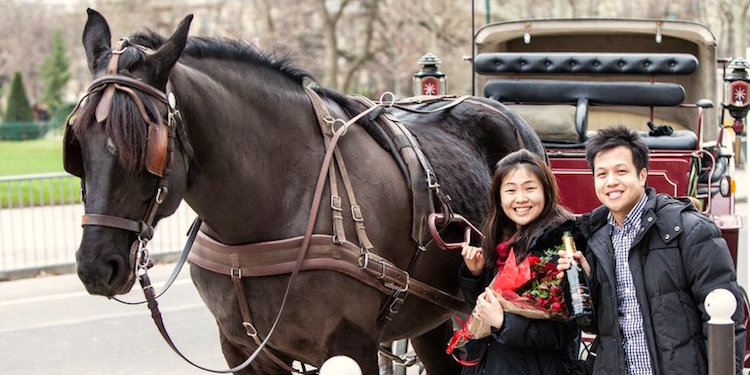 Please remember that carriage rides sell out quickly, as does dinner on the Eiffel Tower. You must reserve these activities as far in advance as possible.
Romantic Horse & Carriage Rides — We like to do a full two hours, with champagne, on the Imperial Horse & Carriage.
Paris Proposal in a Horse-Drawn Carriage — How often are you ever going to do something like this? So you have to do it right, and that means asking our Paris Concierge to arrange champagne & roses, as well as a professional photographer standing by to capture all aspects of this magic evening.
Romantic Carriage Tour + Dinner or Lunch — No contest here, our our fave is…Romantic Carriage + Dinner on the Eiffel Tower. Ask for the 9 PM seating.