Paris France News –
Spring Report 2012
We report from
The City of Lights!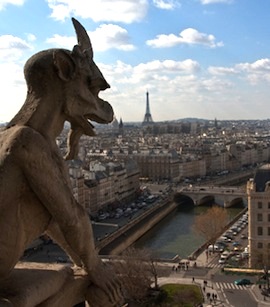 Paris France News, Spring 2012. We've been in Paris hard at work collecting information, tasting wine, checking out hotels and museums, and eating in great restaurants.
Sure, it's hard work ;-), but that's how we keep Paris Insiders Guide up-to-date and on the leading edge of Paris travel information.
In this report we tell you the latest Paris news – about the best things to do, the hottest restaurants, and what we recommend to you for your next trip to the City of Lights, Romance, History, Art, Food & Fun!.
Paris France News Spring Report
The Bookbinder's Studio »
The Food Markets of Rue d'Aligre »
The Bell Towers of Notre Dame »
La Brasserie de l'Isle Saint-Louis »
Cité des Sciences at Villette »
A Night at the Opera (Garnier) »
Goodbye Old Ritz, Hello New Ritz »
Like A Rolling Stone – a Bob Dylan Retrospective »
Our Book Wins #1 in North America! »
Our Top Spring Tours
D-Day Tours
From Paris

Chateau De Versailles Tours

Classic Walking Tours of Paris

Skip-the-Line
Eiffel Tower Tours
Our book in Paris
Another reason we've been in Paris is to attend the awards ceremony held at the famous Folies Bergere Theatre for the winners of this year's Pars Gourmand Cookbook Awards.
Our book, How to Cook Bouillabaisse in 37 Easy Steps: Culinary Adventures in Paris and Provence won the award for best book in North America in the category French Cuisine, beating out such notables as Adam Gopnik's The Table Comes First
.
But How to Cook Bouillabaisse in 37 Easy Steps is more than just a collection of 49 easy French recipes. It's all about our food adventures in France during the last 15 years.
Buy the book and you'll have all our stories, all the recipes, and a handy guide of culinary addresses in Paris. And shipping is free!
How to Cook Bouillabaisse in 37 Easy Steps »
Paris Planning Quick Links
Don't Miss a Single Paris Travel Tip –
Sign up for Le Petit Journal !
the newsletter of Paris Insiders Guide