Paris Food Activities –
Guide To Cheese Tours & Tastings
1000 Cheeses, 250 Fromageries –
Where to start?
Book Early
Paris food activities usually can't be booked at the last minute. Book a week ahead of time or, better yet, book before you leave home!
Paris Food — Cheese Tours & Tastings. It's the capital of a country with a thousand different cheeses. All the best cheese of France make their way to Paris. Take advantage of that to taste some of the best – ossau iraty, camembert, comte – while you're there.
There are hundreds of fromageries in Paris — not to mention the other gourmet stores that also sell cheese — so it's a bit disconcerting knowing where to start. Luckily, our Paris Gourmet Concierge has put together three wonderful ways to learn more about les fromages de France.
These are private tours, so you know you'll get extra-special attention. Private tours need at least two participants to run and cost about 99€ per person (the Master Affineur is 119€ per person).
Les Fromages de Paris
Paris Food Activities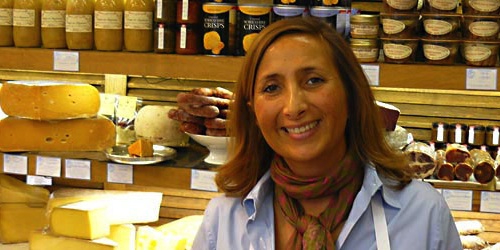 Choose the private tasting called 10 French Regional Cheeses & Wines and you get not only a fine introduction to French cheese regions, but also get a chance to drink the important beverage of each of the ten areas.
Wine, beer, cider and juice are on tap. 99€ per person, minimun two people.
Latin Quarter Wine & Cheese Tasting. Or, for a more leisurely tasting, head to a favorite Latin Quarter bar where our sommelier will teach you about wines from four regions and the cheeses that go with them. Private tasting, 68€ per person.
The most interesting cheese experience, as well as one of the most interesting Paris food experiences, is probably In A Cheese Cellar With A Master Affineur. It's a rare treat to be able to connect with a Master Fromagère whose family has been making cheese for generations — and to meet in her Montmartre cheese cellar in the 18th Arrondissement. Private visit, 119€ per person.

Powered by

EMF
Online Form
Report Abuse
Paris Planning Quick Links
Food & Wine
Walking Tours
Best of Paris
Design Hotels

Good Champagne Stops In Paris

Paris Gourmet Food Guide
Want To Learn More?
Don't Miss a Single Paris Travel Tip –
Sign up for Le Petit Journal !
the newsletter of Paris Insiders Guide