Guide to Luxury Living –
7 Greatest Five-Star Hotels in Paris
Guide to Luxury Living – 7 Greatest Five-Star Hotels in Paris
Want a taste of French luxury? Without a doubt, Paris five star hotels are the places to enjoy the finer things in life.
And they come in all sizes — from small, intimate hotels to the grand Palaces.
It's no wonder the city boasts so many world-famous five-star hotels. Paris was the home of the first luxury hotels in the world.
But you don't have to be royalty or an heiress to stay at Paris five star hotels. If you want to reward yourself, shop around for some of the deals among our recommended luxury accommodations. For instance, you may be able to find special offers at these hotels in the off-season months — November, January, February.
If you can swing it, Paris five star hotels are also great for families, offering more space and special programs for kids.
1. Shangri-La Hotel Paris
"Among the best hotels in the world"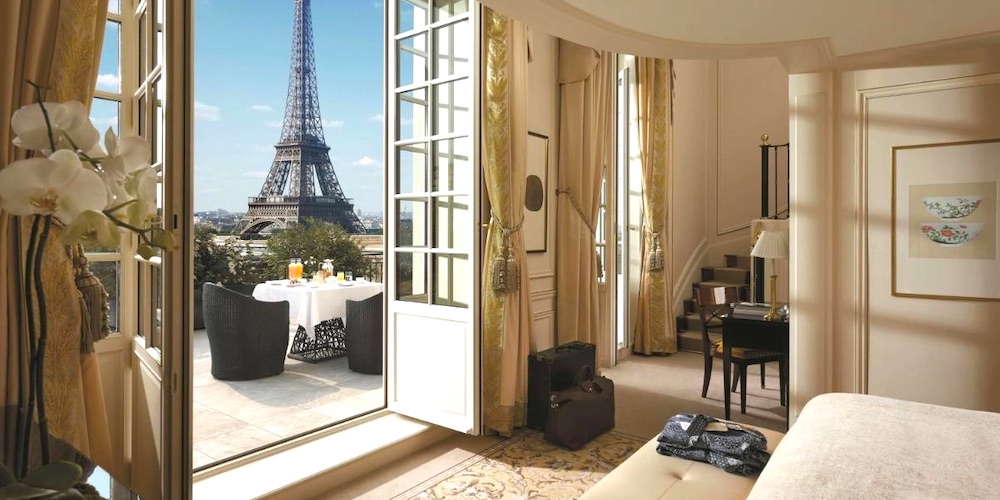 16th Arrondissement
This is the newest hotel on the Paris luxury scene and the whole city was holding its breath to see what it would be like.
It took three years and upteem-million Euros to renovate the Shangri-La and turn it into a luxury classic. The rooms are apartment-size and every room has a terrace with views on the Eiffel Tower and the River Seine.
All the superlatives you've heard about this hotel are true!
2. Hotel Meurice Paris
A Paris Insiders Guide Favourite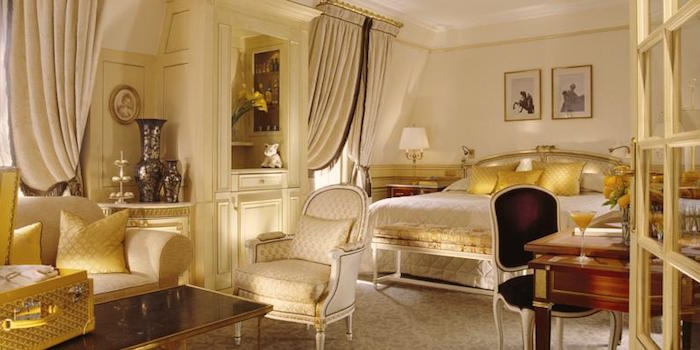 1st Arrondissement
At this majestic Paris five star hotel every room and every suite is a peaceful oasis of calm.
The classically decorated rooms feature marble bathrooms with both shower and bath. Each room is soundproofed and has air conditioning, Wi-Fi, multiple telephone lines and cable television.
But what really makes Hotel Meurice Paris special are the small details: their Honeymoon Package includes strewn rose petals, champagne and an in-room couples massage. The Family Package escorts the kids on a field trip to ride the ponies in Tuileries gardens while mom and dad shop or spend an afternoon at the Louvre. Other occasional packages include private chauffeured pick-up from the airport and time at Le Meurice spa.
Dinner at the Meurice Hotel Paris is in the Michelin-starred hotel dining room, supervised by super-chef Alain Ducasse.
3. Four Seasons George V
"A fantastic experience!"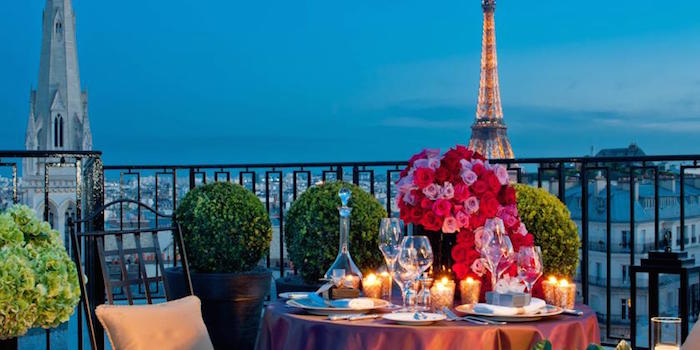 8th Arrondissement
Paris Five Star Hotels. Just steps off the Champs-Elysées and a stone's throw from the Louis Vuitton flagship store is this popular Paris five-star hotel. Le Sank (as it is pronounced) is authentic luxury – lunch at their restaurant, Le Cinq, combines gourmet food with a near-transcendent service.
The rooms' mix of modern amenities and antique touches make you feel at home. (Maybe better than home!) Traveling with children? They go out of their way to make your kids feel welcome with kid-size bathrobes and slippers, a children's menu and plenty of video and board games.
4. Plaza Athénée
"The Grande Dame of Avenue Montaigne"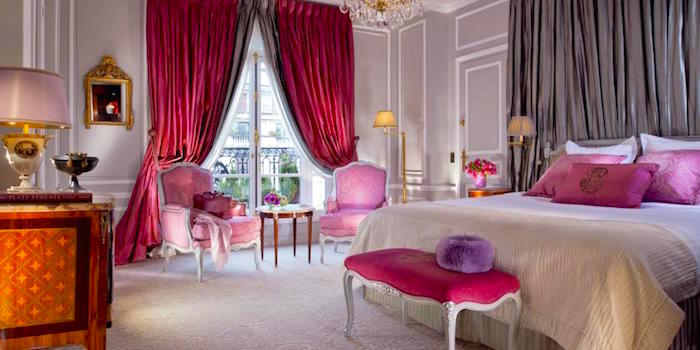 8th Arrondissement
A truly Parisian luxury hotel, filled with elgance and charm. Located between Champs Elysées and the Eiffel Tower, the Athénée's gorgeous rooms, top-notch service, and fine décor make it one of the standards of luxury in Paris.
On top of all that, the Athénée's restaurant is run by (and named after) Alain Ducasse, one of the greatest names in the history of French cuisine.
5. Hotel Bristol Paris
A Paris Insiders Guide Favourite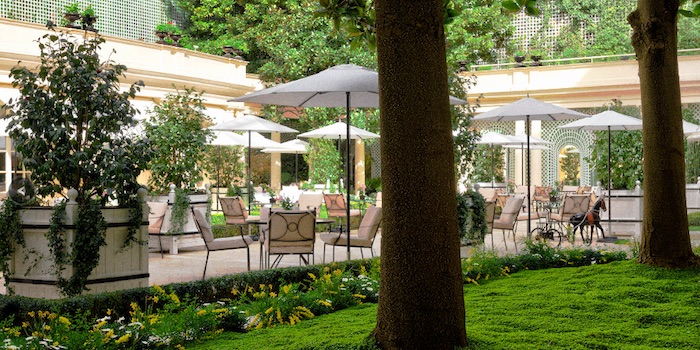 8th Arrondissement
The Bristol is one of our favorite Paris five star hotels, and it's no wonder.
From a perfect location on upper-crust Rue Saint-Honoré to a Eric Frechon's stunning restaurant, the Bristol glows in luxury. It's where Woody Allen shot many scene in Midnight in Paris.
In our complete review of Le Bristol we call it "perhaps the best hotel in Paris".

6. Champs Elysées Plaza Hotel
"Paris at its best"






8th Arrondissement
Generously sized rooms with separate Jacuzzi bath and shower and Hermés body care products all make for a luxurious Paris five star hotels experience at the Champs Elysées Plaza Hotel.
This hotel offers rates that are significanly lower than other luxury hotels in Paris, but delivers the same comfort and service.
7. Hotel de Crillon
A Paris Insiders Guide Favourite






8th Arrondissement
Hotel de Crillon is closed for a complete makeover renovation and won't reopen until sometime in 2015. It joins the Ritz and Hotel Lutetia in temporarily closing to completely re-invent itself.
The Crillon is one of the legendary Paris five star hotels that has been awarded the Palace designation.
Paris Luxury Guides
Don't Miss a Single Paris Travel Tip.
Sign up for Le Petit Journal!
The Newsletter of Paris Insiders Guide
Don't Miss a Single Paris Travel Tip.
Sign up for Le Petit Journal!
The Newsletter Of Paris Insiders Guide