Insiders Guide to
Paris Opera & Ballet
Insiders Guide to Paris Opera & Ballet
Classical performances in the city that started it all. In addition to wonderful classical music venues, Paris music culture is found in the operas and ballets performed at two great venues.
The two Paris opera houses are found in quite different neighborhoods. The older of the two, Palais Garnier (now used mostly for ballet) is part of grand, royal Paris that includes the Madeleine, Place Vendome, and Palais Royal.
The new Paris opera house is at Place de la Bastille in the 12th where that arrondissement meets the 3rd, 4th and 11th. It is right above Canal St Martin and in among residential neighborhoods.
Let's not forget about theater. Although most if it will be in French, there are some wonderful performances of music, operetta and kid's programs at Théâtre du Châtelet, located in the 1st Arrondissement just across the river from Île de la Cité.
Oh, yes. Don't forget to check out the historic churches and cathedrals that host concerts of masterpieces of classical music. You won't want to miss hearing great works in these historic venues.
Ballet at Palais Garnier
A Belle Epoque Classic on Place de la Opera
A Belle Epoque Classic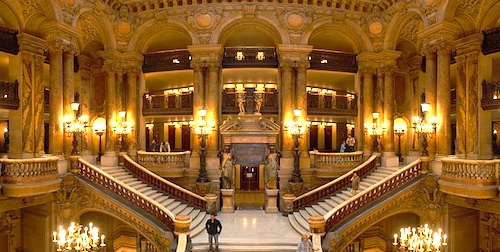 The oldest national ballet company in the world is the Paris Opera Ballet, established in 1673.
Today, the company performs mostly at the splendid Palais Garnier. Their repertoire ranges from romantic and classical to contemporary. You never know what treat you're in for at Opera Garnier, as it's familiarly called..
The only way to ensure you get seats at a performance is to order online before you leave home. Just choose your ballet and click, it's that simple.
Opera de la Bastille
The Modern Paris Opera House
Opera has long been an important part of the City of Culture.
Today most opera performances take place at the modern Opera de la Bastille.
Not only will you hear great opera, you'll also get a chance to listen to the Orchestre de l'Opera National de Paris, the Paris Opera Orchestra. And with 280 performances per year, the odds are good that you'll have an opportunity to squeeze in a show when you're in Paris. But, you have to book early because tickets sell out.
Théâtre du Châtelet
This famous theatre and opera house was built between 1860 and 1862 as part of Haussmann's reconstruction of Paris.
It's where Jules Verne's Around the World in Eighty Days was performed for an amazing 64 years (that's 2195 performances). The final show was in May 1940, just before the Nazi tanks invaded the City of Light.
Today you can attend concerts at this splendid opera house ranging from jazz, musicals, dance and recitals to children's musical events.
Don't Miss a Single Paris Travel Tip.
Sign up for Le Petit Journal!
The Newsletter of Paris Insiders Guide
Don't Miss a Single Paris Travel Tip.
Sign up for Le Petit Journal!
The Newsletter Of Paris Insiders Guide