Paris Bistros, Brasseries & Cafés Demystified
What the heck is the difference between a restaurant, a bistro, a brasserie & a café? While there might seem to be a world of difference between the grand restaurants and neighborhood Paris bistros and cafés they all have something fundamental in common — the joy of food and cooking.
That's why we love the wide spectrum of dining experiences we've had in Paris. From the refined multiple mini-courses of a Michelin 3-star restaurant like Pierre Gagnaire to the home-cooking feel of small, hidden cafés and bistros. Besides, who can afford to always eat at the spectacular, and spectacularly priced, Michelin 3-star luxury restaurants? So, let's look at some of the affordable restaurants that we've eaten at time and time again. But first, let's talk about what constitutes a bistro, a brasserie and a café.
A Simplified Glossary
Bistros
Contrasting the large, luxurious spaces of the grands restaurants, bistros are small, casual places where hearty food is served simply, but deliciously prepared.
Typically, in the past at least, a bistro is frequented by the locals and might not be known outside its quartier, or neighborhood.
Historically, the fare (and wine) at many bistros was based on the food of the region of the bistro's owner. For instance, some of our regular haunts are bistros based on the cooking of southwest France. The wines we drink there are usually completely new to us, but delicious just the same.
Brasseries
Brasserie means brewery and, as you might guess, most of the brasseries of Paris were initially based around beer.
Since beer is the traditional drink in the part of France closest to Germany, you can still find a distinctly Alsatian flavor in brasseries, with dishes featuring sauerkraut and sausages, although nowadays they offer some of the classic French dishes, from blanquette de veau and pot-au-feu to confit de canard.
In brasseries you can expect a bit more formality than in Paris bistros, typically with white linen and uniformed servers. The famous brasseries of Paris are decorated with brass, stained glass, all done in a sort of Art Deco style.
Cafés
These are the most casual of all. It's where you have a glass of rosé on one of those round tables and do a little Paris people watching on the avenue, rue or boulevard. We usually think of wine bars in the same category.
Get ready to be cozy! You can't hide in restaurants in Paris — you are part of the scene. Neighboring diners will squeeze past you to get to and from their tables. Waiters will pass dishes over your head. All in all, it's a great scene!
Le Petit Lutétia
A Paris Insiders Guide Favourite Bistro
We often find ourselves in this small restaurant located near the Bon Marché department store on the border of the 6th and 7th Arrondissements, near Montparnasse.
This 1915 Paris bistro classic has the stained glass, zinc bar and mirrors that you expect. The food is traditional Parisian bistro fare — hearty, simple and authentic. No fancy food displays or revolutionary combinations.
Don't miss the cassolette d'escargots: it arrives smoking hot with a lovely garlic and basil sauce. Insider Tip — order from the daily specials on the menu board.
Great news — in 2015 Le Petit Lutétia changed hands, but the new owners have kept the style and substance of the bistro. The food, if anything, has gotten even better,
Le Petit Lutétia – 107 Rue de Sèvres 75006
11:30am to 3:00pm and 7:00pm to 11:00pm
Café du Marché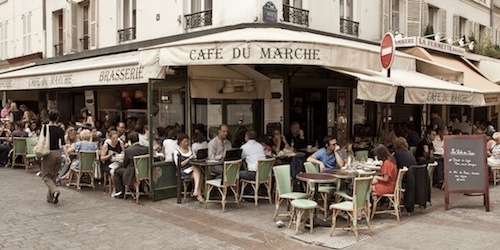 This classic Left Bank café is a regular lunch spot for us whenever we're on our way to the nearby American Library in Paris or to the Champs de Mars at the Eiffel Tower.
The good food and extremely reasonable prices ensure that it is absolutely packed at lunchtime. And we mean packed ! During the lunch rush, waiters can't squeeze between the chairs, so customers are recruited to pass plates full of steak frites from table to table.
Café du Marché – 38 Rue Cler 75007
7:00am to Midnight. Sunday 7:00am to 5:00pm.
L'Ourcine
A Paris Insiders Guide Favourite Bistro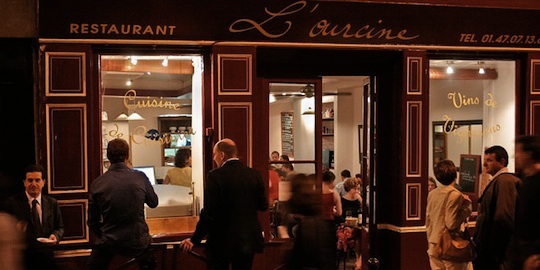 The last time we dined at this gem of Paris bistros, frothy amuses bouches in shot glasses arrived at the table as soon as we sat down — setting the tone for this modern bistro meal.
We started with marinated fresh mackerel served on a salad with a tangy Thai-influenced vinaigrette. That was followed by roasted sea bream: crispy-skinned fish on a bed of vegetable couscous, and a chilled red wine from the Auvergne.
Founding chef Sylvain Danière was a Yves Camdeborde protégé from the original La Régalade.
L'Ourcine – 92 Rue Broca 75013
12:00pm to 2:30pm and 7:00pm to 11:00pm
Café Constant
A casual spot for lunch or dinner, this café is just one of Chef Christian Constant's restaurants in his veritable food empire along Rue Saint Dominque, near the Eiffel Tower.
It's a great place for a group of frieds (old and new) to meet for a lively time with Constant's always reliable food.
It's also one of Chef Constant's favorite hang-outs. It seems like every time we're in the neighborhood we see him sitting at the bar or outside at a table, enjoying a meal.
Café Constant – 139 Rue St-Dominique 75007
12:00pm to 2:30pm and 7:00pm to 10:30pm
Fermette Marbeuf 1900
We love sitting beneath the stained glass dome inside this restaurant in Paris, moved from a 19-century conservatory.
Fermette Marbeuf 1900 is a civilized place to have lunch after a morning of shopping or browsing at the Louis Vuitton flagship store just down the street. Insiders Tip — Make sure to reserve your space "sous le dôme", under the dome.
Fermette Marbeuf 1900 – 5 Rue Marbeuf 75008
Noon to Midnight
Brasserie Île Saint-Louis
A Paris Insiders Guide Favourite Brasserie
One of our favorites for lunch, located just behind Notre Dame Cathedral and across the pedestrian bridge.
There's always been a restaurant on this site — that is, at least since the 19th century. The restaurant was purchased by the Guépratte family in 1953 and renamed Brasserie Île Saint-Louis. It's now run by the third generation of the family, grandchildren of the original owners.
This is the place to seek out traditional brasserie classics like herring and boiled potatoes slathered in butter and olive oil, perfect omelettes with house-made frites (which may be the best frites in Paris!), or a huge plate of charcuterie. And when you have a craving for the Alsatian dish of sausages and tangy sauerkraut — this is the place.
It's the best way to fortify yourself before you head to Notre Dame to climb the 387 stairs to the top of the towers!
Brasserie Île Saint-Louis – 55 quai de Bourbon 75004
Noon to Midnight