Insiders Guide to Luxury
Hotels in Paris
Insiders Guide to Luxury Hotels in Paris
Paris is home to some of the finest hotels in the world and when you enter the lobby of a luxurious Palace or a 5-star hotel in Paris you step into a world of exemplary service, impeccably decorated rooms and…well, the lap of luxury! Think of the Hotel de Crillon, Le Bristol, the InterContinental Grande.
The invention of the luxury hotel dates from 1887, when the Hotel du Louvre was the first hotel to receive a luxury 5-star rating.
But it was the hotel created by Cesar Ritz that really defined luxury accommodations and service.
In recent years the French government has begun recognizing the crème de la crème of luxury hotels in France and has created the Palace designation for hotels above five stars. The Bristol and The Crillon were among the first hotels to be awarded this lofty rating.
If you're celebrating a special anniversary or a milestone event, a few nights at a luxury hotel in Paris is a once-in-a-lifetime splurge that will make you feel like royalty. In fact, don't be surprised if you run into royalty or other celebrities during your stay!
Room rates are high, of course, but don't be discouraged. Luxury hotel deals can be found! Some of the hotels offer last-minute specials, weekend packages and other promotions.
Five Star Hotels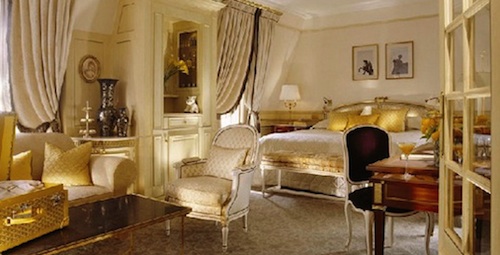 Most 5-star hotels in The City of Luxury are found near Place Vendome or Champs Elysées, the most luxurious parts of Paris.
In our reviews we look the best 5-star and Palace hotels in Paris, including Hotel de Crilllon and Le Meurice, Le Cinq (The George V), and the newest luxury hotel in Paris, the Shangri-La.
Plus de Luxury Hotels
"Luxury Hotels" and "Paris". Those words go together like… well, like champagne and caviar.
And you'll find plenty of that and more in the City of Light, Food, Romance & Fun!
There are so many spectacular 5-star luxury hotels in Paris that we couldn't stop ourselves! Here are even more luxe hotels we love.
Can There Be a B-List?
There are other luxury hotels in Paris. So many that we couldn't fit them all in one article.
Sure, they may not be as well known as the Crillon or the Ritz. But, because of that, they often cost a lot less, while still providing the same superior accommodations and service.
We love hotels like Hotel du Louvre, Hotel Lancaster, George V, the Regina Hotel, and the ultra-glam Plaza Athenée Paris. And one of our favorite hotels in Paris is the Hotel Bristol.
Paris is full of luxury hotels, so let's just look a few more.
Intercontinental Hotel Paris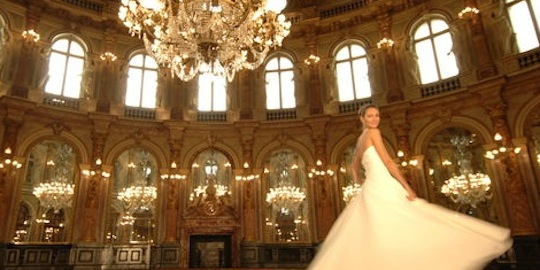 InterContinental Hotel has not just one, but two luxury locations in Paris — a trendy boutique hotel and a classic landmark hotel.
Staying at either location won't break the bank — rates are quite reasonable for luxury hotels. Read our reviews of the Intercontinental Le Grand and the trendy Avenue Marceau.

Paris Luxury Hotel Quick Links

| | | |
| --- | --- | --- |
| | | |
Hotel de Crillon
Closed for Renovation Until 2015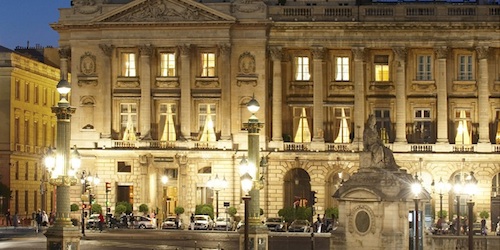 Hotel de Crillon has, just like the Ritz (below), temporarily closed its doors while it undergoes a complete makeover. It will re-open sometime in 2015.
One of the best luxury hotels in Paris France, Hotel de Crillon has always ranked as a Paris Insiders Guide favourite. We can't wait to see the new look!
Ritz Hotel
Closed for Renovation Until 2015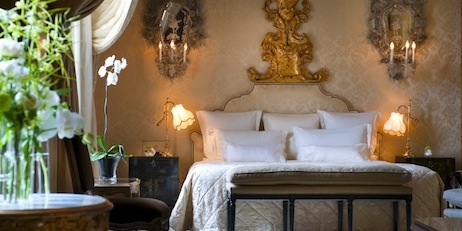 There are a score of luxury hotels in Paris France but there's only one Ritz.
This is the hotel that virtually created the word luxury — chandeliers, grand marble bathrooms and a Roman-bath-style pool with a stunning painted ceiling.
The Ritz Paris is closed for a major renovation and will re-open in November 2014.
Discover the history, the legends and the facts about the Ritz Hotel Paris and book a room at the best rates.
Paris Travel Guides
Don't Miss a Single Paris Travel Tip.
Sign up for Le Petit Journal!
The Newsletter of Paris Insiders Guide
Don't Miss a Single Paris Travel Tip.
Sign up for Le Petit Journal!
The Newsletter Of Paris Insiders Guide