Our Fave 4 Loire Valley Wines & Châteaux Tours
Famous for beautiful castles, bountiful rivers and romantic bridges, the Loire Valley is also famous for diverse and delicious wines — Sancerre, Muscadet, Vouvray, Anjou, Saumur and Chinon. Spend a day out from Paris in this beautiful renaissance valley and get to know its famous chateaux and perhaps its wines.
If you'd prefer to specialize in the famous castles of the Loire Valley, there are a couple of day trips we like that we'll tell you about. If you want to combine castles and wine, we have ideas for that, too.
The Wines: From flinty to full-bodied, Loire wines go especially well with the foods of the region — fresh and aged goat-cheese, delicate fresh water fish and slow-simmered stews finished with cream and butter.
From white Sancerre, to rosés to the full-bodied reds, these wines will be delightful discoveries on a trip to this beautiful region.
But don't worry, the wine trips from Paris aren't only about the Loire Valley wines! You also visit three of the most beautiful châteaux of the Loire Valley — Château de Chambord, Château de Chenonceau and Château de Nitray.
We predict your day in France Profonde (the French countryside) will be a highlight of your trip to Paris. Everything is included on these full-day trips: transportation from your hotel, a leisurely lunch, wine tasting, and entrance fees.
Paris Insiders Tip
Don't wait until the last minute to book your Paris activities. Most of these tours sell out, so be sure to book online before you leave home!
Loire Valley Castles & Wine-Tasting Day Trip
Loire Valley Wines & Châteaux
Discover the Renaissance castles of the Loire Valley and the wines produced in this agriculturally-rich area on a full-day tour from Paris.
Visit stunning châteaux and discover the subtleties of their Sancerre, Muscadet and Vouvray wines. Stretching from Nantes to Pouilly-sur-Loire, the Loire Valley is the third largest wine producing area in France.
The day begins with Château de Chambord, the largest castle in the Loire Valley. It was built in 1519 by King François I, who used it mainly as his hunting lodge. After the orignal castle was destroyed, it took 1800 men and two master masons to rebuild it. And no wonder it did; marvel at the architecture, luxurious furnishing, ornamental touches and the grand exterior spiral staircases.
Next is a bountiful French lunch at the Château de Nitray vineyards with a selection of fresh and local Loire Valley ingredients including the best wines. Taste your way through Loire Valley wines with your guide to explain the varietals, history and nuances of the wines. After the extensive tasting, take a refreshing walk through the vineyards.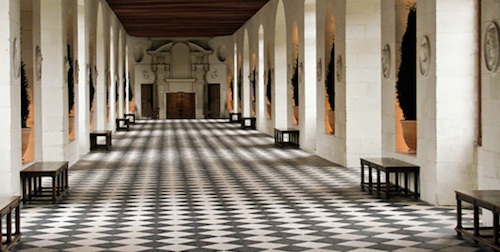 The final stop is Château de Chenonceau (pictured), considered by many as the loveliest of the Loire Châteaux.
It stretches across the River Cher and is surrounded by formal gardens and wooded grounds. The building is a classic Renaissance castle, transformed over the centuries from a modest manor into a hall of decadence.
It was Catherine de Medici who built the elegant Grande Galerie over the River Cher and added the formal, manicured gardens.
The full-day Loire Valley Wine Tour includes transportation, wine tastings, gourmet lunch, entrance to the Châteaux including skipping the long lines. We like it.
Your Own Private Loire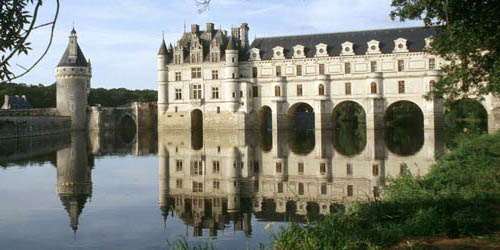 As we may have mentioned once or twice, we often prefer to go the royal route by choosing a private tour.
And this is a nice one, created by our Paris Concierge. It starts out just the way you want — your private driver picks you up at your Paris address.
Then a leisurely drive past the city gates and along the Loire River to Château de Chenonceau, for a guided visit of the "château of the dames" and the possibility of a wine tasting.
After lunch there's a guided visit of Clos Luce, the last residence of Leonardo da Vinci or perhaps a visit to the nearby château of Amboise, prime example of French Renaissance style.
Then to Chambord, François I's dream castle (and the largest château in France before Versailles was built) to see da Vinci's double spiral staircase and the exceptional top floor terrace.
Loire Valley Castles Day Tour
Clos Lucé, Chenonceau & Chambord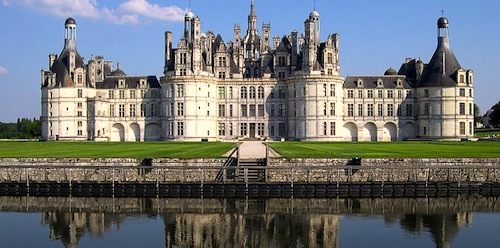 This Renaissance-focused day trip starts at the Clos Lucé where Leonardo da Vinci lived during the last years of his life.
It's then onto Château Chenonceau for lunch at the Orangerie in the summer or in the village during the winter. The last stop is the beautiful Château Chambord (pictured).
This small group day tour includes pick-up from your hotel, transportation, lunch and entrance fees.
Loire Valley Castles Selection Tour
We like this idea because it allows us to choose what we want to see in the Loire Valley.
Option #1 — Villandry, Azay le Rideau & Langeais
Explore the Renaissance Château de Villandry's splendid gardens and terraces (pictured).
Next is Château de Langeais, a medieval castle built in 1465 by Louis XI. After a leisurely lunch, you visit the Château d'Azay le Rideau which is built in the middle of the River Indre on an island in a forest park.
Option #2 — Amboise, Chenonceau and Chambord
Discover the favorite Renaissance royal residence at Château d'Amboise. See Leonardo da Vinci's grave at the Chapel of St Hubert. Then visit Château de Chenonceau, one of the most popular châteaux in the Loire Valley.
After two morning visits, it's time for your three-course lunch with wine at a nearby 18th-century inn. Your final visit is at the Renaissance-wonder, the Château de Chambord, a UNESCO World Heritage site where Leonardo da Vinci designed the famous double-helix staircase.
This small group tour includes pick-up from your hotel, transportation, classic French lunch and entrance fees.
More Loire Valley Tour Options
Paris Planning Guides
Don't Miss a Single Paris Travel Tip.
Sign up for Le Petit Journal!
The Newsletter of Paris Insiders Guide
Don't Miss a Single Paris Travel Tip.
Sign up for Le Petit Journal!
The Newsletter Of Paris Insiders Guide