Learn French Online –
a guide for travelers
It's Easier Than You May Think
It's not hard to learn French online. And, if you're going to be visiting Paris, knowing a bit of French will make your trip more fun.
Our usual recommendation for learning French online is Rocket French, where you practice French phrases useful in everyday situations — from meeting and greeting people to asking for directions to handling daily activites. And it really only does take minutes a day.
With Rocket French you will learn basic introductions, finding your way, and what you need to say when dining, shopping and even for medical help and emergencies.
The program includes more that 70 language lessons as well as lessons on French culture. Not only will you learn French online, you will also learn proper greetings, manners, and etiquette. Rocket French gives you a feeling for what it's like to live in France, with comprehensive online lessons that include grammar, pronunciation and support from the Rocket team.
Rocket French – What will you get?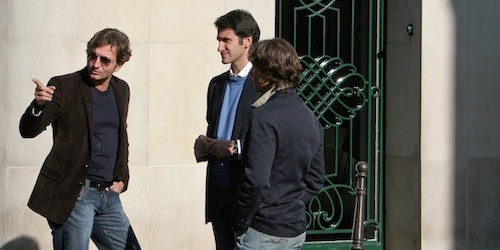 Rocket French covers everything you will need to start speaking French fast.
All the Rocket French lessons are online. You won't have to download any software or have any CDs or DVDs sent to you. All of the lessons are in the form of podcasts stored in audio MP3 files on their site. All you have to do is click and listen. You can also download the lessons to your computer or MP3 player, including your iPhone, so it's easy to take with you to Paris.
Subjects include —
Basic greetings
Travel vocabulary
Asking directions and finding your way
Food and restaurant-related vocabulary
Shopping and shopping-related vocabulary
Meeting new friends
Sports and hobbies, days of the week, countries, numbers and more!
Unique Tools
Another reason we prefer Rocket French is because of its unique tools, like Rocket Record which is a voice comparison tool to help you perfect your French pronunciation. This means when you say something in French you can be confident you're saying it the right way.
Another useful tool is My Vocab, which lets you build your own personalized word list. You can save a word or phrase, add its meaning, add any notes, then save it. The words you need to work on will always be right there, ready for your attention.
Further learning aids include My Motivation and My Level, which rates your progress and gives you hints and tips to help you learn how to speak French vite! — fast.
Paris Insiders Guide Special Offer
Try Rocket French for Free
Sign up for a free, no-obligation Lifetime Trial
and see how well Rocket French works for you!
YES! I want to try Rocket French for free!
This is a private and fully protected mailing list.
You can unsubscribe at any time.
You can review Rocket French's Privacy Policy here.
That's right, sign up now and you'll be able to see just how well the Rocket French Premium course works for you!
Your free trial gives you online access to a selection of Rocket French Premium interactive audio lessons and French language and culture lessons.
You'll be amazed at how much French you know after just a few days!
Paris Planning Guides
The Best Hotels
in Paris

Day Trips From Paris

Romantic Seine River Cruises

Guide to Train
Travel in France
Want To Learn More?
Don't Miss a Single Paris Travel Tip.
Sign up for Le Petit Journal!
The Newsletter of Paris Insiders Guide
Don't Miss a Single Paris Travel Tip.
Sign up for Le Petit Journal!
The Newsletter Of Paris Insiders Guide