Food in Paris
Is A Celebration
Foie gras from Dordogne, escargots from Burgundy, oysters from Brittany & baguettes from the corner boulangerie! Whether it's a simple sandwich jambon or a 5-course meal, the food in Paris should be a highlight of your trip, and we're here to help you make it so.
From an impromptu picnic on the Champs de Mars with an 10€ bottle of Bordeaux and a wedge of creamy Camembert, to a multi-course meal at La Grande Cascade, it will be your duty (and pleasure) to discover the bounty of gourmet food in Paris. And by "gourmet" we mean great, everyday products.
The first thing we do when we arrive in Paris and settle into our hotel or apartment is to run to the nearest boulangerie to buy a baguette and bite into it even before we leave the bakery. Parisian baguettes just taste better.
For a taste of the high life, we chooose a feather-light brioche, a croissant with a thousand buttery layers, or a mouth-watering macaron from Ladurée.
In these articles you'll discover how to go deep into the culture of food in Paris, and experience a vacation trip like none other.
The Paris Gourmet Food Guide
NEW Edition
Everyone knows that Paris is a gourmet capital.
But it can be difficult to find the best of Parisian cuisine, to experience food like an Insider.
So, we've have opened our little black book of Paris gourmet food addresses and put the best stuff into a downloadable e-book. Discover the belly of Paris — wine tastings, cooking classes, little-known specialty shops. We also include 148 recommended restaurants, most of them not well known to visitors.
Learn all about the most famous French foods, as well. Get behind the scenes of the Paris cuinary world.
Our Guide to Paris Food Stores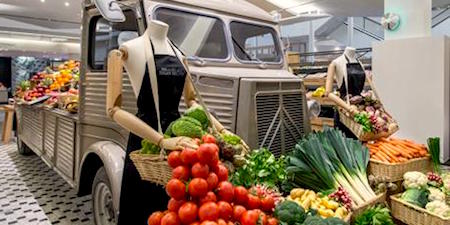 Caviar, foie gras, oysters, cheese, champagne and of course, truffles.
For many visitors (like us!) and would-be travelers, Paris food has an irresistible pull to the City of Light.
To get the biggest bite of French gourmet food plan your culinary itinerary in advance, starting with our Guide to Paris Food Stores.
The Foods of France
The food of France is justly famous. And, no matter where it originates in the country, the best French foods find their way to Paris.
It's worthwhile before you go to Paris to learn a little bit about some of the foods you'll find that may not be as common – or as good – where you live.
Food & Wine Activities
By now it's clear that food is an important part of French and Parisian life, so it should also be an importnat part of your visit.
You'll get a great head start by reading the guides we mention in this article, but if you want to really get into the culinary culture, we always recommended you sign up for a couple of food activities while you're in Paris.
We've collected some of our recommendations and tell you how to book. Remember, though, be sure to book in advance, before you leave home.
Fauchon Paris
One of the great Paris gourmet food halls is found on the fashionable Place de la Madeleine.
The palette of the store is bold magenta and black,and inside there are over 30,000 tasty gourmet foods – from chocolates and bon bons to dozens of different flavored éclairs. You want to buy everything you see there, it's that good.
Ladurée – Home of the Macaron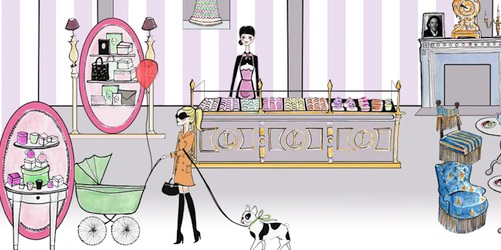 Although it seems like the've been around forever, it was at patisserie Ladurée that the modern macaron was invented in 1931.
Today that delicacy is still the rage of Paris, and Ladurée is the city's premier tea house, patisserie, chocolatier and maker of macarons.
Good Champagne Stops In Paris
One of our favorite hobbies in Paris is to discover new settings to enjoy a glass of good champagne.
And that's not hard to do since champagne is served everywhere – bars, bistros,
parks
,
rooftops
and even on top of the
Eiffel Tower
!
Food & Wine Walking Tours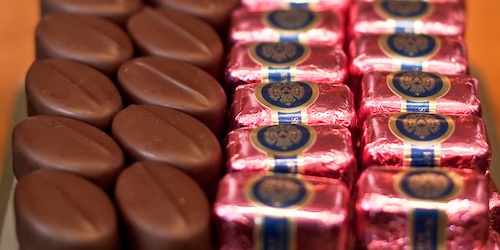 Discover the gourmet food in Paris and its great wines on small-group walking tours that weave thier way along the boulevards and cobblestone streets of the city's oldest neighborhoods.
In Saint-Germain-des-Prés on the Left Bank taste your way through fine food stores and open-air food markets. Or go behind the scenes at a Paris boulangerie to learn about the life of a French baker. Or visit the best chocolatiers and patisseries in the city.
The Best Baguette in Paris
Bread is taken seriously in Paris.
Every year, the city holds a competition for the best baguette, the results are published, the list is debated in the media, and Parisians flock to the winning bakeries.
The grand prize winner of the Grand Prix de la Baguette de la Ville de Paris has the honor of supplying baguettes to the President of France at the Élysée Palace for the entire year.
Paris Food Facts
As we have said many times, Paris is a food city, perhaps the food city, and there are not only a lot of gourmet comestibles but a lot of food lore. Here are a few fun facts.
• French law dictates the three ingredients a baguette can contain: flour, yeast and salt. And it must weigh in at 250 grams. The law was established to keep the precise standards of this essential French food.
• 97% of Parisians eat a baguette every day.
• There are over 1000 varieties of French cheese, and what sets them apart is that many are made from unpasturized milk, resulting in greater fragrance and flavor.
• There are outdoor food markets found throughout the city, and they've been around since the Middle Ages!
Don't Miss a Single Paris Travel Tip.
Sign up for Le Petit Journal!
The Newsletter of Paris Insiders Guide
Don't Miss a Single Paris Travel Tip.
Sign up for Le Petit Journal!
The Newsletter Of Paris Insiders Guide