Guide to
Disneyland Paris Tickets
Tips for buying tickets the easy way
For many families with children, Disneyland Paris tickets can make dreams come true. We've collected some useful tips on buying tickets before you leave home.
There are two theme parks at Disneyland Paris, Disneyland Park and Walt Disney Studios Park, and they are visited by 13 million people every year!
You can buy tickets to one park or the other, but some Disneyland Paris tickets get you into both parks. But first, let's talk about the parks and their names.
There are many names you might hear used for this theme park. And that's partly because Disney keeps changing the name! It was first called Euro Disneyland (or Euro-Disney) but that was changed to Disneyland Paris. Today, the official name is Disneyland Park.
Whatever you call that park, it's where you find the expected Disney themes and rides: Fantasyland, Main Street USA, Discoveryland, Frontierland, Adventureland.
Walt Disney Studios Park is a second, neighboring park that's all about movie making, especially animation, and the theme is a working film studio. It features its own rides and "lands": TOON Studio, Production Courtyard and Backlot.
Paris Insiders Tip
Disneyland Paris FASTPASS. This is a free service that helps to shorten your wait at Disneyland Paris. Simply insert your park ticket into a FASTPASS machine and it will issue you a FASTPASS ticket automatically, letting you know when to return to board the ride. The FASTPASS service is included with these Disneyland Park Tickets »
Disneyland Tickets – 4 Days, 2 Parks
With this Disneyland Paris tickets package, called the Paris Hopper, you get admission to both theme parks and the freedom to hop between Walt Disney Studios Park and Disneyland Park as often as you like.
But, here's what we like best about these Disneyland Paris tickets — if you purchase the Paris Hopper on-line before you leave home, you get the 4-day pass for the price of a 3-day pass, saving you 25%.
As you can see, it's worth it to plan before you go. If you are going to spend 3 or 4 days at the parks, you'll want to stay nearby, so check out our Disneyland Hotel Guide »
Disneyland Paris Mega Package
Is Frontierland calling to you and you want to stay longer in the Disney universe? Do you need more time in TOON Studio?
Then check this out: a five-day Disneyland Paris package. It's the ulimate Disneyland Paris experience. Your kids will love you for it — and for years you'll be able to say to them, "Remember when I took you to Disneyland Paris for five days!"
You can also take advantage of the online-only offer — five days for the price of four.
Single Day Disneyland Tickets
If you have just one day to ride the thrills of Disney, the easiest way to buy your tickets is in advance, online.
Disneyland Paris Hotels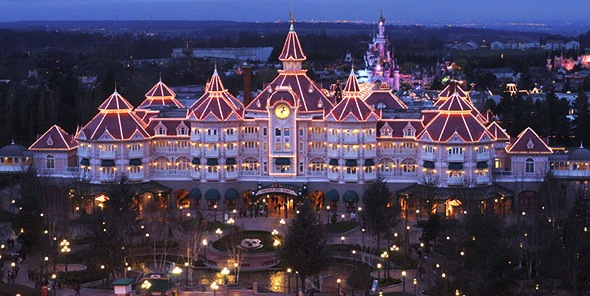 There are seven Disney-owned hotels at Disneyland Paris, as well as other nearby hotels. They come in a variety of offerings and services. Some are right at the parks, others offer free shuttle service to the parks.
From lavish 5-Star luxury to a basic, clean and affordable, we give you the lowdown on our recommended hotels in and near Paris Disneyland.
More Paris Planning Ideas
Don't Miss a Single Paris Travel Tip.
Sign up for Le Petit Journal!
The Newsletter of Paris Insiders Guide
Don't Miss a Single Paris Travel Tip.
Sign up for Le Petit Journal!
The Newsletter Of Paris Insiders Guide