Day Trips From Paris –
Tours of the Champagne Region
Dive Deep Into The Bubbly
In The magic kingdom of champagne
Classic Champagne Tours. Spend a day discovering the wonders of the Champagne region — from meeting small family producers to visiting a grand Champagne house to learning about the intricacies of creating the most celebrated beverage in the world. Of course, there will be plenty of tasting along the way. Maybe that's why it's one of our favorite day trips!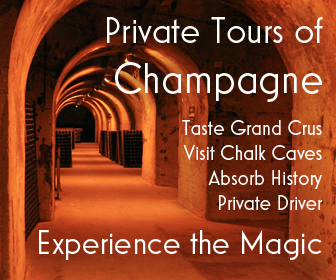 There are three great options for arranging your perfect day in Champagne. Two of them are private tours for just you and your guests, one of them is a small-group tour with no more than eight people.
For an in-depth experience choose the Private Discovery Tour or a Private Varietals Tasting Tour. If you're interested in one of these private tours simply use the Inquiry Form to contact our Champagne Concierge and he'll take care of everything for you.
Whichever you choose, expect to spend about 10 hours on your exploration of Reims and Epernay. Your driver will escort you from your Paris hotel and will guide you to all the stops along the way. There's nothing for you to do except relax and enjoy the ride to the magical kingdom of Champagne!
These day trips to Champagne are highly recommended by us. But book early, the dates tend to get filled up. Bonne santé !
Small-Group Day Trip to Champagne
Paris Insiders Guide Favourite Day Trips From Paris
Be picked up at your hotel and whisked away to the magic Land of Bubbly.
Drive through rolling hills and vineyards to the capital of Champagne country, Reims. Here you see the famous cathedral where all the French kings were crowned. Next go to Epernay to discover how the grapes are grown, how the wine is made, and taste the most famous product of the region.
After a traditional lunch, visit one of the most famous champagne houses, see the cellars, and taste more bubbly. In fact, taste as much as you want — someone else is doing the driving!
Champagne Private Grand Tour
Day Trips From Paris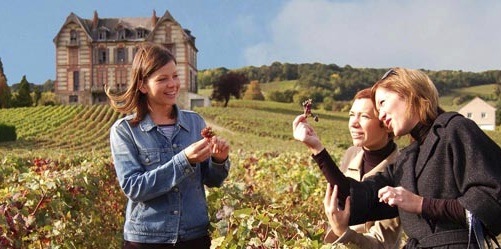 On this private tour, your driver will take you along the picturesque Route de Champagne that winds through the celebrated vineyards and villages where champagne has been made for centuries.
Along the way, you stop at Chatillon-sur-Marne and see the famous statue of Pope Urban II with his arm outstretched over the panoramic Marne Valley. After some in-depth Champagne tastings, you end by visiting the Reims Cathedral.
The Champagne Private Grand Tour with three tastings takes you to the prestigious cellar of Moët et Chandon in Epernay, then to a small family producer in Hautvilliers (it's where Dom Perignon supposedly said, "I am drinking stars"), and then to a large champagne house in Reims.
Our Champagne Concierge will create a lunch just for you — from a casual picnic in a vineyard to a 3-course affair at Les Crayeres.
Private Varietal Tastings Tour
Day Trips From Paris
If you want a really in-depth experience of tasting champagne varietals and sub-regions, this tour is made for you.
This is unusual among the tours in that there are no cellar visits or stops at the large champagne houses — instead it's all about champagne blends from small to medium producers.
Your driver/guide picks you up at your Paris hotel or apartment and whisks you to the Champagne region to start your tastings. During the day you will visit three Champagne sub-regions and taste different blends.
The first stop is a family producer who specializes in Pinot Meunier. At the second stop you meet another producer with a large range of champagne blends.
After lunch in Epernay and a vist to the abbey of Dom Perignon, you head to a producer located in Ay with roots in the 17th century. Taste a renowned vintage Grand Cru brut and other wines. And that's not the end of the day! There are two more stops at a cooperative and a small family producer, including a tasting of the most popular Grand Cru champagnes.
From Paris or From Champagne?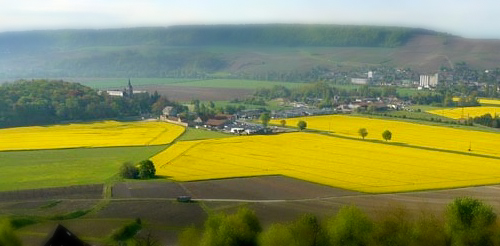 You can have the driver pick you up at your hotel in Paris or, if you prefer to get to the Champagne region yourself, he can meet you at the train station in Reims, in the center of Bubbly Country.
It's an easy and fast 1-hour TGV high-speed train ride from Paris to Reims.
Paris Planning Quick Links
Food & Wine
Activities

Guide To Paris Airport Transfers

Skip-the-line
Eiffel Tower Tours
Best of Paris
Design Hotels
Want To Learn More?
Don't Miss a Single Paris Travel Tip –
Sign up for Le Petit Journal !
the newsletter of Paris Insiders Guide