Our Guide to Cooking Classes
In Paris – Part II
Get on the track to master the art of french cooking in cooking classes such as these. As we said, it's not surprising that cooking classes in Paris have become very popular — everyone love to eat the food, so why not learn how to make it at home?.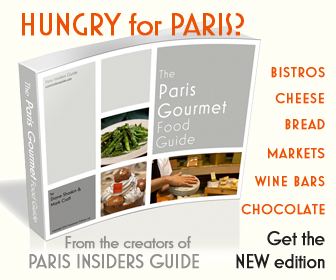 If you know us – and our love of food – it's also not surprising to hear that we love enrolling in them.
It's wonderful to have an activity like this booked and waiting for you when you arrive. You really start to feel like part of the culinary culture.
There are a broad range of classes available, whether you're a beginning cook or expert. If you haven't already, take a look at the classes we recommend in Part I of our Guide to Cooking Classes in Paris, or check out the classes below. Feel like a Paris Insider for a few hours!
The Art of French Pastry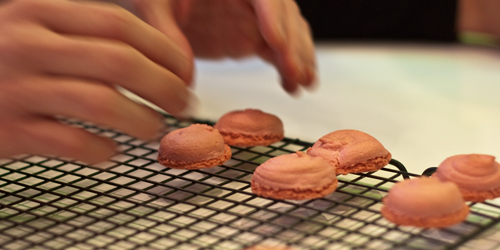 When we dropped in on this class, a small group was learning how to make the outrageously popular macarons in the well-equipped kitchen.
Did you know Marie Antoinette was mad for them?
Discover the magic that goes into making macarons as well as éclairs, millefeuille and homemade ice cream with exotic ingredients like geranium and lavender.
Ecole Ritz Escoffier
Note: The Ritz Hotel Paris, and its cooking school Ecole Ritz Escoffier, is closed for renovation late 2105!
When it reopens we assume that the Ritz will once again offer cooking classes for amateurs in the same teaching kitchens used by the Ritz Escoffier professional cooking school. Nothings tops a getting some cooking advice at this culinary legend..
La Cuisine Paris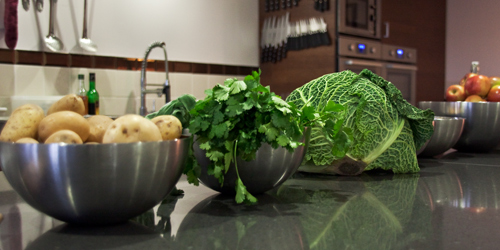 In a building right on the Seine, this cooking school offers many options for morning, afternoon and evening classes.
There is also a tour of one of Paris' best outdoor markets, followed by a cooking class.
The owners, American Jane Bertch and her French husband Olivier Pugliesi-Conti, go out of their way to make sure their customers are happy.
Le Cordon Bleu
With the renewed popularity of Julia Child, the Cordon Bleu courses for amateurs have exploded. Cordon Bleu offers an array of half-day and full-day classes perfect for those wanting a taste of traditional French cooking and history.
We spent a full day at Le Cordon Bleu cooking duck magret and other classic French dishes. Read about our experience in our culinary travel memoir, How to Cook Bouillabaisse in 37 Easy Steps, available from us with free shipping. (Also availabe at Amazon.)
• How to Cook Bouillabaisse in 37 Easy Steps: Culinary Adventures in Paris and Provence – Order Your Copy »
Food in Paris
Want To Learn More?
Don't Miss a Single Paris Travel Tip.
Sign up for Le Petit Journal!
The Newsletter of Paris Insiders Guide
Don't Miss a Single Paris Travel Tip.
Sign up for Le Petit Journal!
The Newsletter Of Paris Insiders Guide