Guide to Cheap Hotels
in Paris France
Clean, Comfortable
& Under 100 Euros!
Good, cheap hotels in Paris do exist, but you have to ask yourself what your comfort level is — can you share a bathroom, live without high-speed Internet or fluffy pillows?
You also have to know where to look.
Certain areas like Montmartre and neighborhoods in the 13th, 14th and 15th Arrondissements, that are further away from the center of things, have a number of low-priced hotels. But, there are a few good cheap hotels in Paris' central areas. To keep your cost as low as possible, you may have to shop around for the best dates as well.
It's an expensive city and most Paris low-cost hotels will have few extras and basic décor. But if saving money is important here's the Paris Insiders Guide Under-100-Euro Selection. (Or close to it, anyway!) You'll find cheap, clean, basic and reliable hotels.
We often find the best rates at Booking.com, and there are direct links to their prices on some of our hotel reviews.
Paris Insiders Tip
Unless you're staying at a higher-end place, don't eat breakfast in your hotel. Instead, enjoy a coffee and croissant at a local café, or buy some baking from a local boulangerie. You'll save money and usually get better quality and selection.
Classics Hotel Bastille
"Great hotel for a great price"




11th Arrondissement
Metro: Charonne
Cheap Hotels in Paris. This affordable hotel with a touch of charm is located between Place de la Bastille, and the Père Lachaise cemetery.
The hotel is located within easy walking distance Marais and the fabulous market street of Aligre. Weather permitting, breakfast is served in the outdoor terrace. Free WIFI included.
Hotel Au Pacific
"Nice and clean budget hotel with friendly and helpful staff"



15th Arrondissement
Metro: Dupleix, Emile Zola
A hidden gem! Cheap hotels in Paris do not always have extra amenities. But this hotel, clocking in at well under 100 euros, includes free high speed internet. The helpful staff are bilingual and can answer questions about where to eat and what to see in this wonderful central neighborhood.
It's quite rare to find such a bargain in central Paris hotels. Cheap hotels book quickly, and at these low prices the Pacific Hotel is booked long in advance. So, if you want to save money, make your reservation ASAP!
The Pacific Hotel is very near Rue de Commerce, a great shopping street; the weekly Grenelle street market; boulangeries, shops and cafes; and within walking distance of the Eiffel Tower (15 minutes).
Hotel de la Cité Rougemont
"Probably won't find a better two star hotel in Paris."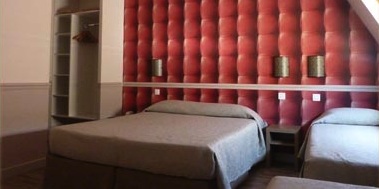 9th Arrondissement
Metro: Grand Boulevards
This is a better-than-average choice in the low-cost hotels category. Hotel de la Cité Rougemont is on a quiet street, yet close to the big department stores: Galeries Lafayette and Printemps. All the rooms include high-speed Internet, flat screen TVs, hair-dryers and safes.
This is an ideal family hotel since there are 3- and 4-person bedrooms, or you can request for two rooms to be linked together.
Paris Port de Montmartre
"Nice and cheap stay."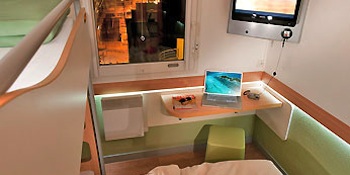 18th Arrondissement
Metro: Porte de Saint-Ouen
At this price, cheap hotels in Paris France don't often have things like a TV, a shower and a private bathroom, but the ETAP Hotel Paris Port de Montmartre does. There's even free high-speed Internet in the lobby.
Keep in mind this is a basic one-star hotel, but it is good value for the low price. Montmartre is a great neighborhood with shops, restaurants, night life, wine bars, food markets and plenty of Metro stations. The Metro ride from the center of Paris is less than 20 minutes.

Hotel Sofia
"Good choice"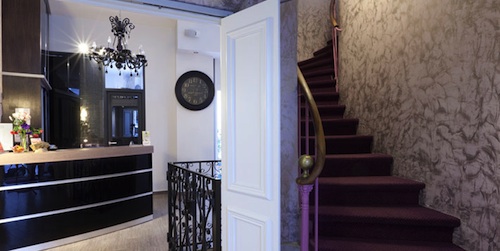 18th Arrondissement
Metro: Barbes-Rochechouart
Montmartre is the neighborhood with Sacre-Coeur; the steep, winding streets; and many hotels, cheap and mid-range. Among Montmartre's cheap hotels is the Hotel Sofia and it has a secret weapon!
It's recently been renovated with a fresh coat of paint and upgrades — including flat screen TVs, private bathrooms and an interior courtyard with a patio to relax in. You'll find Montmartre to be a vibrant neighborhood with plenty of shops, cafés and museums.
Hotel Campanile Paris 19
"Nice big, clean rooms. Free Wifi. Nice restaurant"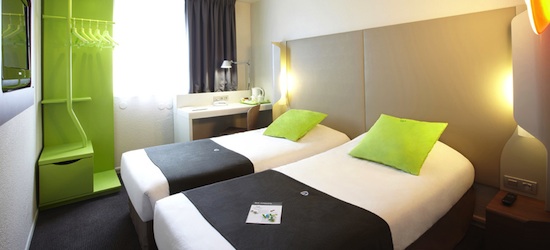 19th Arrondissement
Metro: Corentin-Cariou
If you're looking for a bargain hotel in Paris, this might be it.
Close to Parc de la Villette, this hotel is very close to Parc de la Villette with its science museum and music museum. It's also a conventinet spot to catch the boat for a ride down Canal Saint Martin.
Timhotel Nation
"Good for budget travelers"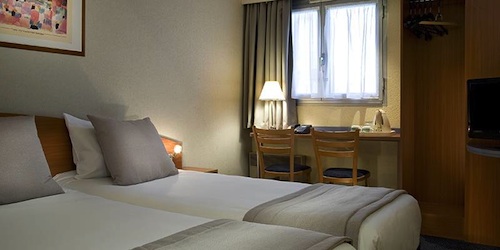 20th Arrondissement
Metro: Avron
All rooms are decorated in a contemporary style overlooking a French terrace.
The hotel is a 5-minute walk from Place de la Nation with its multi-Metro exchange, and 14 minutes from Père Lachaise Cemetery
Hotel Paris Villette
"Outstanding value in Paris"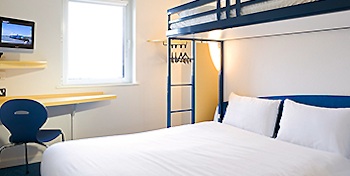 20th Arrondissement
Metro: Crimée
This budget two-star hotel offers free WiFi, ensuite bathrooms, double-glazed windows and satellite TV.
It's 10-minute walk from Cité des Sciences, the science museum in Parc de la Villeette, and a 5-minute walk from the Metro.
Other Paris Hotels Quick Links
Hotels in the
Latin Quarter
Left Bank
Hotels

Paris Boutique Hotels

Romantic Paris Hotels
Want To Learn More?
Don't Miss a Single Paris Travel Tip.
Sign up for Le Petit Journal!
The Newsletter of Paris Insiders Guide
Don't Miss a Single Paris Travel Tip.
Sign up for Le Petit Journal!
The Newsletter Of Paris Insiders Guide