Guide to Best Western
Hotels in Paris
quality, comfortable hotels
with charm & Paris personality
It's not a chain. Each Best Western Hotel in Paris is independently owned and operated, yet relies on the brand to maintain high standards and to help with marketing.
Best Western Hotels are found in all the best neighbourhoods of Paris, including St. Honoré, Opéra, the Left Bank, and the Arc de Triomphe.
Reservations are easy and you can use any Best Western credit vouchers you may have.
Don't be put off by the brand name. We were at first, but then discovered that the Best Westerns are authentic Parisian hotels, and not chain-like in any way. In fact, some of these hotels have changed their affiliation since we first wrote about them, joining up with other hotel marketing groups, such as Clarion Collection.
Hotel au Manoir Saint Germain de Prés
"Gem of a hotel on St Germain des Pres"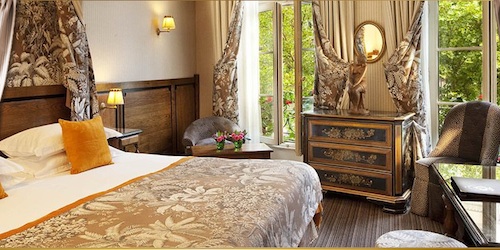 6th Arrondissement
Metro: St-Germain
Best Western Hotels Paris.
Right in the heart of Saint Germain, this well-reviewed hotel overlooks the Place de Saint Germain and Café Deux Magots. You're near the Seine, the Louvre, d'Orsay, and all the great neighborhood shopping.
The rooms are a larger than many Paris hotels and are wonderfully decorated, and the bathrooms are also very nice.
It's a fine hotel, but it's really the location that will blow you away.
Best Western Premier Regent's Garden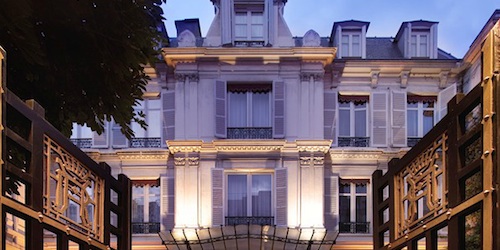 17th Arrondissement
Metro: Ternes
This one ranks above some of the other Best Western Hotels in Paris. The hotel is set in a historic mansion and stylishly decorated with an artful fusion of old and new. As you enter you are greeted by antique columns and look out onto a large, manicured garden.
The Regent's Garden was the first hotel in Paris to have been awarded the environmental award, the European Ecolabel certification. They work hard at being green by implementing energy and water-saving techniques, using non-toxic detergents, recycling, and using Fair Trade coffee, tea, sugar, chocolate, juice and textiles.
This hotel in in our old neighbourhood, halfway between lovely Boulevard Pereire and the magnificent market street, Rue Poncelet.
Best Western Premier Left Bank – St Germain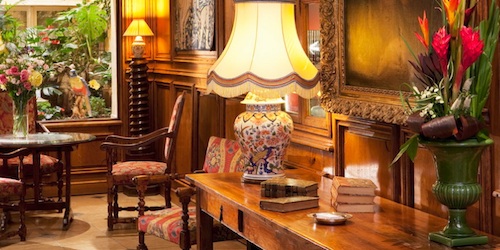 6th Arrondissement
Metro: Odeon
Nicely located in the middle of things of the 5th and 6th Arrondissements, this Left Bank Best Western hotel is flanked by the famous Le Procope restaurant, bistros and all the great shopping and activities to be found in this historic part of Paris.
There are cafés, a small supermarket and the Metro stop all within a block, and you can take an easy stroll to Notre Dame and Ile St. Louis.

Clarion Collection Etoile Saint Honoré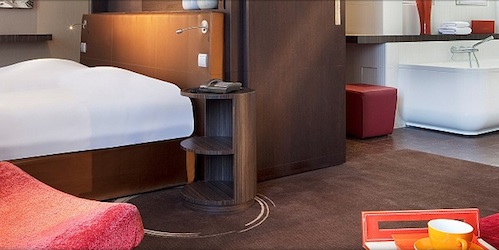 8th Arrondissement
Metro: George V, Ternes
This is not your mother's Best Western Hotel! It's now part of the trendy Clarion COllection.
This modern, sleek hotel is located on the famous Rue du Faubourg St Honoré, near Champs Elysées, l'Arc de Triomphe and the beautiful and upscale Parc Monceau.
The rooms are spotless and those on the street side have gloriously huge windows. It's also a great choice for families since you can request adjoining rooms.
Best Western Premier L'Horset Opera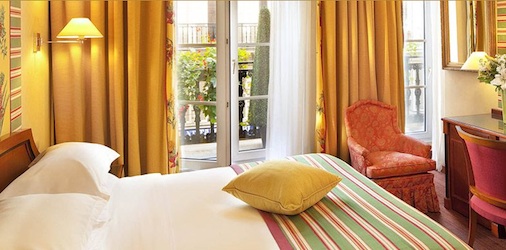 From 195 €
2nd Arrondissement
Metro: Opera
Set in the city's lively theater district, this Best Western hotels Paris is close to the stunning Opéra Garnier, the chi-chi Place Vendôme, Place de la Madeleine and the Louvre.
paris Planning Quick Links
The Best Hotels
in Paris

Best Day Trips From Paris

Best Walking
Tours of Paris

Romantic Seine River Cruises
Want To Learn More?
Don't Miss a Single Paris Travel Tip.
Sign up for Le Petit Journal!
The Newsletter of Paris Insiders Guide
Don't Miss a Single Paris Travel Tip.
Sign up for Le Petit Journal!
The Newsletter Of Paris Insiders Guide