Parisopoly –
The Best of Paris 2012
You've Had Your Say,
Now Here Are the Results
When we learned that Paris had been chosen as the top tourist destination once again for 2012, we knew it was time to ask you, our readers, what you liked most about our favorite city. What was the best of Paris in 2012?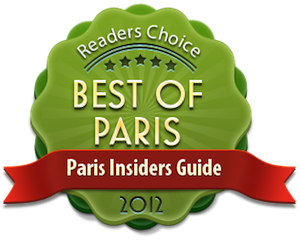 Winners & runners-up can go here to
download a promotional badge.
The result was Parisopoly, a virtual tour of Paris, stopping to ask questions along the way.
Some of the results were pretty clear. Avenue des Champs-Elysées was definitely the most overrated Paris attraction in 2012.
But there were a surprising number of ties and near-ties, and a lot of places that definitely merit an honorary mention.
Here's what readers, followers and subscribers had to say about the best of Paris in 2012 —
Best Hotel for a Week's Stay

1. You've drawn a Chance card giving you one week in Paris at the hotel of your choice. Which hotel do you choose?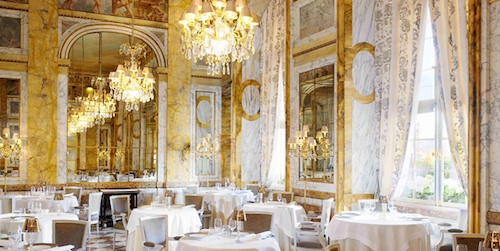 Restaurant Les Ambassadeurs at Hotel de Crillon
It's a tie! —
•
Hotel de Crillon
Runners-Up —
• The Ritz
• Plaza Athénée
• Lenox Saint Germain
• Hotel d'Aubusson
• Shangri-La Hotel
• Hotel Francois 1er
Other Finalists —
• Hotel Costes, 1st Arrondissement
• Le Vert Galant, 13th Arrondissement
• Hotel Marignan, 5th Arrondissement
• Hotel d'Orsay, 7th Arrondissement
• Westin Paris Vendôme, 1st Arrondissement
• Pavillon de la Reine, 3rd Arrondissement
• Le Standard Design, 11th Arrondissement
Most Romantic Spot

2. GO directly to the most romantic spot in Paris. The place you'd propose or be proposed to. The place to go with your loved one on a very special anniversary. Where do you go?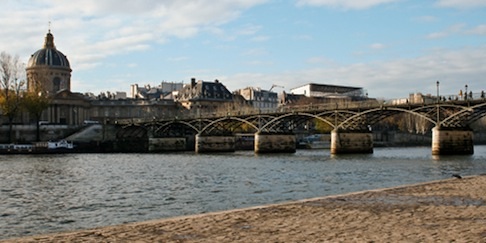 There was a clear winner here —
Pont des Arts, the pedestrian bridge that connects the classical Institut de France with the Louvre, just downstream from Ile de la Cité.
Favorite Store for a Shopping Spree

3. Drawing a Poitrine Communauté (Community Chest card) you find you've won a $5000 Paris shopping spree. What one store do you spend it in?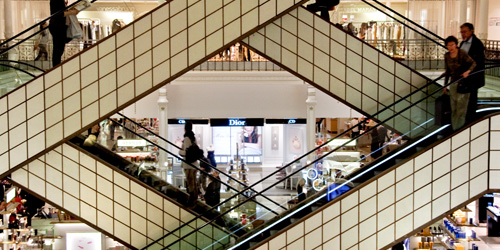 Another tie, this time between two of the city's grand magasins, the big department stores —
• Bon Marché, the Left Bank winner.
• Galeries Lafayette, the Right Bank winner.

Runners-Up —
• Louis Vuitton's flagship store on Champs-Eylsées.
• The Pylones stores.
• Colette, on rue Saint-Honoré in the 1st Arrondissement.
Best Museum for a Private Tour

4. The Director of Paris Museums has invited you to a private nighttime tour of the museum of your choice. Which one do you choose?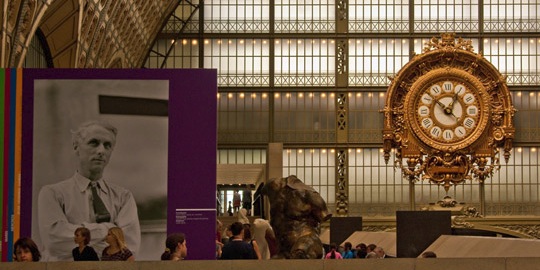 Musée d'Orsay
The winner is —
• Musée d'Orsay, the Impressionist gem.
Followed closely by —
• The Louvre, the epitome of art museums.
The Three Must-See Attractions

5. Take a ride on the Metro. You have only one day in Paris and a Paris Visite Metro Pass. What are the three attractions that you simply have to see?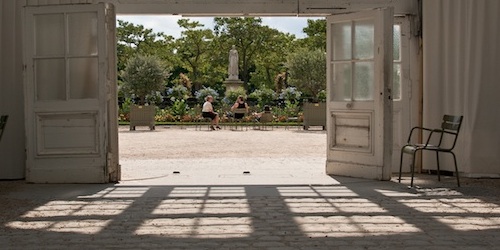 Jardin du Luxembourg
Results were not surprising —
1. The Louvre.
3. The Eiffel Tower, the most visited monument in the world.
The Three Don't-Miss Restaurants

6. You've just been appointed the Food Reviewer for Paris Insiders Guide. What are the first three restaurants you eat in (for free!) and review?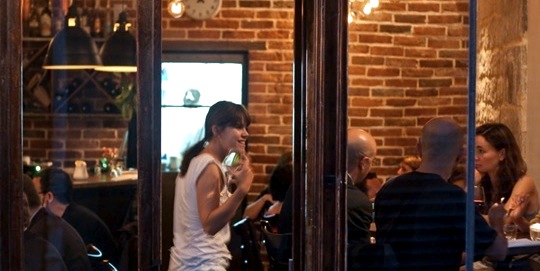 The winners are —
1. Alain Ducasse's
Jules Verne Restaurant located on the Eiffel Tower.
2. Frenchie, by young chef Gregory Marchand, in the 2nd Arrondissement. (Photo shown here.)
With these tying for the third restaurant —
• L'Ambroisie, 4th Arrondissement
• Benoit, 4th Arrondissement
• La Tour d'Argent, 5th Arrondissement

•
L'Arpege
, 7th Arrondissement
•
Le Dome du Marais
, 4th Arr.
•
Pierre Gagnaire
, 8th Arrondissement
Runners-Up —
• Les Deux Magots, 6th Arr.
• Restaurant du Luxembourg, 6th Arr.
• Le Coupe-Chou, 5th Arr.
• Le Train Bleu, Gare de Lyon, 12th Arr.
• Le Royal Turenne, 3rd Arr.
• Restaurant Le Meurice, 1st Arr.
• La Cadole, 6th Arr.
• La Fountaine de Mars, 7th Arr.
• Le Grand Véfour, 1st Arr.
• Maxim's de Paris, 1st Arr.
• Restaurant Lapérouse, 6th Arr.
• Agape Substance, 6th Arr.
The Most Overrated Paris Attraction

7. In Parisopoly you don't GO to Jail. Instead you GO to the the Most Overrated Paris Attraction. What is it? The one you'd tell your friends not to bother with?
Winning with a comfortable margin of victory —
• Avenue des Champs-Elysées.
The Most Underrated Paris Attraction

8. Advance to the most underrated Paris attraction. What do you choose? The one you'd only share with your best friend, so it doesn't get overcrowded with all those tourists?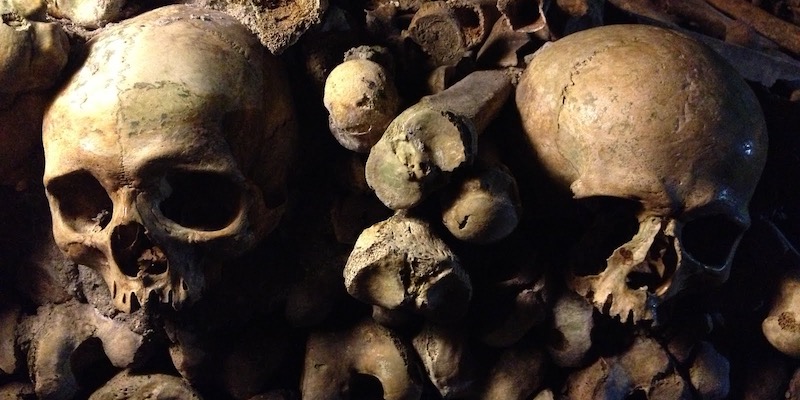 It's a tie for first place! —
• The Catacombs, in the 14th Arrondissement, the repository of the bones of Parisians past.
• Musée Marmatton, in the 16th Arrondissement, the premier museum of Claude Monet's works.
Runners-up —
• La Cuisine Paris cooking school, next to Hotel de Ville.
• Musée Jacquemart-André, in the 8th Arrondissement.
The Favorite Bridge

9. Take a walk along the Seine. What Paris bridge would you walk across, if you had to choose only one?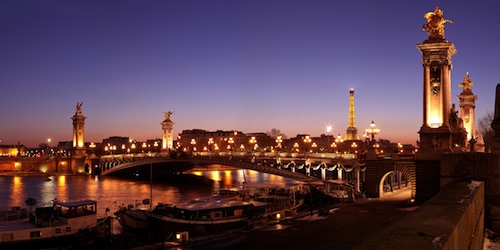 With an easy win, it's —
• Pont Alexandre III, the gilded bridge built in 1892 that spans the Seine to connect the Grand Palais with Invalides.
Single Favorite French Food

10. You have a Get Out Of Customs Free card, allowing you to bring back as much of your single favorite French food as you want. What do you fill your suitcase with? (It's hard to choose just one, isn't it?)
Paris Insiders Guide readers have spoken, and the winner is —
• French Cheese.
Followed closely by —
• Foie Gras.
Congratulations to the Winners & Runners-Up!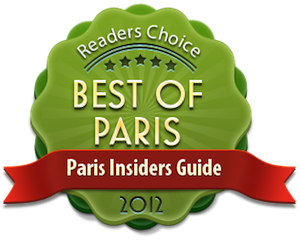 If you're a winner or runner-up, don't forget to download your promotional badge! »
Paris Planning Quick Links
Want To Learn More?
Don't Miss a Single Paris Travel Tip –
Sign up for Le Petit Journal !
the newsletter of Paris Insiders Guide