The Best hotel in Paris?
It was a Tough Competition,
But Here are Our Winners!
What is the best hotel in Paris… how can you choose? We've thumbed through our address book, combed through dozens of websites, and checked out traveler's ratings to come up with our selection of the best Paris hotels.
And it turns out you don't have to pay a fortune to stay at great Paris hotels.
Some of the winners in the Best Hotel in Paris category aren't in the most expensive price range. Based on location, service and ambience, the best hotel in Paris finalists may surprise and even delight you. We know that we were surprised!
By the way, our star rating is not the official French hotel rating, but is based on third-party ratings, our own experience, and traveler reviews.
Ready to be pampered? Ready to be amazed?
Hotel Bristol Paris
Paris Insiders Guide Top Pick
Hotel le Bristol – Reviews & Best Rates





8th Arrondissement, Saint-Honoré
Metro: Miromesnil
Let's say you're Woody Allen and want to film your love song to Paris, what hotel do you choose to shoot in? That's right, the hotel scenes in Woody Allen's movie, Midnight in Paris were shot in Le Hotel Bristol Paris.
If money is no object, this elegant address is almost in a class by itself, and certainly a contender for best hotel in Paris.
Le Bristol is all about elegance and service. "Far and away the finest hotel experience we have ever encountered" is typical of guest comments. It was the first hotel to be awarded the top luxury rating among French hotels – Palace –and still is one of only five hotels in all of France with that designation.
The restaurant at the Bristol spills our into the courtyard during summer months, and in the kitchen is Eric Frechon, one of the most distinguished chefs in France.
This is not only one of the best Paris hotels, it's one of the best hotels in the world!
Jay's Paris
"Spacious rooms, great service"






16th Arrondissement, Trocadero
Metro: Boissiere, Victor Hugo, Kléber
Does your family deserve royal treatment? This most luxurious of family hotels in Paris is set in a quiet residential area, yet close to Paris attractions. Built in 1850, it was completely renovated in 2006 to a superior standard. Now you can choose from one of the elegantly designed suites.
It's a great location
, between the Eiffel Tower ad
l'Arc de Triomphe
, and with seven Metro stations within a 10-minute walk!
Consistently anked the best hotel in Paris by travelers, Jays Paris provides room service, free Wi-Fi, air conditioning, 24-hour reception, video security, and same day laundry service.
Les Jardins de la Villa
"Never staying anywhere else in Paris again!"





17th Arrondissement
Metro: Porte Maillot
Paris chic on the Right Bank. You'll enjoy relaxing in the Winter Garden and library or having a drink at the Honesty Bar, where you can serve yourself as if you were at home.
It's the little extras like 400-count Egyptian cotton bed linens, Nespresso coffe-maker (our favoritee!) and the manicured gardens that make this a contender for the best hotel in Paris.
Located on a tiny one-way street next to Le Palais des Congrès de Paris, Les Jardins de la Villa is a Traveler's Choice 2011 Winner.
Hotel Keppler
"Absolutely perfect"





16th Arrondissement, Latin Quarter
Metro: George V
Located just off Champs-Elysées, between the Seine and the Arc de Triomphe, Hotel Keppler sits on prime real estate on the border between the 8th and 16th Arrondissements.
There is so much nearby within easy walking distance: the Arc, the Eiffel Tower, Trocadero, Palais de Tokyo, Napoleon's Tomb, great shopping and great restaurants.
And the hotel itself is superb. Designed by Pierre Yves Rochon, known for cutting-edge design the world over, it features an elegant style with a palette of black and white with bold colours. Travelers rave about the hotel, the service and the location. We think you will, too.
Hotel Gramont Opera Paris
"Stunning gem of a hotel"





2nd Arrondissement, Opera
Metro: Quatre-Septembre
Located on a quiet one-way street near Place de l'Opéra, the Gramont Opera Paris is very highly rated by travelers and certainly contends for the best hotel in Paris.
The rooms are good-sized (for Paris!) and the staff is friendly and helpful, travelers called them "warm and welcoming". The location is great, with easy access to many Paris attractions, stores, and restaurants.
Hotel le Petit Paris
"Stylish, friendly, convenient - a great find!"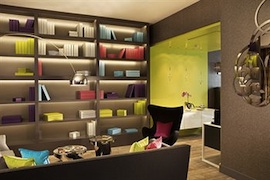 5th Arrondissement, Latin Quarter
Metro: Cluny-La Sorbonne, Maubert-Mutualité, RER Luxembourg
Just steps from the Luxemburg gardens, this designer hotel opened in 2009 to rave reviews. This best hotel in Paris has a luxurious, contemporary design that opens onto an outdoor patio. Ask for a room with a terrace for views of the Paris roof tops.
It's about ten minutes from the Metro stations, and quite close to RER Line B.
Hotel Luxembourg Parc
"Perfection in Paris"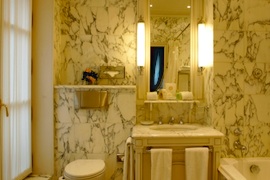 6th Arrondissement, Luxembourg
Metro: Saint-Sulpice, Mabillon, Odéon
The
location is darn near perfect
for those who love the traditional areas of Paris. Saint Germain des Pres surrounds the hotel, and directly across the street are the
Luxembourg Gardens
. Spend lazy afternoons strolling through the gardens, or walk over to nearby
Saint Sulpice
and spend time at the luscious fountain, then go inside the church to view Delacroix's famous fresco.
This hotel itself is on cozy corner courtyard and there are three Metro stations within an 8-minute walk. The Hôtel Luxembourg Parc is consistently ranked high by travelers.
The hotel has that certain French charms, with fine fabrics and furniture in the Louis XV style. You can ask for a room overlooking the Luxembourg Gardens or onto a quiet cobblestone street. Each floor is decorated in different colors, giving the hotel a boutique feel. Travelers reviews also make this a contender for the Best Hotel in Paris.

Paris Luxury Hotel Quick Links

| | | |
| --- | --- | --- |
| | | |
Paris Planning Quick Links
Want To Learn More?
Don't Miss a Single Paris Travel Tip.
Sign up for Le Petit Journal!
The Newsletter of Paris Insiders Guide
Don't Miss a Single Paris Travel Tip.
Sign up for Le Petit Journal!
The Newsletter Of Paris Insiders Guide