Insiders Guide to
Apartment Hotels in Paris
Independence, Space,
Security & Service
Also called residence hotels, apartment hotels in Paris strike a nice balance between a Paris apartment and a hotel, combining independence, amenities, and the added security of a hotel.
If you're traveling with your family, apartment hotels may be just the thing for you and a nice alternative to family hotels in Paris.
Most apartment hotels have kitchenettes (which is very unusual for Paris hotels) and are more spacious than a hotel room. They are located in the best parts of the city, so you'll probably find an apartment hotel in your favorite arrondissement.
After a day out with the kids — visiting the zoo at the Jardin des Plantes or that great kids science museum, Palais de la Découverte — it's nice to have space to unwind and to be able to make a meal for the family.
La Maison Saint Germain
Paris Insiders Guide Recommendation





6th Arrondissement
St Germain de Près
Metro: Mabillon
Located in the center of things, on Boulevard Saint-Germain, it takes just over ten minutes to walk to Notre Dame Cathedral.
There are only 6 apartments, each one occupying an entire floor! Although the apartments are independent they have the services you expect in a Paris hotel, including daily cleaning and a 24-hour front desk. Each of these apartment hotels in Paris have free wireless Internet, flat-screen TVs with cable, cooking facilities, fridge, microwave and dishwasher.
The Metro station is just across the street and the Louvre Museum is only a 13-minute walk away.
Citadines Prestige Saint-Germain-des-Pres
"Just about perfect… for a family of 4."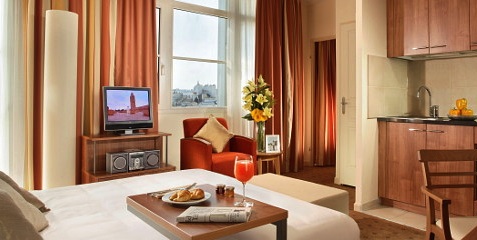 6th Arrondissement
Saint Germain
Metro: Saint-Michel
It's hard to be much more central than this.
Located on the Seine across from Ile de la Cité, the Prestige Saint-Germain-des-Pres is also close to the best of the famous Saint Germain neighborhood. Bonus: it's right across the bridge from our favorite central Paris resting spot, Place Dauphine.
The hotel has 62 one-bedroom suites for 4 people, plus an even larger number of two-person studios. Each has a fully equipped kitchen with stove, microwave, fridge, and dishwasher. But unlike an apartment, you'll receive daily housekeeping, including fresh towels.
Citadines Prestige Les Halles
"Our family had great time"




1st Arrondissement
Les Halles
Metro: Chatelet
Step outside of this apartment hotel and you're in the middle of boutiques and restaurants and steps away from one of Paris' most famous pedestrian market streets, Rue Montorgreuil.
Each studio or one bedroom suite has queen-sized beds with comfortable duvet covers. All the rooms are modern and have been recently refurbished. There are fully equipped kitchenettes and daily housekeeping.
Bonus: it's a five minute walk to the Pompidou Centre and the Marais, and in the other direction, it's a ten minute walk to Notre Dame.

Citadines Bastille Marais
"Very comfortable and convenient"




11th Arrondissement
Bastille
Metro: Brequet-Sabin
Enjoy Paris while staying in in this lively, non-touristy location.
Explore the Marais on foot or wander along the Canal St. Martin and relax at one of the outdoor cafes or shop to the famous Aligre outdoor market.
Take your baguettes, cheese and have a Paris meal in your own kitchen. You'll find that these apartment hotel rooms are larger than Paris hotels.
Residence Cosy's Cadet





9th Arrondissement
Grands Magasins
Metro: Le Peletier, Cadet
Craving a kitchen to cook the great foods of Paris? How about your own studio apartment equipped with a refrigerator, stovetop, dishes, cookware and a dining area.
If you need Paris advice there is a 24-hour front desk to answer your questions. Among apartment hotels in Paris this has all the touches you want, like a DVD player and air-conditioning!
Your choice of three Metro stations are no more than seven minutes away, and it's a casual 10-minute walk to Paris' big department stores,
Les Grand Magasins
.
Paris Planning Advice – Hotels In Paris
Want To Learn More?
Don't Miss a Single Paris Travel Tip.
Sign up for Le Petit Journal!
The Newsletter of Paris Insiders Guide
Don't Miss a Single Paris Travel Tip.
Sign up for Le Petit Journal!
The Newsletter Of Paris Insiders Guide