Are there accessible
Metro Stations?
Answers to Your Paris Questions

Accessible Metro Stations? Where can I find a list of Metro stations that have either elevators or escalators?
Thanks for your help. -Richard


Hi, Richard. Although the Metro is moving towards accessibility, they still have a long ways to go. If you've never been to Paris before the Metro is fraught with endless stairs, long walks between connections and then more stairs!
However, we did some research on the RATP (Paris transit site) and found some information with a list of accessible Metro stations with escalators »
We found out that 90% of RER stations (the rapid commuter trains that run beneath the Metro lines) are equipped with "motorized extended passages", allowing wheelchairs and people with walkers (or luggage) to validate their tickets and have access to the platforms.
The accessibility from the platform to the train is provided with a mobile gateway set up by an RATP employee. Customers requiring this will need to request the service from an employee. However, on the RATP site, it's not clear where you would find an RATP employee! We've traveled on many RER lines and have yet to find one when you need one.
Most of the accessible Metro stations are connected to RER lines, with a few more on Metro Lines 1, 2 and 14. Here are lists of accessible stations on various lines.

Rer A Accessible Stations
Auber, Bry-sur-Marne, Bures-sur-Yvette, Bussy-Saint-Georges, Champigny, Charles de Gaulle-Etoile, Châtelet-Les Halles, Chatou-Croissy, Fontenay-sous-Bois.
RER B accessible stations
Antony, Arceuil Cachan, Bagneux, Bourg-la-Reine, Cité Universitaire, Denfert-Rochereau, Fontaine Michalon, Fontenay-aux-Roses.
Metro Line 14 accessible stations
Châtelet, Bercy, Cour Saint-Emilion and Bibliotheque Francois Mitterand.
Metro Lines 1 & 2 accessible stations
Barbes-Rochechouart on Line 2, Esplanade de La Défense on Line 1.
A Better Alternative – The Buses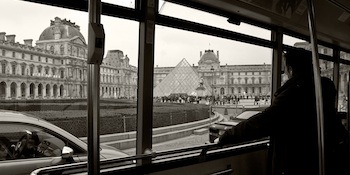 View from a Paris bus
It would be daunting to schedule a route using only those few accessible Metro stations and RER lines. Most of them connect to the suburbs of Paris, few take you to the interior of the city with exception of Lines 1, 2 and 14.
As an alternative, you should consider the Paris bus system. It goes everywhere, it's inexpensive, it uses the same tickets as the Metro, you can use the Metro Pass, and it's far easier to manoeuver on. To get a clear understanding of how to use the bus system, use the RATP site — it is a fantastic resource.
The good news is that sixty Paris bus lines have been accessible since the end of 2009. The aim of RATP is to be completely accessible by 2015.
To meet the requirements of accessiblity, at least 70% of the stops on a line need to be accessible by wheelchair. RATP has fitted 1,415 buses with ramps for wheelchairs with the goal to upgrade 40 to 50 bus lines each year. In total there are 351 Paris bus lines. Outside Paris, there are 44 accessible suburban lines.
Given the alternatives, we recommend the bus system of Paris as the best way for people with disabilites to get around the city.
More Resources
Paris Planning Quick Links
Don't Miss a Single Paris Travel Tip.
Sign up for Le Petit Journal!
The Newsletter of Paris Insiders Guide
Don't Miss a Single Paris Travel Tip.
Sign up for Le Petit Journal!
The Newsletter Of Paris Insiders Guide