Top 5-Star hotels in paris –
an insiders guide to luxury
Treat yourself to the best
The City has to offer
5-Star Hotels. On a fashionable stretch of Rue St-Honoré, between Place Vendôme and the Jardin des Tuileries, lies a magical corridor with some of the most desirable hotels in the world.
These hotels are either inside that corridor or scattered along either side of an arc that runs along Rue St-Honoré and then loops down towards Avenue des Champs Elysées. You might think of it as a golden arch.
Guests are transported from the crowded streets to leafy courtyard gardens, Michelin-star dining rooms, lavish spas and… well, the lap of luxury. In this guide to top 5 Star Hotels Paris, we give to you the creme de la creme of Paris.
George V Hotel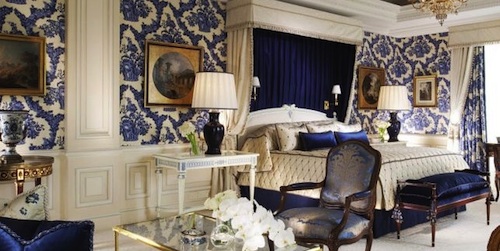 8th Arrondissement
With its timeless elegance, its faultless service, the George V remains one of the top 5-star hotels Paris.
Located in an 8-storey historic building , "Le Cinq" has 244 luxury rooms with an extensive art collection scattered aroudn the hotel.
Hotel Bristol
A Paris Insiders Guide favourite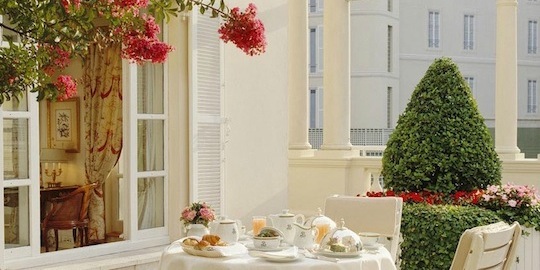 8th Arrondissement
Manicured French gardens in front of the Palais de l'Elysée, the Bristol even includes a rooftop pool, a superb restaurant, a stylish bar, and a spa with a Turkish bath.
Hotel du Louvre






1st Arrondissement
The granddaddy of 5-Star Hotels in Paris, the Hotel du Louvre was built in the 1850s, when Paris was expanding and blooming, and was annoited with five stars in 1887.
Hotel Lancaster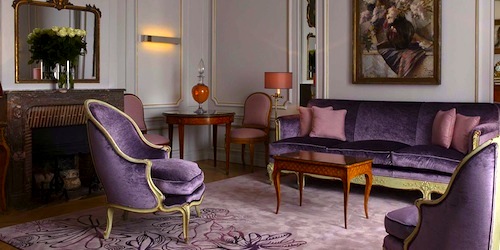 8th Arrondissement
Very near the most famous Champs Elysées and set in a handsome 19th-century townhouse, this first-class hotel has an atmosphere more like a private home than a grand hostelry.

Paris Luxury Hotel Quick Links

| | | |
| --- | --- | --- |
| | | |
Hotel Plaza Athénée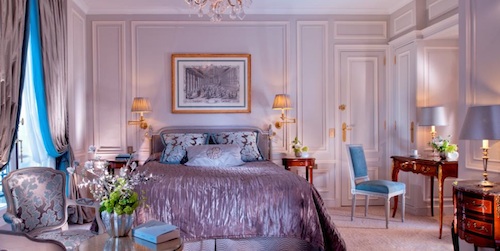 8th Arrondissement
Choose between two different styles — Louis XVI and Regency style on the first six floors, or Art Deco on the top two floors.
Plaza Athenée trivia: the last episode of Sex and the City was filmed here. They say that the hotel spends more money on flowers for their lavish bouquet arangements than for electricity!
Hotel de Crillon
A Paris Insiders Guide favourite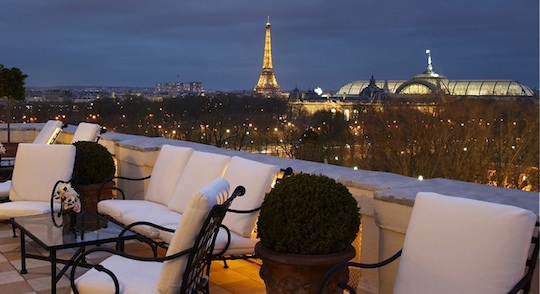 8th Arrondissement
At the crossroads of history, art and fashion, is the Hotel de Crillon Paris, on the famous Place de la Concorde. Once a private residence, it is now one of the most famous 5-star hotels in Paris.
Regina Hotel Paris






1st Arrondissement
Facing the Musée du Louvre, overlooking the Tuileries Gardens, and a short walk from the Orsay Museum, the Regina Hotel possibly has the best location of all 5 Star Hotels Paris.
Map to the 5-Star Hotels
You'll need to find your way as your explore the Golden Arch where these hotels are located. Don't worry! We've got you covered with a map.
Paris Planning Quick Links
Don't Miss a Single Paris Travel Tip.
Sign up for Le Petit Journal!
The Newsletter of Paris Insiders Guide
Don't Miss a Single Paris Travel Tip.
Sign up for Le Petit Journal!
The Newsletter Of Paris Insiders Guide