Our Map of
5 Star Hotels in Paris
A walking guide to luxury hotels in the golden arc. On a golden arc starting at the Louvre you'll find our selection of 5 Star Hotels Paris.
This area of Paris, in the 1st and 8th Arrondissements, is what comes to mind when you think of Paris luxury…and more than just accommodations.
In addition to our recommended 5-star hotels the area also boasts luxury shopping along Rue Saint-Honoré, the parkland along Champs Elysées, the Louis Vuitton flagship store (also on Champs Elysées) and, of course, the bevy of luxe stores on the tony Avenue Montaigne.
Map of 5 Star Hotels in Paris
In The Golden Arc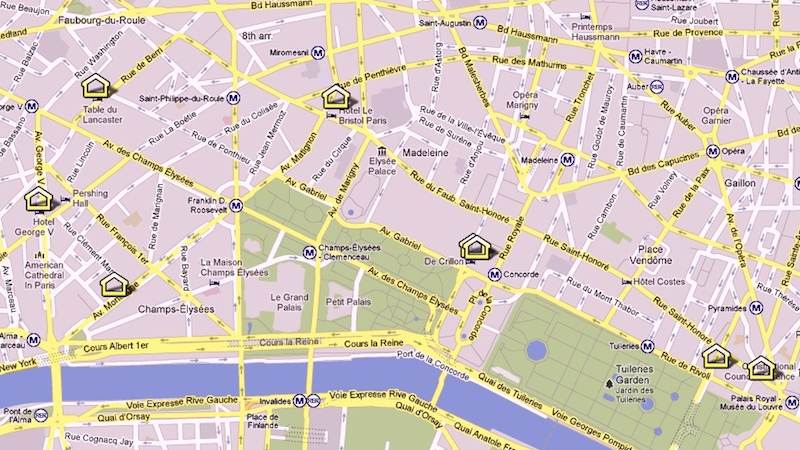 Click for larger map
Our route starts in the lower right corner of the map, in the Paris Classic Triangle (to give it a name!) formed by the Louvre, Jardin des Tuileries, and the Palais Royal. That's where you'll find the Hotel du Louvre.
Walking west along Rue Saint-Honoré we take a left on Rue des Pyramides to find the elegant Regina Hotel Paris, another one of our 5-star hotels.
Since we're now on Rue de Rivoli, let's continue west alont the Jardin des Tuileries to Place de la Concorde to visit Hotel de Crillon Paris.
Walk up Rue Boissey d'Anglais that runs alongside Hotel de Crillon and take a left on Rue du Faubourg Saint-Honoré (which means, roughly, "Saint Honoré Suburbs Street", meaning it's a continuation of Rue Saint-Honoré through an area that was outside of what was then central Paris). After a few blocks you come to Hotel Bristol Paris, one of our favorite hotels.
Continue strolling west along Rue du Faubourg Saint-Honoré until you come to Rue de Berri, where you take a left towards Champs Elysées, passing by Hotel Lancaster Paris.
Cross over Champs Elysées and find Avenue George V where the George V Hotel Paris is located.
South along Avenue George V you come to Rue du Boccador, which angles away to the luxe shopping street, Avenue Montaigne, and the last of our 5-star hotels, Hotel Plaza Athenée Paris.
Paris Planning Quick Links
Want To Learn More?
Don't Miss a Single Paris Travel Tip –
Sign up for Le Petit Journal !
the newsletter of Paris Insiders Guide