Paris France News March 26 2012
A Tale of Two Flaneurs

Wonderfully aimless
strolling in Paris
Paris France News, March 26 2012. Sometimes the best plan in Paris is having no plan at all. Aimless wandering has long been part of the fabric of Parisian life. A person who wanders is called a flaneur.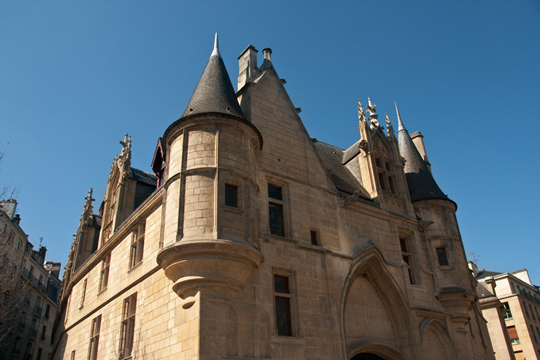 The weather in Paris has been glorious for the past two weeks, and yesterday was no exception. The summer-like weather was the perfect backdrop to our day spent flaneuring.
We started the day in the Marais, stopping to admire the small Place du Marché, Ste. Catharine. The buds on the trees were just about to burst. We came to the river at Hotel de Sens, one of the last surviving Medieval private mansions in Paris.
As we crossed the Seine on Pont Marie,one of the thirty-seven bridges in Paris, Mark pointed out the symbol for Paris on one of the lamp posts, a boat on the river. Once spotted, I noticed it everywhere.
In the spirit of the flaneur, you don't rush. You drift. As we drifted across the Ile St. Louis, we spotted the enormously tall and thin statue of Ste. Genevive, the protector sainte of Paris. She faces away from the city to warn aggressive forces who might be trying to enter the city up the Seine.
We ambled in the 5th Arrondissement to visit the grounds of the College Polytechnique where students have studied since the 16th century. But our flaneur apex moment occurred when we discovered the steps from Midnight in Paris, where Gil waits for the car to transport him to the Jazz Age. These were on a church just behind the Pantheon.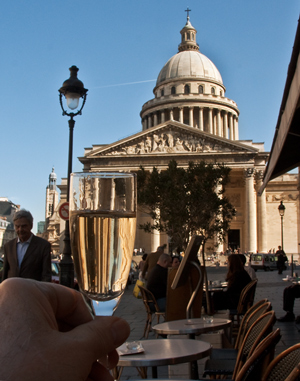 Now we were in the true Latin Quarter, where several colleges are located and students are everywhere. Our feet were flagging, it was time to stop and refuel. A charming cafe facing the Pantheon beckoned to us. Coupes de champagne, escargots and other delicious courses were our reward.
Revived, we continued down the hill to Jardin du Luxembourg where hordes of fellow flaneurs strolled or reclined around the central pond.
One last stop at the church of St Sulpice to admire the famous Delacroix fresco of Jacobe Wrestling the Angel, as well as the gnomon (or seasonal sundial) laid into the floor. You may remember that this church played an important role in The Da Vinci Code.
4 arrondissements, 3 bridges, 5 colleges, 1 saint, 12 escargots, 5 hours. Another perfect day in Paris.
Paris Planning Quick Links
Don't Miss a Single Paris Travel Tip.
Sign up for Le Petit Journal!
The Newsletter of Paris Insiders Guide
Don't Miss a Single Paris Travel Tip.
Sign up for Le Petit Journal!
The Newsletter Of Paris Insiders Guide