Paris France News March 23 2012
Arts et Metier

Arts & Crafts still exist in Paris,
including bookbinding
Paris France News, March 23 2012. To say that the craft trades are flourishing in Paris is a bit of an overstatement. While there are a few thousand traditional craftspeople still at work in Paris, that's only a fraction of the 20,000 or so there were a couple of decades ago.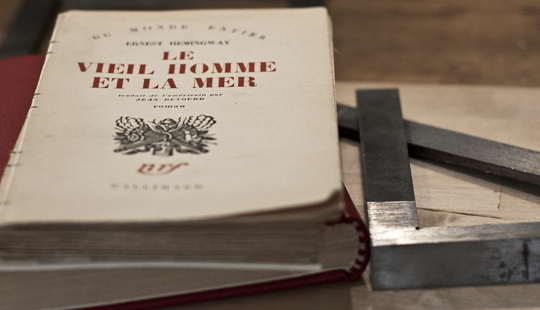 We had the chance to visit a small bookbinding studio, where books are made, repaired, and rebound using traditional methods. When working to restore old books, everything must be done by hand, and it's a very exacting process.
Aude Quere, the bookbinder and owner of the studio, demonstrated two methods of repairing old books and restoring their binding, spine and even covers. These traditional methods employ carton (a special type of hardboard used for the covers), thread, muslim, and up to three different types of glue.
Aude, a former travel agent, decided to turn her passion for old books into a career. She attended one of the four major crafts schools in Paris, this one specializing in trades such as bookbinding. The course took a year to complete.
We were spellbound as she showed us how to stitch, shave, polish, glue, press and even hammer a book into shape. Good eyesight and hand-to-eye coordination are important assets to a skilled book binder. To repair a book using the traditional methods takes hours to complete can cost up to 400 euros. Aude said that most of her business comes from individual clients who wish to restore books that are family heirlooms.
Paris Planning Quick Links